India's Top 10 Warehousing & Logistics Providers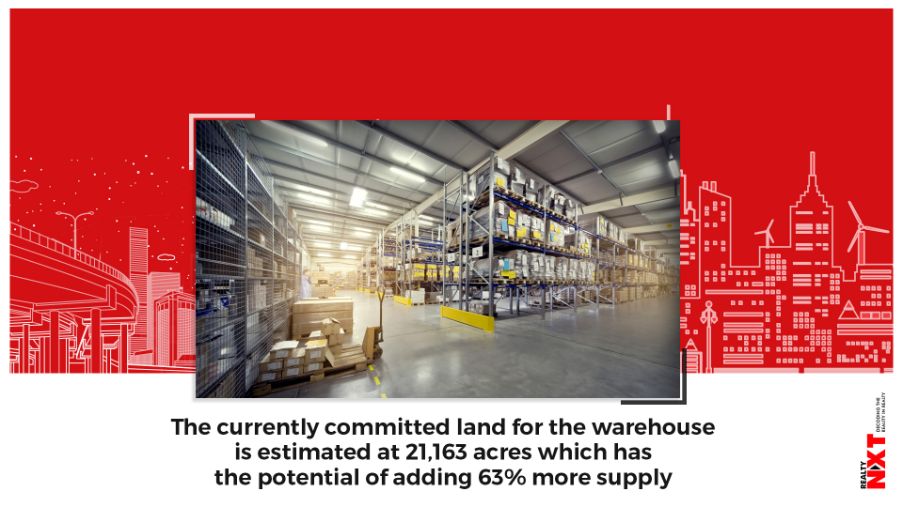 The currently committed land for the warehouse is estimated at 21,163 acres which has the potential of adding 63% more supply to the already existing 307 mn sq ft of warehousing stock
Knight Frank India estimates in their latest report 'India Warehousing Market Report – 2020' that existing land committed to warehousing across the top eight cities of India has the potential to add 193 million square feet (mn sq ft) of new warehousing supply.
 The currently committed land for the warehouse is estimated at 21,163 acres which has the potential of adding 63% more supply to the already existing 307 mn sq ft of warehousing stock.  Three out of eight markets Hyderabad (2.19), Ahmedabad (2.09) and Chennai (2.02) ranked high on Knight Frank's Development Potential Multiple.
Top 10 Warehousing & Logistics  providers in India:
1. Embassy Industrial Parks: Embassy Industrial Park recently announced an investment of ₹300 crores to develop a 40-acre warehousing project at Bilaspur in Gurugram, as demand for storage space has risen from e-commerce players after the outbreak of COVID-19. This project is an expansion of the existing 25-acre industrial park of Embassy Group at Bilaspur.  
There is an increased demand for Grade A industrial parks in the region from manufacturing, FMCG, auto and pharma sectors and Embassy aims to provide world-class facilities to their clients. Embassy Industrial Parks, the joint venture, is developing warehousing projects at Chakan in Pune, Sriperumbudur and Hosur in Tamil Nadu; Farrukhnagar and Bilaspur in Delhi-NCR; and Kothur in Hyderabad. The total portfolio of the JV is 15-16 million sq ft, of which 3-4 million sq ft is operational. Warburg Pincus has a 70% stake, while Embassy Group has 30% shareholding in the JV.
2. LOGOS India: Founded in Australia by Iliffe and Jon Marsh in 2010, Logos expanded into China in 2012, with Stephen Hawkins establishing Southeast Asia operations in Singapore in 2016 as the company formed a series of partnerships and joint ventures with some of the world's biggest fund managers.
Ivanhoe Cambridge, the real estate fund management division of Canada's Caisse de Dépôt et Placement du Québec, first formed a $400 million China-focused joint venture with Logos and CBRE Global Investors in 2015. The Canadian giant, which held C$64 billion ($47.92 billion) in real estate assets as at December 31, 2019, followed up on that JV by investing in Logos at the corporate level in 2016.
In 2017 Logos established a $400 million India joint venture with the country's Assetz Group, and in 2019 it spent $98.4 million to acquire a pair of logistics parks in Chennai.
LOGOS India is headquartered in Mumbai. The LOGOS India is dedicated to investment, development, and asset management, and will initially focus on the key logistics hubs of Mumbai, Pune, Chennai, NCR, Bangalore, Hyderabad and Ahmedabad.
3. ESR India– Logistics real estate platform ESR is planning to develop over a dozen logistic and warehousing parks in India over the next two years. The parks will come up in Maharashtra, Gujarat, Chennai, Bengaluru and NCR. The developer recently signed an MoU with the Maharashtra government to develop nine centres in the state at an investment of Rs 4,310 crore. As e-commerce is driving the demand for warehousing so the company is focussing on more centres.  The firm had recently invested Rs 332 crore to develop a logistics park in Chennai's Oragadamsuburb where it has acquired a 39-acre land parcel. ESR India has acquired 16.6 million sq ft of space in Mumbai, Pune, Ahmedabad, Chennai, Bengaluru and Hyderabad, among other cities. 
4. VRL Logistics Ltd: VRL has pioneered in providing a safe and reliable delivery network in the field of parcel service. It has spread its operations to Courier Service, Priority Cargo & Air Chartering to meet the growing demands of its burgeoning customer base. Warehousing solutions offered by VRL are tailor-made and cater to the unique needs of its diverse customer base. Currently, they operate through a network of 929 Branches across the country.
VRL Logistics finds mention in the prestigious Limca Book of Records as the company having the highest number of freighter vehicles in India.
5. Welspun One Logistics Park: Welspun One Logistics Parks (WOLP) is an integrated fund, asset and development management organization, designed to deliver large format, institutional Grade A logistics parks across India. This is backed by WOLP is backed by USD 2.7 Billion Welspun Group. Welspun Group, one of India's fastest-growing multinationals with businesses in line pipes, home textiles, infrastructure, steel, advanced textiles and flooring solutions.
Welspun One Logistics Parks will invest  ₹550 crores over the next four years to construct its first project at Bhiwandi in Maharashtra to tap the growing demand for warehouses and industrial space.  The logistics park will be developed on a 110-acre land parcel, owned by promoters of Welspun group, at Bhiwandi in Mumbai Metropolitan Region (MMR) with a potential leasable area of 3.2 million sq ft. The land value is estimated at Rs 350 crore, taking the total project cost to Rs 900 crore.
This development will create 2,700 multi-level job opportunities, the company said in a statement.
6. GATI-KWE-Gati-KWE is 70:30 joint venture between Gati Ltd and Kintetsu World Express (KWE) of Japan. Established in 1989, Gati is the pioneer in India's express transportation segment and has been one of the largest in this industry.  It has a PAN-India presence. It's advanced warehouses come with warehouse management technology, Shop Floor Automation, world-class Material Handling Equipment, sophisticated racking systems, and conveyor belts. 
7. Transport Corporation of India: TCI is one of  India's leading integrated multimodal logistics and supply chain solutions providers. TCI provides multi-technology, multi-specialist transport systems.  Over the last 60 years, TCI has firmly established itself as a major logistics player in the Indian market that provides state-of-the-art warehousing solutions.
8. Maharashtra State Warehousing Corporation: Maharashtra State Warehousing Corporation was established on 8th August 1957. Maharashtra State Warehousing Corporation (MSWC) is one of the oldest State Warehousing Corporation in the country. It was started with 3 Warehousing Centers and has now grown up to the extent of 200 Centers as at present with a total capacity of 17.60 Lakhs M.Ts. Warehousing activities of MSWC include scientific storage of food grains, fertilizers, industrial goods, cotton bales, cement etc.
9. Kerala State Warehousing Corporation: Kerala State Warehousing Corporation was established on 20th February 1959. It has its Corporate Office at Ernakulam with 3 Zonal Offices, 9 Regional Offices and 55 Warehouses scattered all over the state.The idea behind the whole warehousing scheme is to give scientific storage to the agricultural produce and also to arrange easy credit and holding power to the agriculturists to enable them to get a better price for their produces. 
10. Indospace: IndoSpace is the largest investor, developer, and manager of Grade A industrial and logistics real estate and has taken the total commitment to India to above US$ 3.2 billion. Indospace is promoted by Everstone Group, GLP and Realterm. 
IndoSpace is a founding member of Indian Green Building Council and has pioneered sustainability initiatives and best practices in the Industrial and Warehousing sector. IndoSpace has achieved more than 40% savings on energy, water and embodied energy in the material at several parks. This has won IndoSpace the esteemed EDGE Certification from GBCI (Green Business Certification Inc.) for 45 % of its buildings, and the Advanced EDGE Certification for 55% of the buildings. 
ALSO READ: Evolving Occupiers' Preferences Will Alter Offerings Of Coworking Spaces