Trends To Watch Out In 2021: Proptech
Smart buildings are often called as the buildings of the future.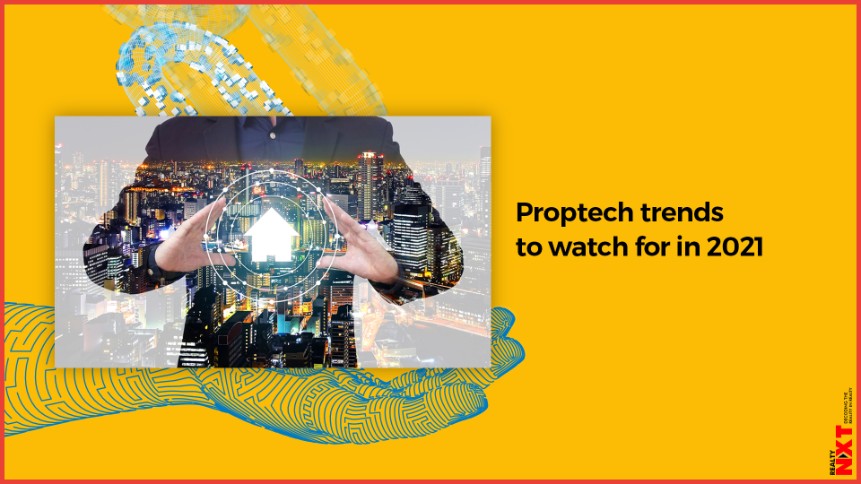 Proptech has emerged as a new wave of innovation and has pushed the real estate towards a technological metamorphosis
In a world of never-ending technological developments, no industry is left immune to digitization. Until recently, real estate was one such niche that was lagging to adopt the technological trends and developments and was deprived of it.
When the world is practically benefiting from digitization, real estate is no exception and with an ongoing advancement in technology, real estate and its sub-sectors are on the move to adopt these technological trends and developments.
This industry has started to move rapidly from the traditional methods of operations towards a more technologically advanced work culture where all the necessary operations can be done with the help of technology and everything is available on a screen.
Proptech has emerged as a new wave of innovation and has pushed the real estate towards a technological metamorphosis, where the stringent traditional methods are replaced with the modern business ideas revolving around the new age technology.
This synergism of real estate and technology is disrupting the real estate industry and has catapulted its users towards a more consistent work management. Real estate professionals are now engaging with these path-breaking technologies like, Artificial Intelligence, Machine learning, Augmented Reality, Blockchain, Internet of Things, Virtual Reality, Big Data and Drones, not only to benefit in the construction space or the property renovation space but also to streamline the property buying and selling business operations end-to-end.
Just like 2020, 2021 will also see enormous growth in the adoption of technology. Following are the Proptech Trends to watch out for in 2021:
Contactless buying and selling of property is here to stay for good
The Coronavirus pandemic has posed a great threat to the face of humanity and all the industries have faced catastrophic challenges and hindrances in their operations. One such challenge faced by many real estate agents, brokers and investors is buying and selling of properties. The operations have suffered deeply due to the limitations and restrictions imposed as safety measures by the government. Moreover, it was impossible to close deals, since people were not allowed to go out and view houses physically.
Therefore, Contactless buying became a need of the hour and emerged as a new norm for the real estate agents, investors, and it also transpired as the best and the only way to sell property amidst the pandemic and prevent the further spread of disease. This was only made possible with the help of technology and its adaptation.
Technology-enabled contactless buying and selling of property have become the new normal and without the stringent paperwork, property buying experience will be taken to the next level with an aim to provide a frictionless, smooth process with minimal hassles and streamline the operations. The need for contactless buying and selling of property has become a convenience now and it is expected to stay in the industry as a common practice.
Construction projects will look up to technology
The way construction projects are executed from building operations, managing projects, teams, sites and material inventory is transforming through the inculcation of recent inventions in technology. With new-age technologies like AI, Internet of Things and Big Data new solutions are emerging which can be implemented in the operations on site, management of human resource and material inventory to improve the process. Technology now acts like a communication tool between the team members and the customers to improve and develop their user experience.
These solutions act as a catalyst to simplify the process of setting deals, making contracts, compiling documents, managing material inventory, making payments and on-site operations without getting into the hassle of physical manual attention that can lead to multiple challenges and disputes at the end. With these technological developments, now the construction professionals along with the top management can facilitate their daily activities with the convenience of comfort, be it managing one construction site or a maintaining a chain of hotels.
 Automation of Buildings
Automation in real estate has created a breakthrough moment. The creation and application of deep technology like Artificial Intelligence, Augmented Reality and Virtual Reality in the real estate has changed the global outlook, from Smart Building and Building automation to the application of digital twins. Equipped with technology, the construction and management operations of real estate are now possible with minimal human intervention.
Smart buildings are often called as the buildings of the future. They are equipped with electronic sensors and controls along with automation software to mobilize them and improve the overall operations of the building allowing minimal human intervention. Creating a class of its own, smart buildings are gaining traction as the automation system serves as a real-time record system across the design, construct and maintenance of the building life cycle, seeking to remove labour costs, increase daily operational efficiency and reducing the need of physical human interaction.
New ways of selling material
As more and more material manufacturers in this industry are entering the industry, newer ways to digitize and automate marketing and selling is on the rise. Also with people being more aware of new materials and technologies, there is a lot of demand in organizing and automating this sector. The renovation and remodelling unorganized sector is looking at newer ways to digitize, automate and speeden up the work processes.
Conclusion
The up-gradation and incorporation of technology with its pertaining trends has made lives easier for real estate professionals. The solutions offered by digitization and the real-time reduction in cost and time management of real estate operations have created an everlasting impact on the industry. Thus, proptech pf technological intervention in real estate is the need of the hour and is expected to trigger enormous growth.
By Ms.Debashree Ghatak, Founder, ReNEWate
DISCLAIMER: The views expressed are solely of the author and RealtyNXT.com does not necessarily subscribe to it. RealtyNXT.com shall not be responsible for any damage caused to any person/organisation directly or indirectly.
ALSO READ: Chandivali: A Preferred Destination For An Upgraded Lifestyle