Office Space To Remain 'Pivotal' In 2021: Dubai
Core said 2020 saw nearly 1.5 million sq ft of office space being handed over in Downtown and DIFC, bringing the total Dubai office stock to 104.9 million sq ft.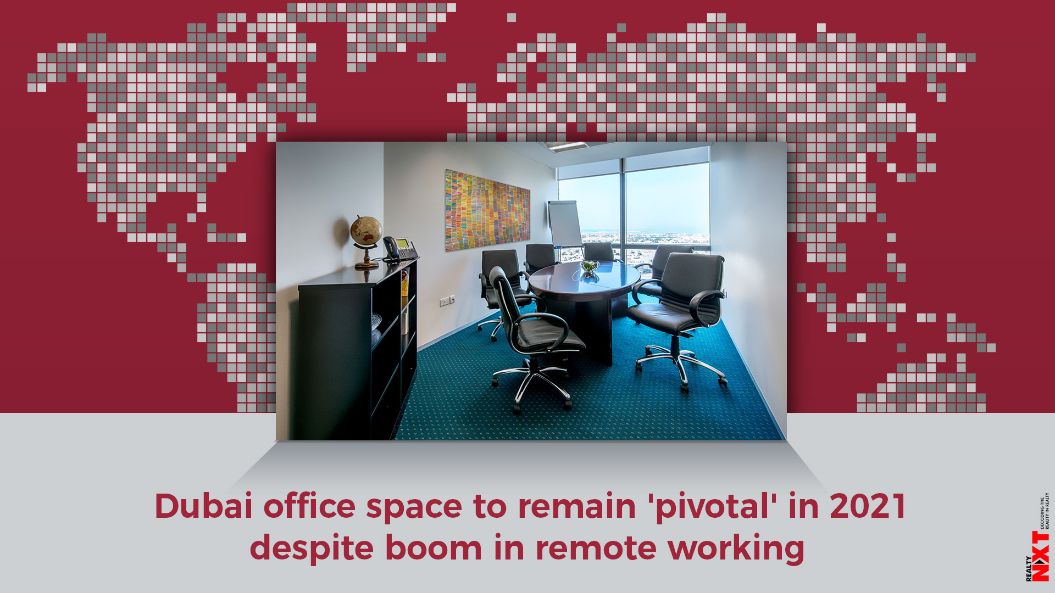 Core said 2020 saw nearly 1.5 million sq ft of office space being handed over in Downtown and DIFC, bringing the total Dubai office stock to 104.9 million sq ft.
The office is here to stay in Dubai during 2021 and beyond despite the move to more remote working during the coronavirus pandemic, according to real estate consultants Core.
In a new report, Core said that although flexibility around remote working will remain with hybrid models the largely accepted workplace strategy going forward, the role of the physical office will remain "pivotal".
It said Dubai businesses will need common spaces to foster innovation, productivity, company culture and teamwork that are hard to sustain through remote working.
With most multinationals deferring their real estate decisions to the second quarter of 2021, Core added that it expects a second wave of relocations later this year when these global corporates inevitably adjust their workplace strategies.
Most of the demand for these relocations/consolidations are expected in the Grade A market, it noted.
As most new office demand is dominated by relocation or downsizing activity while sub-leasing activity also gathers pace, Core said it foresees maintaining occupancy levels and retaining tenants be the main focus for commercial landlords.
Globally, technology and allied sectors are the new major landlords, superseding the banking, finance and service industries and this trend is also being seen in Dubai.
Core's report said that as most enquiry levels are for fitted/plug and play offices, it expects landlords to increasingly convert their shell and core assets to CAT A fit-out (raised floor and ceiling) or completely furnish to aid absorption.
It added that developers and landlords are increasingly looking at refurbishing office units or repurposing retail/mixed-use into office space to optimise asset classes with offices at City Walk, Roof Top in Nakheel Mall and Golden Mile on Palm Jumeirah being prime examples.
Core said 2020 saw nearly 1.5 million sq ft of office space being handed over in Downtown and DIFC, bringing the total Dubai office stock to 104.9 million sq ft.
The office supply pipeline for 2021 is significantly lower than the previous year with over 680,000 sq ft of office space expected to be handed over. In addition to new office deliveries, a significant amount of secondary market stock and the re-purposed stock was also brought to market as firms and developers re-structure their portfolio.
Robert Thomas, head of agency at CORE said: "The office market continues to face headwinds with occupancy levels and rents remaining under downward pressure as existing supply issues and limited first phase expansions impact office absorption.
"Most new demand in 2020 stemmed from relocation activity, particularly from SMEs and regional occupiers as businesses adapted to market conditions. International corporates on the other hand are largely continuing to work from home with their real estate decisions deferred to Q2 2021 subject to the wider public being vaccinated.
"On the other hand, over Q4 2020, we saw an increase in leasing enquiries from large local or regional occupiers as they gradually phase back staff into physical offices."
Thomas added: "With an offset impact, we saw a rise in enquiries from technology firms who witnessed a marked rise in business activity as Covid-19 disrupted occupier behaviours and increased their market penetration. Most technology tenants with healthy cashflows are looking to secure better commercial terms, longer lease terms and early break clauses. Landlords are also willing to provide the same as longer-lease terms helps in limiting vacancy levels."
Overall vacancy levels across Grade A stock increased to over 22 per cent as of Q4 2020 as most new stock brought to market over the last few years has been in this segment, while Grade B stock vacancy levels remained steady at 25 per cent.
Of the total office stock, 24 per cent is vacant, with the volume of vacant stock gradually increasing over the last five years.
In 2020, office rents remained under downward pressure across all the 16 districts tracked by Core. However, free zones with predominantly single owned office assets such as DIFC, Dubai Internet City and Media City, DWTC and D3 have displayed relatively lower levels of rental reductions partially due to rents being controlled by single landlords.
Old Dubai locations such as Deira, Bur Dubai and Garhoud have seen the sharpest drops with average rents falling over 20-25 per cent year-on-year as many tenants migrated to newer locations.
Other strata districts such as Barsha Heights, Busines Bay and JLT continue to face challenges, displaying a steep 20 percent year-on-year drop in average rentals.
Source: Arabian Business
(The story has been published from a wire feed without modifications to the text. Only the heading has been changed)
ALSO READ: CAIT Seeks Action Against Amazon, Zomato, Flipkart And Swiggy