Post Budget 2021: Real Estate Expert Reactions On REIT And InvITs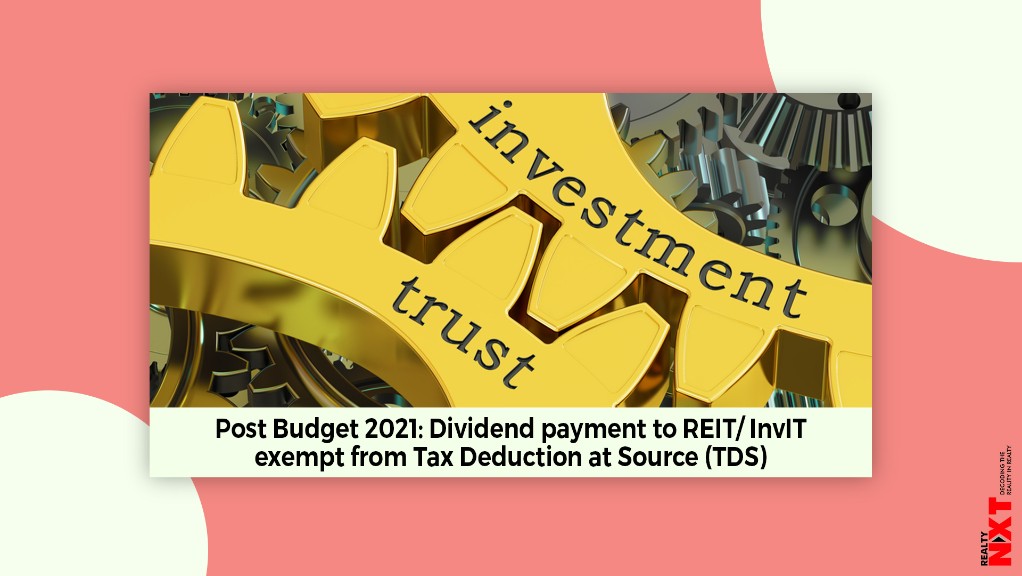 The proposal to enable debt financing by foreign portfolio investors will ease access to finance for InvITs and REITs.
In the Union Budget for 2021-22, Finance Minister Nirmala Sitharaman proposed exempt taxes on dividends on REITs and InvITs, which will make such investment vehicles attractive and lucrative for investors.
"Debt financing of InVITs and REITs by Foreign Portfolio Investors (FPIs) will be enabled by making suitable amendments in the relevant legislations," the minister said.
"We welcome the proposed easing of InvITs (Infrastructure Investment Trusts)/REITs, which has immense potential for boosting global and domestic investors, thus increasing funds for the real estate sector. This increased ability to raise more debt capital will provide access to additional asset acquisition funds, which could lead to the rapid closing of lower-cost transactions", said Mr. Bijay Agarwal, MD, Salarpuria Sattva.
"Real estate specific announcements although few, were targeted towards affordable housing and REITs. Tax holidays and exemptions in affordable housing and debt financing for REITs are expected to strengthen the confidence of all the stakeholders in the residential and office segments", said Mr. Anurag Mathur, CEO, Savills India.
"The proposed debt financing for REITs and InvITs, and the setting up of the Development Financial Institution for augmenting funds for infra and the real estate sector is expected to provide a major fillip to the sector, and will attract more investments in the sector", said Dhruv Agarwala, Group CEO, Housing.com, Makaan.com and Proptiger.com
"We welcome the government's move to extend tax holiday by one year for affordable housing projects and exemption from TDS on dividend paid to Real Estate Infrastructure Trusts / Infrastructure Investment Trusts. We would have expected granting Infrastructure status to the entire Real Estate sector which could be beneficial for lenders, developers and home buyers and will enable access to liquidity and speed up project completion", said Mr. Sanjay Daga, Chief Operating Officer, Runwal.
"The boost in infrastructure spending, as well as the changes to InVITs and REITs, puts the built environment sector in a good place to help build our way out of the economic chaos created by the pandemic – and we'll work with the Indian Government to ensure our members continue to play a central role in making this happen", said Chris Nicholl, Regional Managing Director for Asia, RICS
"India is all set to break new barriers with respect to connectivity and ease of commuting. With the further inflow of funding coming with the ease of finance to InVITS and REITs will be a boon for the infrastructure and real estate sector", said Mr Ajay Kapoor, CEO, Adhiraj Constructions.
ALSO READ: Post Budget 2021: Real Estate Expert Reactions On Infrastructure