"Our Company's Raw Material And Workmanship Are Done Domestically", Sarita Handa
Eco friendly and sustainable cotton concepts are to be adopted this year.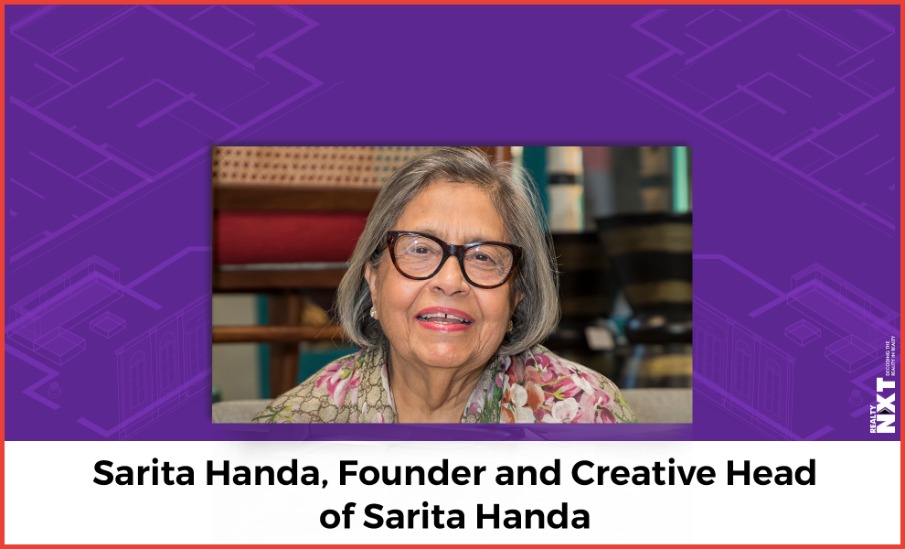 1. What inspired you to start the brand, 'Sarita Handa'? From a small shop to one of the popular e-retail brands, please tell us about your journey.
I began my business in 1992 as a small single-handed managed operation that has metamorphosed into an undisputed hallmark in luxury Home designs.
This was my passion to bring the special nuances closer to people through their most precious thing, their home. I had started this company with a capital of INR 7, 00,000 – INR 10, 00,000, which was inclusive of My Husband's savings, and a flat the family-owned, in Noida. The company is now currently headquartered in Gurgaon, Manesar, and the product lines are executed in approx. 400,000 sq. ft. of factory space.
The main ethos of our business is family values, open communication, trust, transparency, mutual support and constant encouragement. The people that work with me are as good as family members they have their own role to play in consoling the development and diversification of the brand.
I have experienced several milestones in over 28 years of my business. The company provides you with all the decor items like quilted and non-quilted bed linens, furniture, table linens, bath and hand towels, printed and embroidered colour cushions and upholstery fabrics, floor and wall coverings and decorative assents like antique mirror and lifestyle accessories, bags,iPad covers and jewellery.
The company has an Oeko- Tex certificate for eco-friendly chemicals that are used only for dyeing, printing and washing, it promotes the best-practice standards in global cotton production. The factory is certified for products made from organic cotton. The cotton grown is free from chemical fertilizers. There is complete traceability of the fabric to farm at each stage of production.
2. To conquer such a demanding audience is truly important to be informed about the latest trends in the field. How do you do this?
Yes, to conquer such a demanding audience is truly important to inform them about the latest trends in the field. There are various things that we do to keep abreast of the latest trends like we attend trend shows or seminars, look at international design houses, look at relevant magazines, study the customer their website and catalogues to make sure we provide customer with our best care.
3. Do you promote 'Made in India' products? How important it is as an entrepreneur to contribute to the 'Aatamnirbhar Bharat' campaign?
Yes, we surely follow the make in India programme for the development of our country as we too make products in India. All raw material and workmanship are done domestically. 
In everything, we do from hand quilting to hand embroidery we are helping to sustain the craft and the skill of the artisan. Artisans and crafts people when assured of getting work become self-reliant by this way we contribute to the 'Aatamnirbhar Bharat' campaign.
4. How do you think Covid-19 is changing the luxury home design?
Technology is playing a huge role. The condition of social distancing will make technology a strong tool, which can be innovated into many spheres and aspects to support a sale. We believe that there is a great opportunity in this crisis. For companies that are willing to reinvent and be flexible with speed, success is theirs. We are being optimistic in our approach coupled with that of a watchful one.
It, of course, helps that India is a manufacturing hub, however; we are researching the marketplace & taking smaller steps. As we are looking at every aspect of the business and diving deeper into customer experiences, performance superiority & being sustainable/responsible towards the environment. New product categories are being researched and will be launched.
5. Tell us about some decor trends that will create a buzz in 2021.
Eco friendly and sustainable cotton concepts are to be adopted this year. Natural colours with the theme of Botanic. Floral embroidery with fresh colours will be introduced to give a retro-based fell. Weaving techniques will be used for making wall hangings to produce sustainable products for the customer.
Traditional techniques will be used with organic cotton, linen and other soft fibres. It will add modern austerity to it. Three-dimensional pillows are too introduced. Quilts are also weaved with embroided designs using traditional floral designs and with attractive colours like olive green, french blue and grey.
6. You have a beautiful range of products. Do you design all your product yourself?
 Yes, we design all the products.
ALSO READ: Duravit Has Become A Brand Preferred By The Creative Class Worldwide