"Our Process Involves Use Of Recyclable Water-Based Raw Materials", Krishika Shah
Yes, Tier 2 cities are now increasingly opting for modern wall panel designs in comparison to paints.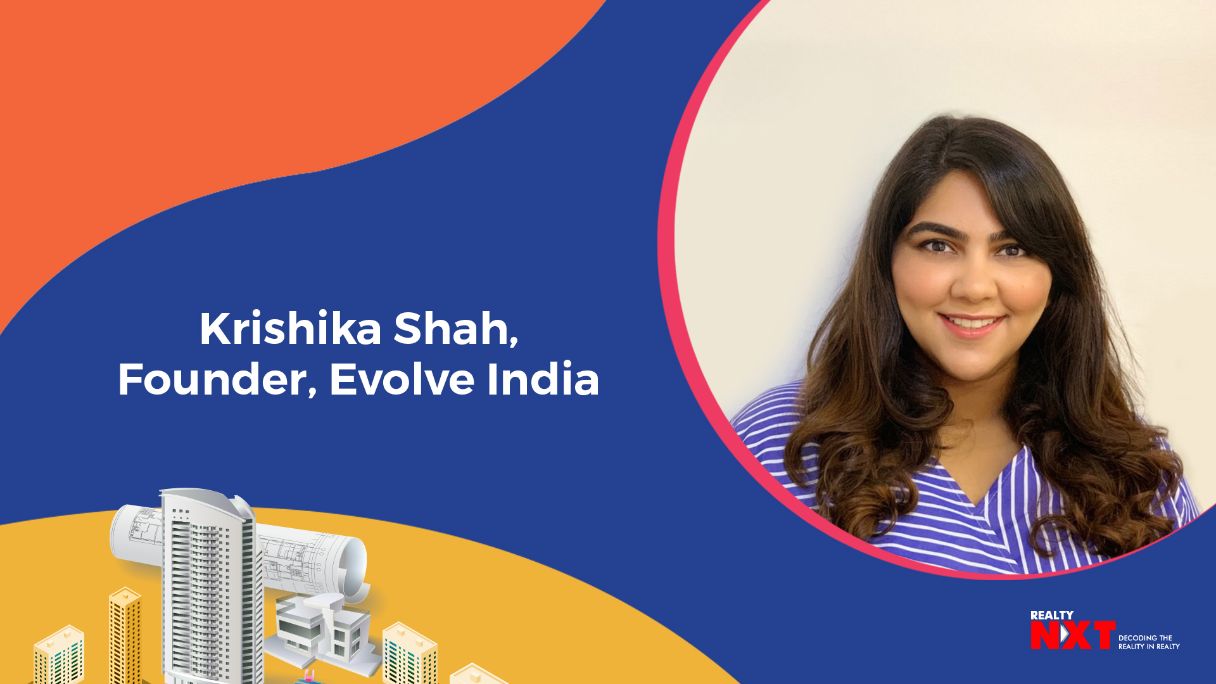 Q1: What are the core values of Evolve India?
At Evolve, our core value is to be passionately experimental. Not only do we enjoy a good challenge, but are always keen to keep pushing the boundaries when it comes to surface materials.
Our love for innovation drives our curiosity and enables us to build for the needs of tomorrow. We believe our products are a direct result of our core values because at Evolve India you are sure to find the most unique textures and finishes, not just domestically but also internationally.
Q2: What's your role in Evolve India?
I am the Founder and Marketing Head at Evolve India.
Q3: How technology is helping your brand to innovate with regards to designs every time? Due to the pandemic, a lot of brands had shifted to technology to interact with their clients to provide contactless interaction. Did Evolve India adopt any new technology to maintain such seamless communication?
Evolve transitioned into the digital-first approach in early 2018 itself. We digitized our product catalogues and project portfolios with the goal to save on paper and reduce wastage. We even offered virtual demonstrations, showroom walkthroughs and meetings to our clients and relied on video conferencing for quality checks. So the pandemic just accelerated the adoption of technology across internal and external stakeholders. 
Through the pandemic, we onboarded the use of tools like Google Drive, Canva, Adobe Sign and GoToWebinar for all our collaborative efforts. We have invested in a learning platform to build on our educational video series and have used Shopify to set up our online store for our decor products.
We look forward to using AR and VR tools to enable our customers to get the feel of the products from the comfort of their homes. And also help them visualize their spaces with our textured finishes
Q4: What green technology do you provide? 
We manufacture using green technology, which means our process involves the use of water-based raw materials that are recyclable and eliminate the creation of toxic waste, thus protecting the environment.
Using eco-friendly raw materials also safeguards our craftsmen from the harmful effects of chemicals that are released while using solvent-based products, and it protects our clients from any reactive chemical release during onsite installation as well.
Q5: What is the newest range that Evolve India has come up with for 2021? 
Our newest collection is inspired by our ethos that the colours and design of a space should be a reflection of the people who live inside. Named as 'Artistique Fusion', this range of designer wall finishes is highly personalisable and beautifully celebrates the flawed beauty of nature.
From the patterns to the colours to the placement, the finishes are completely bespoke, ensuring that our clients are able to create homes that showcase their personalities.
Q6: We are noticing tier 2 cities are now opening to wall panel designs. What recommendation would you suggest with regards to design and affordable materials they should consider to achieve a long-lasting and beautiful finish? 
Yes, Tier 2 cities are now increasingly opting for modern wall panel designs in comparison to paints. The beauty of the Indian market is the availability of materials from across the world, one is always spoilt for choice.
If I was looking for durable options that have great aesthetics, I would opt for textured concrete finishes for exteriors. They are strong, more durable than paint and available in shades of your choice.
For interiors, I would suggest that they consider pre-designed panels in a material of their choice. It could be wood, liquid metal, concrete, or even plain old fibre boards, but a pre-designed panel would save them onsite fabrication cost and labour time, making them an economic yet beautiful investment.
Q7: What new trends can we expect in 2021 in surface designs? 
I believe for the next year or two, people are going to opt for abstract textures in soothing colours, owing to the increased time they spend at home. Spaces are now seen as more functional than ever before.
Our clients are increasingly investing in bold metal designs for accent doors and bespoke surfaces for loose furniture pieces that add an element of luxe and elegance to the environment. In the hospitality industry, we see a rise in custom and intricate handcrafted patterns being appreciated across spatial and product surfaces.
Q8: If you had to choose 3 favourite designs and projects under Evolve India, what those would be? And, why? 
It's very difficult to choose, but if I absolutely had to, my three favourite designs projects under Evolve India would be:
The luxury living project by Shroffleon where they have used our Crackle brass panels. I love the play of materials in this space. The blue chandelier, the elegant black table and the bold brass crackle metal panel just come together so beautifully. It radiates more than just an elegant vibe, for me, it invokes an emotion of serene.

Statement Entrance by Squelette Design – The team at Squelette Design has beautifully incorporated our bestselling sunray Brass metal door skin into their residential project by combining it with grey flooring, white walls and statement furniture and decor pieces. The selection of the colours and the addition of greens give this entrance a warm and cosy sensibility, making it one of my favourites.

Lobby at Taj Yeshwantpur Bangalore by RC Design – The vivid green Copper patina panels combined with a beautiful 3D floral pattern sets the tone for this hospitality reception. My favourite part about this project is how effortless and seamless the aesthetic looks. Almost like every piece, colour and texture were meant to belong in that very combination, in that very place.
Q9: During your entrepreneurial journey, what are the biggest learnings you've had? And what would be your advice to young entrepreneurs?
There have been countless learnings. However, the biggest thing I have learned is that you need to have infinite belief in your product and in your vision. If you don't see the market, then no one will, especially for people starting out in a niche segment.
But it's equally important to know when to pull the plug because the numbers have to support your vision.
Apart from that, there are some things you only fully appreciate after you have experienced them. Like taking time to hire. It's not always easy to find the right talent to fill the position in due time, and more so if you are a startup. Infact, it is your biggest challenge if you ask me. So take your time with hiring, and fill the position for a long term goal than a short term deliverable.
My advice to young entrepreneurs?
Know your strengths and hire for your weaknesses. As a young entrepreneur, my best advice to you would be to hire experienced professionals as your first hire in the departments you know nothing about. This is a game-changer and saves you years of wasted time and efforts.

Seek help, as often as you need to, but with specific intent. Have a clear question or problem, seek their time and ensure you are soliciting advice from more than just one person for a problem. Don't be afraid to ask out of the fear of judgements, or ego. It's better to not work with an assumption.

Develop a network of professional friends. Very often when people network, they are looking for a quick exchange, something usually beneficial to them. But networking is actually investing in professional relationships. So it's important that you connect for more reasons than just being in the same business or industry. It could be to brainstorm ideas and get an outsider's point of view or simply to be inspired by the different ideas used to build business' outside your industry.
ALSO READ: 'This Is The Year For The Interiors Equivalent Of Speaking Your Own Truth', Rahul Kapuria, Brandmakerr