Taronga Ventures To Expand Its Innovation Program RealTechX Into Singapore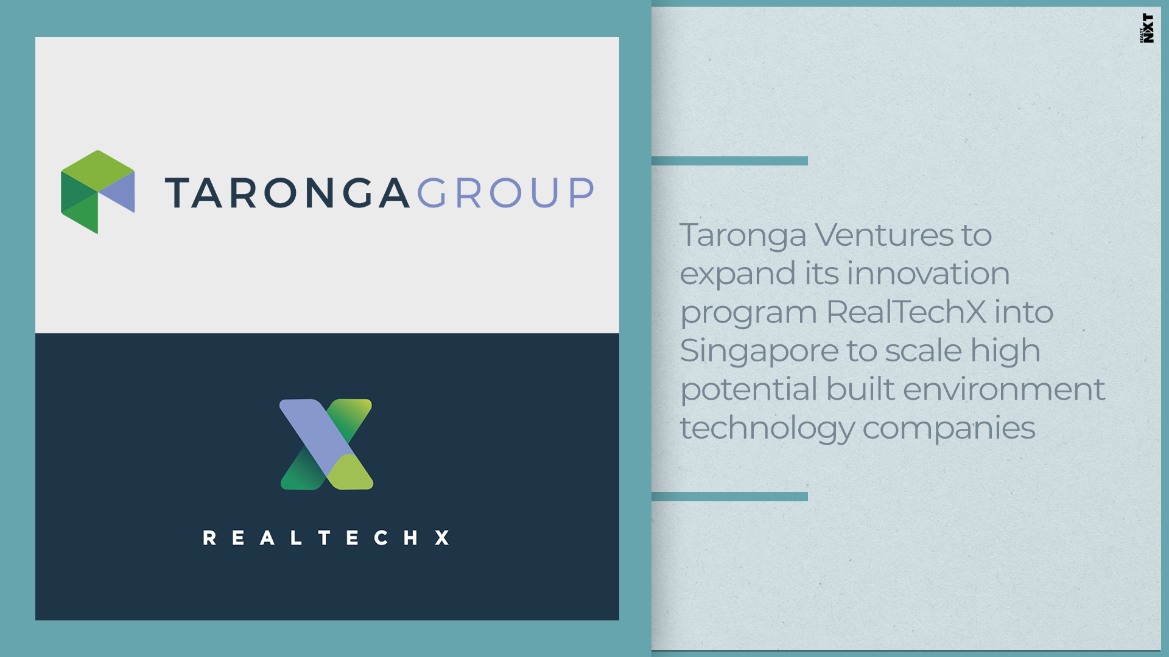 Taronga Ventures is expanding its local Singaporean team to further support the Asian ecosystem. 
Asia's leading built environment technology investor, Taronga Ventures, has expanded its successful RealTechX innovation program into Singapore, with support from Enterprise Singapore, the government agency championing enterprise development.
RealTechX is the largest innovation program of its kind in Asia, offering leading growth-stage technology businesses expansion and commercial opportunities across international real estate and built environment markets.
To Know More: Click Here
Taronga Ventures' innovation program will significantly accelerate the growth prospects of emerging businesses in Singapore's globally leading built environment technology sector. Singaporean companies participating in the RealTechX program will have access to leading, global real estate corporate customers, potential investment from strategic industry investors and expert advice on domestic and international growth strategy.
Taronga Ventures is expanding its local Singaporean team to further support the Asian ecosystem. 
Enterprise Singapore's Yeoh Choon Jin, Director, Urban Solutions and Infrastructure Services, said: "Singapore has maintained a focus on supporting best in class innovation in the built environment.  We have designed our city and spaces to deliver better citizen experiences and through technology, we are enhancing our urban environment and infrastructure performance. 
As a leader in built environment technology investment, we are delighted to be partnering with Taronga Ventures and its RealTechX growth program to grow our ecosystem."
Taronga Ventures' Avi Naidu, Managing Partner Singapore, said: "Singapore has for decades been a clear leader in urban development and infrastructure delivery, not just regionally but globally.  We are humbled by the opportunity to work with Enterprise Singapore to develop local capability and attract world-leading built environment technologies.
We have a long-term commitment to Singapore and its regional ecosystem, having established our second headquarters in the market and hiring top talent locally."
Enterprise Singapore's support for RealTechX builds on a successful partnership with the Australian Government's Department of Industry, Science, Energy and Resources to expand the RealTechX program beyond Australia to Singapore and the Asia Pacific region in 2021 as well.
ALSO READ: Government To Make Chennai A FinTech Hub: Tamil Nadu