Lodha Delivers Strong Performance In Jan- March Quarter With 116% YOY Growth In Pre Sales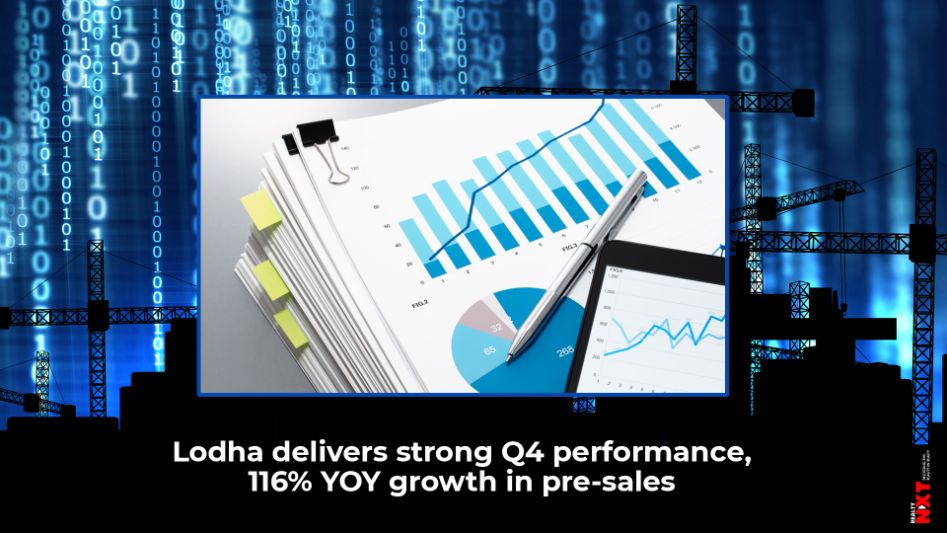 It reported one of  its strongest ever quarterly performance demonstrating strong recovery from the first wave of  Covid, ending FY21 on a high.  
Lodha (Macrotech Developers Limited), India's leading real estate  developer, announced its financial results for the quarter ended March 31, 2021. It reported one of  its strongest ever quarterly performance demonstrating strong recovery from the first wave of  Covid, ending FY21 on a high.  
Operational & Financial Overview for the 4QFY21 
Pre-sales at INR 2,531 crores (up 116% YoY*) 

Collections at INR 2,089 crores (up 10% YoY*) 

Revenues from operations at INR 2,534 crores (up 20% YoY*) 

Adjusted EBITDA at INR 943 crores (up 87% YoY*) 

Adjusted EBITDA margin improved to 37% 

PAT stood at INR 312 crores 
Commenting on the Q4FY21 and FY21 performance, Mr. Abhishek Lodha, MD & CEO, Macrotech  Developers Ltd. said, "Q4 FY21 is the 2nd consecutive quarter of strong performance after the first  wave of Covid. This gives us confidence that we are at the start of a long-term upcycle in housing  which will be supported by strong affordability, moderate home loan rates, disciplined supply and  gradually rising prices. We have also been surprised by the strong demand for industrial and  warehousing space and believe that this segment will provide us with significant growth from  hereon.
We are now expanding our residential reach in parts of Mumbai (MMR) and Pune (PMR)  where we are currently not present so that we can provide our high quality developments to a wider  cross-section of home buyers – our growth in housing will be driven by the JDA model over the next  few quarters, with a focus on affordable & mid-income housing. With our large, high quality existing  land bank (owned lands) and additional projects though the joint development route, we are focused  on disciplined growth which will lead to a significant increase in our pre-sales and keep us on track to  be a net cash positive company by FY 24."
Commenting further on the present situation, Mr. Lodha said "We are concerned about the deep  impact that the 2nd wave of Covid has had in our country and the loss of lives and suffering. We are  doing all that we can to support the our associates, workforce and the citizens of the cities that we  operate in and hope that the joint efforts of the government, citizens and corporates will enable us to overcome this terrible disease."
During the quarter, Lodha witnessed stellar business performance across business segments  showcasing robust growth. While mid-income & affordable housing segment continued to do well accounting for 58% of the overall business in the year, the premium & luxury housing segment also  rebounded registering a strong growth.
Lodha monetized nearly 165 acres of land in our industrial park under JV/ outright sale with  marquee companies such as Morgan Stanley, FM logistics (French 3 PL co.) and a US based  pharmaceutical company. 
Lodha is committed on its trajectory to deleverage and looking to become a net cash positive  company in next three years. Strong pre-sales performance combined with focus on costs, the  quarter witnessed net debt reducing by INR 544 crore. 
Our recently concluded IPO with strong brand led pre-sales performance going forward will add  momentum to this deleveraging journey. Taking note of our performance, Moody's upgraded  outlook to positive for our USD denominated bond. 
With the overarching motive of transforming lives, the company recently announced several  initiatives to join India in combatting the pandemic that extend support towards vaccination in the  country, providing in sufficient medicinal infrastructure and adequate medicinal supplies. "
ALSO READ: Small Cities And Towns Grapple With Big-City-Like Real Estate Boom: Canada