'Minimalism Isn't Always About White And Muted Colors', Ira Malhotra
It is impossible to deny the serenity and simple beauty when confronted with a resolved minimalist interior.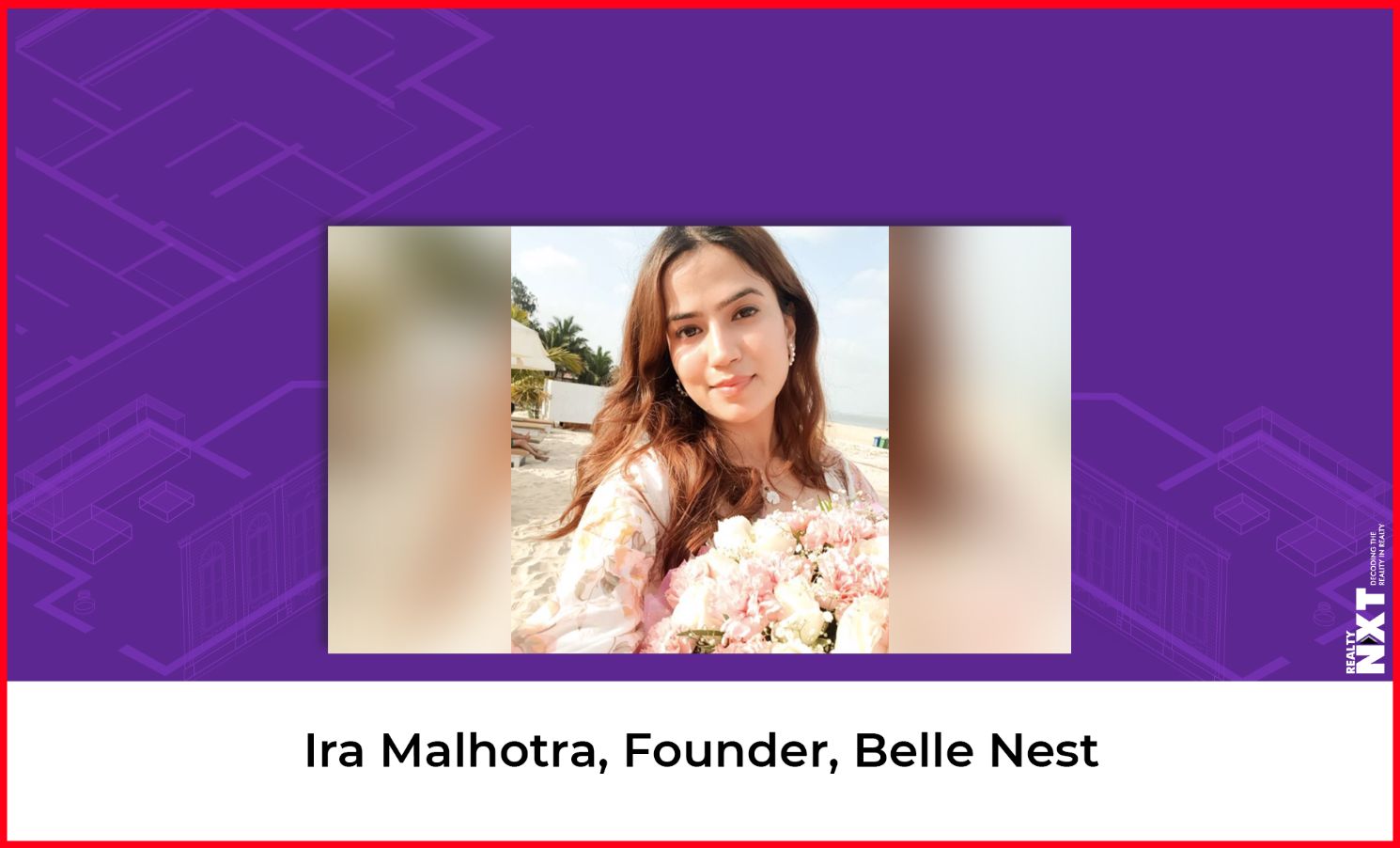 1. How do you define minimalistic aesthetics? What is the basic guide to it?
The minimalist aesthetic focuses on the visual aspect of minimalism and expresses a clean and fresh style in art, home design, fashion, architecture, and photography.
It is impossible to deny the serenity and simple beauty when confronted with a resolved minimalist interior.
The basic guide to achieve a minimalist aesthetic in home décor:
Neutral color palette

– We can all agree that neutral colors make spaces look bigger, cleaner and brighter. Colors that are a beautiful match for a minimalist aesthetic include white, beige, cream and softer shades of brown etc.

Subtle accents–

Some accents can be plants and greenery or an abstract digital  artwork for walls. Different textures can be added to the space with the help of pillows, curtains, lamps, vase, rugs etc.

Decluttering-

Decluttering is an essential element

if you are determined to make a minimalist aesthetic home. Do away with items that are no longer needed. Hiding them in storage boxes however is not the answer. The aim is not to hide mess but to get rid of it.

Keeping it simple-

The message of minimalism is "less is more" So to truly experience the beauty of a minimalist aesthetic design, we need to keep things simple to enhance their impact.
2. You started Belle Nest in 2020. Was it a lockdown inspired idea? What was your inspiration behind starting the brand?
a) According to me, being an entrepreneur is about having an idea that intrigues you and increasingly pulls you in until you can no longer ignore it. For me, It all began when I began my search for good home décor pieces because I was setting up my room and just couldn't find anything remotely similar to what I had in mind.
It didn't take me long to realise that there was a vacuum in the market for certain niche home décor products. After discussing with my friends and family, I also realised that there is enough demand.
b) Lockdown of course gave me the perfect opportunity as I had more time and one fine day in September, I decided to take the plunge and I wouldn't have it any other way. I wake up every day feeling motivated to keep adding value to our brand and the lovely and like-minded people I have met along the way have made this experience even better.
3. Tell us more about Pampas grass. Why do you think it is one of the biggest decor trends in 2021? Please share some pictures to showcase how Pampas grass can be used to decorate homes or home-offices?
Pampas is a trend that has sneakily crept into our lives. It's all over everyone's Instagram feed, pinterest, weddings, events, hotel interiors, high street and home décor. Once you see it, you'll start to notice it everywhere.
Pampas rose into prominence in the states back in 2019 and the craze caught up in India in 2020. Infact, when we first introduced pampas in September, we were the amongst the only two brands in India offering pampas for sale. After a few months of launching it, belleNEST has become synonymous with pampas. 
Pampas and dried flowers have take the world by storm and it is poised to become one of the biggest décor trends in 2021. Why am I so sure you ask?
Well, there are many reasons, they're low maintenance, eco-friendly as these aren't made of plastic like the faux varieties, plus they bring a whole new range of faded color options (gorgeous pastels and muted browns and greys)!
What's more is that pampas literally never dies. It is eternal. It truly thrives on neglect. No water needed, no sun needed and no nurturing whatsoever.
It has become so popular because of its ease and versatility.
So swap your fresh flower bouquets for dried flowers if you haven't already!
4. Tell us about your new collection. 
With our new collection- 'belleNEST ceramics', we have attempted to introduce nordic style of home décor. 
In Scandinavian culture, the ability to enjoy the pleasure of being at home is central to finding happiness. Finding a sense of intimacy and togetherness can start with Danish Hygge – enjoying the good things in life. It can continue with the Norwegian idea of koselig – cosiness – which you achieve by surrounding yourself with koselig things. In the comfort of your own home, reading a book, tea simmering, snuggled under a blanket, you may have the Swedish feeling of Lagom – "not too much, not too little", just enough to make the most of the moment.
We at belleNEST aim to help you create a cozy corner in your homes with our nordic minimalist vases, candles and minimalist artworks. The idea is to go Scandi together! 
We are also working on our new segment- belleNEST kitchenware and cannot wait to launch it soon.
5. Do you believe in color psychology? Is there any specific reason that your collection consists of colors like mint, lavender, lemon, white etc. 

As mentioned earlier, we tend to gravitate towards a minimalist style of décor and Minimalism isn't always about white and muted colors, but it mostly is. This happens because white conveys a lot of minimalist sensations  such as cleanliness, simplicity, and serenity.
Moreover, white makes spaces look bigger.
Colors like white, eggshell bring about a sense of tranquillity to our surroundings. To add a touch of playfulness, we try to add accents with gorgeous pastels like lilac, mint etc and muted tones like soft brown which prevents the products from harbouring a washed up look. 
6. Share with us Inspiring home decor trends you'll be tempted to try in 2021.
There are so many exciting home décor trends in 2021. The ones I am looking forward to the most are –
Rattan furniture- Rattan furniture is having a big moment right now. There are many different ways to incorporate rattan in your space- headboard, accent chairs, chests and bookshelves to name a few.

Tangled lighting/ Sputnik chandeliers- I can't stress enough on the importance of lighting. Perfect lighting can make a world of difference in any space. This is such an artsy and abstract trend and you can play around with it according to your own space and mood.

Colorful/Playful furniture- Colorful furniture is the perfect accessory to break the monotony of the neutral color pallete that dominates the minimalist décor. 
Colorful coffe tables, sofas, candles are the perfect examples of this trend.
7. As a startup, what's your marketing strategy to reach out to your target audience?
Our comprehensive first step was to develop our brand because I believe that if people can't identify with you and why you are doing what you do, you don't have a brand. Developing a brand encompasses everything right from the logo, tone and typography to sharing our brand story. 
Content is the best way to create brand awareness and therefore, a lot of thought and planning goes into what we post on our Instagram feed. I always plan ahead and think about our layout and the look of our grid and I always make sure to have photos ready so I am not scrambling for content at the last minute.
I also try to be consistent with my posting habits and focus on using the right hashtags, keeping up with the latest trends, making use of influencer marketing and I always make it a point to engage with our customers.
ALSO READ: 'We Are Adaptable To Changes And Ready To Do What The Market & Business Demands', Keerthi Tummala