Tata Sky Broadband Commits One Year To WeWork's On-Demand Enterprise: India
WeWork's On-Demand Enterprise service comprises a personalised microsite, accessible only to Tata Sky Broadband's employees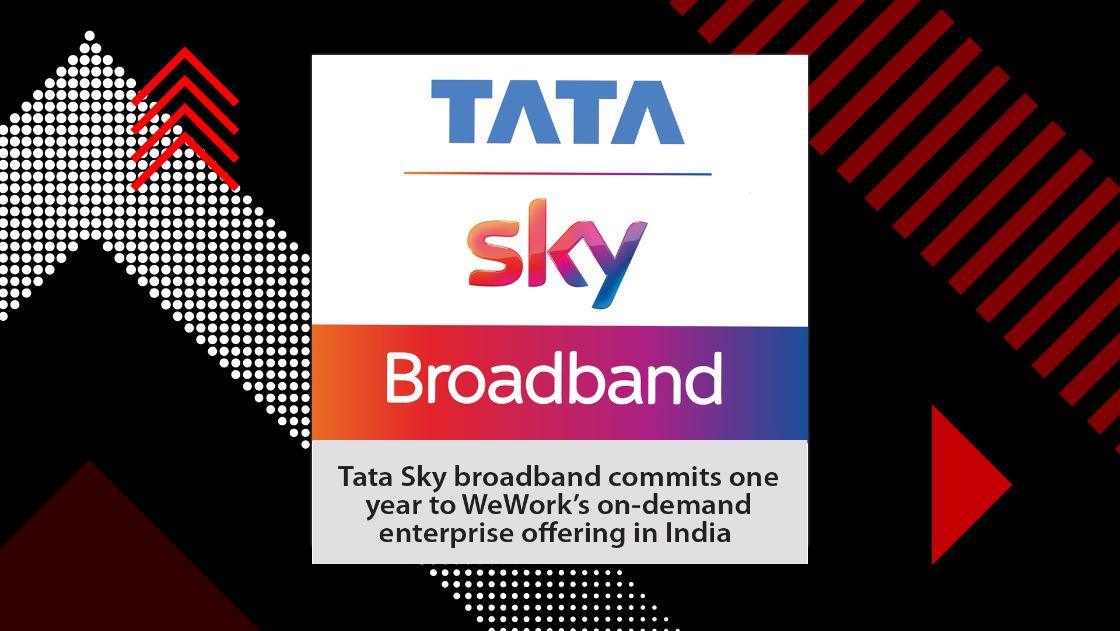 WeWork's On-Demand Enterprise service comprises a personalised microsite, accessible only to Tata Sky Broadband's employees
WeWork, the world's leading flexible workspace provider, today announced that India's leading broadcast satellite service provider Tata Sky Broadband has signed a long term deal for its On-Demand Enterprise service, the flexible product offering launched last year post the Covid-19 lockdown.
Through WeWork's On Demand product offering, Tata Sky Broadband has chosen WeWork locations as its workspace of choice for its 250 employees, starting May 2021, providing its workforce the flexibility and freedom to work out of a WeWork as and when required.
This deal serves as a positive reinforcement back to growth for workspace providers post-COVID-19 and demonstrates the steadily rising demand of flexible workspaces amongst enterprises, in-line also with WeWork's growth trajectory of enterprises forming over 60% of its member base.
WeWork's On-Demand Enterprise service comprises a personalised microsite, accessible only to Tata Sky Broadband's employees and allows them to seamlessly book workspace, conference rooms, parking and other amenities, thereby making flexible and collaborative workspace experiences more accessible.
With people fatigued with working from home and having limited social interaction or adequate infrastructure, WeWork's On-Demand Enterprise offering provides employees the much needed respite to use their beautifully designed and safe workspaces in a flexible manner as per one's needs via a postpaid model.
This allows them to be more efficient in terms of payments, by allowing them to choose what they pay for, rather than committing to a fixed monthly rent. Companies can also pick and choose which locations and amenities are to be made available to their employees, giving members the option of working closer to their homes, thereby cutting commute times and providing them more flexibility. Tata Sky Broadband has opted for this offering, providing its 500 employees with an easy transition back to work, and giving them the infrastructural support needed while ensuring flexibility of working near their homes.
Apart from beautifully designed and safe workspaces, WeWork's portfolio of amenities also provides the company's employees with access to a collaborative culture, networking opportunities, and much more as a part of WeWork's global community. .
Santosh Martin, Head of Sales, WeWork India, said, "WeWork has always prioritised meeting the diverse and ever changing needs of its members with its multiple flexible workspace offerings. In the current scenario as businesses are recovering from the impact of the global pandemic, flexible options will be the workspaces of choice for all businesses, especially enterprises. Industry leaders and home-grown enterprises like Tata Sky Broadband recognise the unmatched benefits of a flexible workspace model, especially in a post-Covid-19 world. Our undeterred vision of sustainable long term growth in the Indian market is only strengthened by the confidence shown in flexibility through such enterprise partnerships."
Amit Rai, Head – HR, Tata Sky Broadband, said, "The nature of our business has changed over the years and so have our ways of working.  We are an essential service and during the pandemic, we saw a rise in the need for Home WiFi. It was important that we stay committed to our customers through quick responses, timelines and seamless connectivity. Post the pandemic and changing world culture, WeWork has provided us flexible working solutions that cater to our specific needs. 70-80% of our employees work across different parts of cities and this delivers a  safe working environment and allows them to choose where and how they want to work. We are committed to the health and safety of our employees and WeWork has allowed us to cater to both our employees and customers in an efficient manner. "
Swapnil Pawar, Senior Manager, Admin, Tata Sky Broadband, noted, "Our sales and servicing teams are essential to the functioning of our organisation and require daily meetings and ease of access through mobility.The on-demand service by WeWork allows us to empower our employees by giving them the flexibility, right space to work as well as engage with their teams and continue working efficiently. Furthermore, employees who might be experiencing technical and space issues at home can now work easily from WeWork locations. The flexibility offered, along with reduced costs will allow our workforce to seamlessly focus on serving our consumers, with the added advantage of being part of a large global community."
The corporate landscape is ever evolving as are the needs of enterprises. WeWork is equipped to provide superior flexible product offerings to its members, with a sustainable focus on growth and a suite of services. The partnership with Tata Sky Broadband reiterates the long term potential of flexible workspaces in India, led by WeWork as it steadily increases its footprint in India.
ALSO READ: Need To Support Odisha Realty Sector For Overall Economic Development: Pratap Jena