Top Coworking Spaces Giving Tough Competition To WeWork In India
WeWork, a co-working space pioneer, has an amazing story of uprising, downfall and again leading the industry. Checkout which indian brands are giving tough competition to WeWork in India.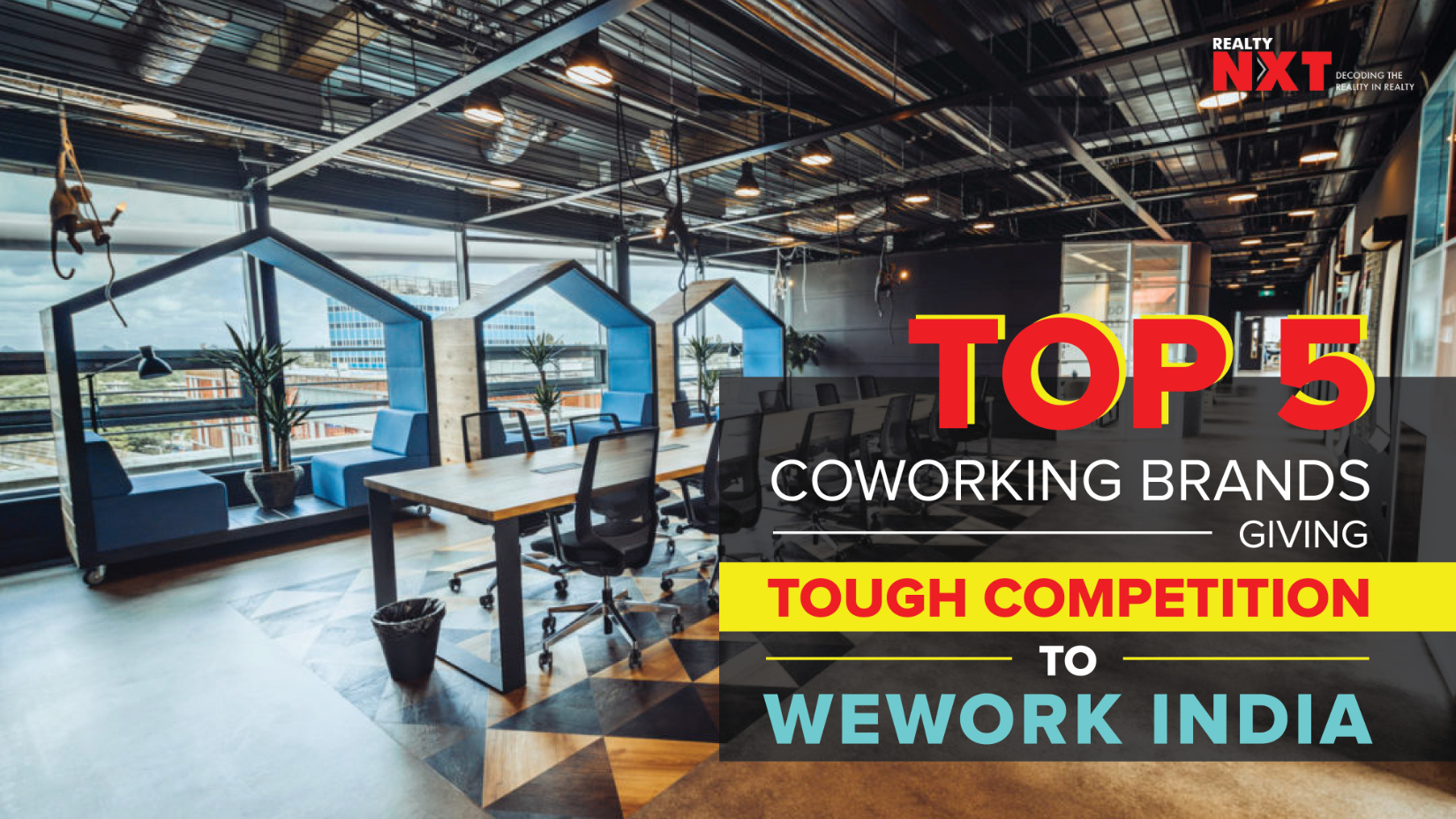 WeWork, a co-working space pioneer, has an amazing story of uprising, downfall and again leading the industry. Checkout which indian brands are giving tough competition to WeWork in India.
Over the last decade, we have seen a surge in co-working space ventures which allows small to midsize businesses and even an individual to have a safe and affordable workstation.
One of such names in the leading co-working spaces is WeWork.
Let's take a brief look at what WeWork is and what they do.
Bootstrapped startups often avoid investing in realestate i.e. an office space because they can execute the majority of their business remotely.

However, there are times when having an office provides you a much-needed schedule and gives you the chance to have physical interactions with your colleagues and clients.
Co-working spaces such as WeWork combine the best of both worlds.
There is no doubt that WeWork has positioned itself as a convenient alternative to traditional office space.  Adam Neuman, WeWork's co-founder and ex-CEO says that the idea was to bring a change and create a new way of how people work. 
He started WeWork in 2010 and attracted many young entrepreneurs initially as they were more focused on building a community while also providing a much needed solution to landlords with empty spaces and vacant buildings.
Its first center was in Manhattan, NewYork. A few of their investors were from the real-estate industry. Benchmark being one of their initial investors. The business grew quickly and by 2015 Wework was evaluated at $10 Bn.
Soon their vision attracted new investors, Softbank being one of the most crucial investors in 2017. 
Between 2017-2018 they invested around $ 8 Bn doubling WeWork evaluation to $ 20 Bn. 
In 2019, everything went downhill for WeWork soon after it publicly filed documents for an initial public offering of shares, on 14 August. Six weeks later, Neumann decided to resign as CEO and relinquished majority control of WeWork's equity.
The company's proposed valuation had fallen by more than half, and the IPO had been called off entirely. The failed IPO and the company's subsequent takeover by SoftBank, its largest investor, both made the way for the public exposure of already known facts: WeWork was losing quite a significant amount of money. Sebastian Gunningham and Artie Minson were then appointed as Co-CEO's. They put a lot of multi million acquisitions on sale which delayed the company's IPO. They closed down WeGrow, the company's elementary school and laid off thousands of employees. 
Recently, WeWork has agreed to a SPAC Deal that would take the startup public.
It has agreed to go public through a merger with BowX Acquisition Corp, enabling the office-sharing company to complete a stock market listing two years after its failed first attempt.  
WeWork predicts that their EBITDA will be $ 900 Mn in 2021 but it will achieve operating profitability of $ 500 Mn in 2022.
WeWork's revenues for 2020 were flat at $3.2 Bn due to the pandemic, but the company and real-estate industry experts predict that there will be a growing demand after the pandemic as the need for flexible offices will increase.
In terms of profit, WeWork expects to raise $1.3 Bn in cash from the merger, funded by the $ 420 million BowX raised in its IPO in August and an $800 billion private investment in public equity (PIPE) from investors including Insight Partners, Starwood Capital Group and Fidelity Management.
The unprecedented circumstances, the pandemic and subsequent lockdown emerged as game-changers for the co-working sector. 
In 2017, WeWork Global partnered with Embassy Group to enter Indian market and has played a very crucial role in making coworking popular in India. 
Recently, WeWork successfully raised Rs. 200 crore from investors through a mix of debt and equity. Despite the slow absorption for commercial real estate with 5.53 million sq. ft. leased in 2021, they remained bullish with driving sales and net absorption, with more than Rs. 7 lacs sq. ft. of area being sold.
In June last year, it had invested about Rs 750 crore in WeWork India.
WeWork India has over 5 million sq. ft. of space leased in 35 locations, across NCR, Mumbai, Bengaluru, Pune and Hyderabad.
As of 2020, WeWork Global had 828 locations in over 149 cities and 38 countries.
WeWork's Top Competitors : 
1. Awfis
Awfis was founded by Amit Ramani in April 2015 with 8 centers. In August 2019, Awfis raised $ 30 Mn in Series D funding led by ChrysCapital. In February 2021, Realty firm Prestige Group tied up with coworking operator Awfis to set up six centres, comprising around 4,000 desks, in Bengaluru, Hyderabad and Chennai with an investment of about Rs. 40 crore.
The company will target not just startups and SMEs but also mid-sized and large-sized corporations looking to decentralise their workplaces. Awfis currently has 75 centres and 40,000 seats across 11 cities. It is a fully tech-enabled workspace solutions platform.
2. SmartWorks
Smartworks was founded in 2016 and is headquartered in Noida, Uttar Pradesh, India.  In 2019,  Keppel Land invested US $ 25 Mn in Smartworks. 
SmartWorks has a presence in 9 leading cities and 23 centres through a footprint of 2.1 million sq. ft. Smartworks is focused on creating the next generation office spaces and a highly productive community by ensuring customer centricity, tech-enabled office solutions, innovative and inspiring designs. The brand is planning to add 3 million sq ft office space in 2022.
3. 91 Springboard
91springboard is a co-working company that provides part-time office solutions for startups, business owners, and small to large companies. The company offers 24×7 office-infrastructure support, key service providers, knowledge sharing, collaboration and networking. 91springboard was founded in 2012 by Anand Vemuri, Pranay Gupta, Varun Chawla and Deepak Sharma. In June 2020. Springboard raised Rs. 45 crores from the investors.
Their offices are spread across Delhi NCR, Gurugram, Noida, Bengaluru, Hyderabad, and Goa. Last year It also launched 91S Live, a user engagement platform, which offered information ranging from learning and knowledge (professional and personal) workshops, health and wellness stories, and COVID-19 updates.  
4. OYO Workspaces 
Oyo entered co-working business with $ 30 Mn innov8 acquisition. They launched three coworking brands including Workflow and PowerStation in its mid tier budget category, while Innov8 is part of its premium category. Led by Rohit Kapoor, CEO, New Real Estate Businesses, OYO Workspaces is a fully controlled workspace solutions provider, designed to meet the needs of over 80% of the working population in the country.
They will offer affordable co-working spaces and accommodation in its Oyo Townhouse hotels with 'Oyo Workpad', keeping in mind the new business realities and changing demands of the young workforce.
5. Inspire Co-Spaces
Inspire Co-Spaces is a spacious co-working startup providing spaces to Small businesses, startups, freelancers etc. Located at Andheri, Goregaon, Thane and Belapur, it's an easily recognisable building often treated as a landmark too.
Recently Inspire Co-Spaces has proposed a plan of expansion by entering into a lease agreement for 20,000 sq ft in a commercial project, Westgate in Ahmedabad to build a 300 seat, flagship center in Ahmedabad, with the plans of doubling them by 2022.
With an angel investment of $4 Million by Ashish Chandna, Inspire Co-Space is planning to expand in many tier 2 and 3 cities in the near future, along with that Inspire Co-Space will start functioning towards the end of the June post Covid in Ahmedabad. With over 50% of seats already booked, Ahmedabad shows a high promise for Co-working spaces as it's one of the top 10 industrial corridors for Co-working spaces. 
The journey which WeWork has taken from being a unicorn startup estimated at $47 Billion to crashing in the first IPO to finally in 2021 going Public with an enterprise value of $9 Billion, it has seen a lot because of which other co-working spaces companies have taken a lesson.
There's been a surge in the growth of co-working space culture through the last decade; more than 850 co-working spaces companies have emerged in India alone during that time.
The market cap is expected to reach the valuation of $2.2 Billion by 2022 as compared to 0.17 Million sqm in 2017. With a strong speculation of growing 3 folds in the next 3 years.
ALSO WATCH: