Top 10 Indian Cities To Invest In Land Plots Yielding Higher Returns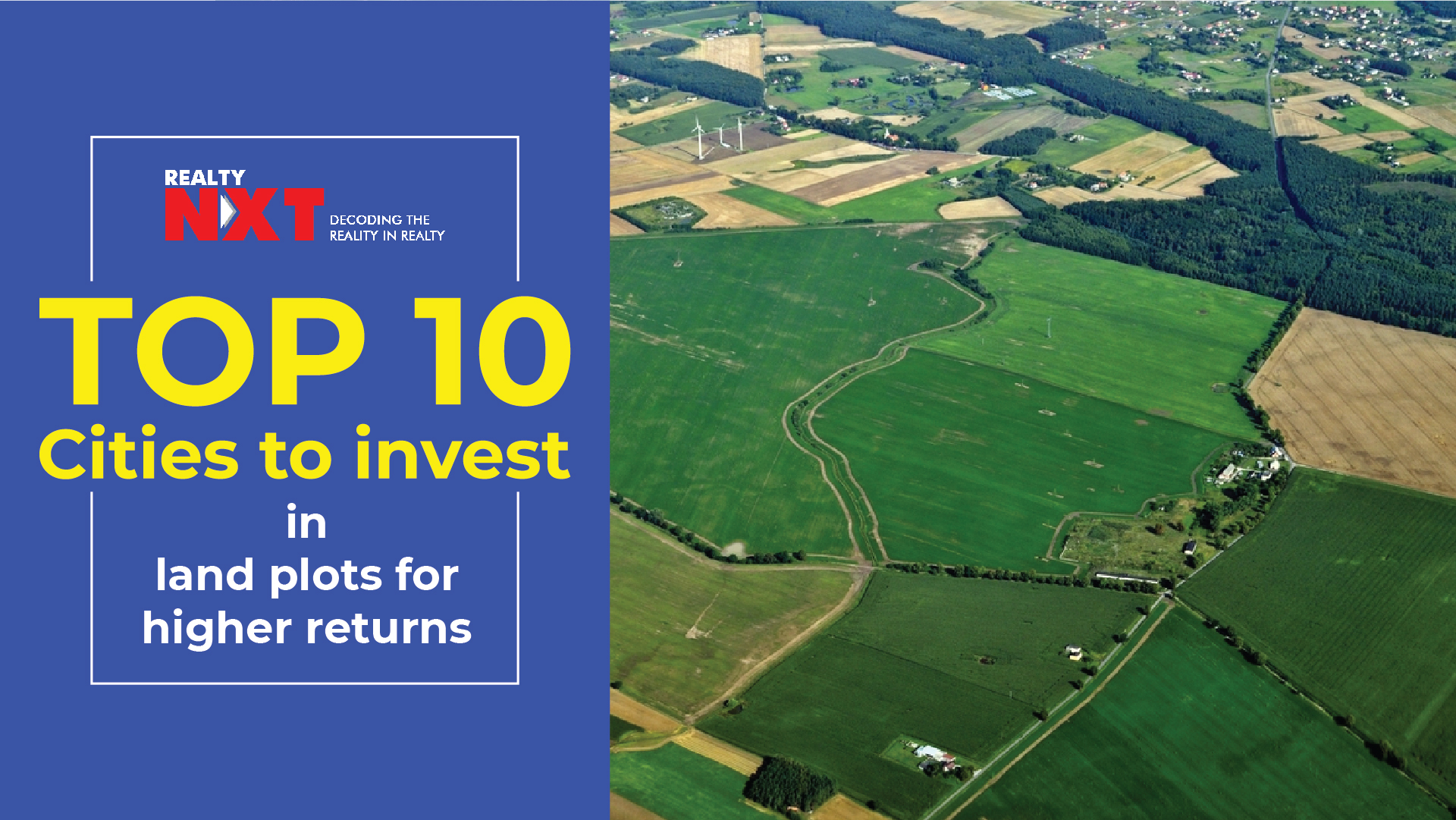 Are you doubting whether you should invest in a land  plot during a pandemic and how it will go when it's over? 
A significant demographic dividend and consumption-led development have kept foreign investors interested in India.
With nearly two decades of economic liberalisation and a stable, development-oriented federal administration, India is poised to enter the next phase of economic expansion.
The Indian real estate market has a diverse range of property segments, with residential being the most important (due to large housing needs and increasing urbanisation), followed by office, which is emerging as the preferred investment option for institutional investors, as well as retail and logistics sectors. 
The initial phase of the Indian REIT would include revenue generating commercial real estate holdings.
A report from KnightFrank India estimated that roughly USD 96 billion or 1.4 billion square feet of occupied space in the office, retail, and warehousing categories may profit from the REIT possibility.
The report also states that India has one of the highest commercial real estate yields in the world.
While residential property returns range from 2-4 percent, commercial property yields range from 8-11 percent, depending on asset quality and lease terms. Foreign investors have already purchased rent-generating commercial assets in India for more than USD 2 billion.
This got us thinking about how many aspects go into investing into real-estate plots, which may range from which city to invest in to the term of the investment, when to enter the market, will the investment appreciate significantly, and so on.
Mr. Samir Jasuja, Founder & CEO Of PropEquity, stated that the real estate market is on the rise due to more demand than supply.
Mr Anuj Puri, Chairman – ANAROCK Property Consultants, said "Relatively affordable prices, open greener spaces, among other factors make these micro markets quite attractive."
With Rohan Shridhar, Co-Founder & COO of TEAL, detailing in detail how trends in places such as Faridabad have increased by 129%!
Without further ado, let us look at what our experts had to say regarding the following.
1. Which areas do you believe are worth investing in real-estate, for better returns?
Mr Anuj Puri, Chairman – ANAROCK Property Consultants, when asked this question said, "The top cities like Bengaluru, Hyderabad, Chennai, Pune and Gurugram are seeing high demand for plots in the wake of COVID-19. Amidst this rising demand, some of India's top developers have ventured into plotted developments across top cities. These include DLF Ltd., Raheja Group, Godrej Properties, Century Real Estate, Puravankara's Provident Housing, Shriram Properties, Goel Ganga, TVH and Alpha Corp, among others. 
The peripheries of the top cities have most of the new plotted developments supply:
Bengaluru

– Major micro-markets for plotted developments include Devanahalli, Jigani, Varthur, Doddaballapur Road, and Yelahanka. Average plot sizes range between 600 – 5,000 sq. ft. with prices ranging from INR 25 lakh to beyond INR 3 crore.

Pune

– Major micro-markets include Wagholi, Undri and Talegaon Dabhade, among others. Average plot size ranges between 600 – 6,600 sq. ft. while the prices start as low as INR 14 Lakh.

Chennai

– Prominent locations with plotted developments are Iyyappanthangal, Puddupakkam, Vandalur and West Tambaram, among others. Plot sizes start from 560 sq. ft. and are priced from INR 14 lakh onwards. There is a high demand for plots priced within INR 50 lakh.

Gurugram

– Major micro-markets for recently-launched plotted developments include Sohna and Sector 72. Plots are priced at INR 30 lakh and above.

Hyderabad

– Markets with new plotted development supply include Rajendra Nagar, Shadnagar and Serilingampally, with average plot sizes ranging between 1,200 – 8,000 sq. ft."
To which Mr Rohan Shridhar, Co-Founder & COO, TEAL, added  "Faridabad is also fast emerging as a top investment destination because it offers good connectivity with the rest of the National Capital Region; with the opening of the six-lane Faridabad Bridge constructed over the Agra and Gurugram canals, several developers are launching their projects near it. Consequently, land prices are expected to go up in the region. TEAL data shows that plot transactions in Faridabad which had peaked in May, 2018 and fallen in 2020, are now showing an upswing since December, 2020. They jumped from December, 2020 to February, 2021 by 129% percent."
"Also in Chennai and Coimbatore, plotted development projects are increasingly being undertaken by real estate developers. Localities close to the IT corridor of OMR and GST Road especially are witnessing an increase in demand for plots. In the post-Covid scenario, independent plots which give buyers the option of building standalone houses and villas which are spacious, are in high demand.  In Coimbatore, 3 special IT Economic Zones have been set up with IT parks, malls and hotels planned and underway. This pick up in commercial activity has also boosted demand in  real estate, including plots, in the city. Our data shows a sharp uptick in 2021, with plot transactions displaying a staggering increase from December, 2020, to February, 2021 in both Chennai and Coimbatore."
He concluded by adding, "Navi Mumbai and Thane A host of upcoming infrastructure projects are driving the demand for plots in Thane and Navi Mumbai. The Mumbai Trans Harbour link, Navi Mumbai International Airport, Delhi-Mumbai Industrial Corridor, the Mumbai Metro which extends to both, Navi Mumbai and Thane and the Mumbai-Ahmedabad High Speed Rail are some of the important projects taking off in the region. Furthermore, Thane and Navi Mumbai, being satellite towns of Mumbai offer spacious properties at more affordable prices compared to Mumbai where real estate prices have shot up due to space constraints.
These micro-markets are gradually transforming into preferred real estate destinations owing to the establishment of commercial hubs and continuous improvements in infrastructure in the region. Navi Mumbai, especially has taken off as an attractive property investment hub owing to CIDCO's planning activities encouraging residential and commercial real estate development. TEAL data shows that plot transactions in both the cities registered an all-time high in December, 2020, displaying a growth of 113% and 152%, in Navi Mumbai and Thane respectively, from March, 2020 to December. Plot transactions remain high in 2021 as well."
2. Why do you believe these places are worth investing in?
When we asked Mr. Samir Jasuja, Founder & CEO – PropEquity, why he thinks investing in these locations is going to be worth it, he said, "Locations that have lower inventory and property sales are higher than the launches generally leads to solid long term demand. These cities are following this trend and we foresee this trend to continue in the future."
To supplement his take, Anuj Puri, Chairman – ANAROCK Property Consultants, added, "Relatively affordable prices, open greener spaces, among other factors make these micro markets quite attractive. Since peripheral areas are now seeing high demand amid the WFH and e-schooling realities, most of these localities are being favoured. Alternately, many of these plotted development projects are from the large and branded developers – something preferred by buyers today. In earlier years, plotted developments were largely offered by smaller developers"
3. Do you think this is the right time to enter the Real-Estate Market?
But, even after noticing an upwards trend in the listed cities, a question still arises in our minds which says "Is this still a right time to invest in these cities"
To which, our expert Mr. Samir Jasuja, Founder & CEO – PropEquity said, "It is the right time to invest in these cities because the prices are at an all-time low and in the next 2-3 years we can witness price appreciation as India boosts its vaccination drive, effectively managing any new COVID waves and the world economy gets back on track."
And, Mr Anuj Puri, Chairman – ANAROCK Property Consultants, added "Buyers who are genuinely looking to purchase or invest in plots should know that it is the best time to buy. Many developers still continue to offer best deals and discounts and those looking to construct over these plots may avail home loan rates which are their lowest-best. Also, there are various infrastructure projects in the pipeline to further boost connectivity of these areas. Once the infra projects are ready, these areas will see decent capital appreciation and enhance connectivity to the key areas of respective cities."
Because of the covid recovery period, the demands for land and plots in top cities are showing an upward trend with a steady growth in the demand for plots, creating a great potential for value appreciation with availability of open spaces.
Cities like Pune, Hyderabad, Bangalore, Thane, Gurgaon, Faridabad, Chennai, Ahmedabad, Kolkata, and Navi Mumbai show a promise for giving higher returns on investments over a mid and long term tenure.
Not just that, with the demand being higher than supply which leads to a long term demand has been speculated.
Going into the next decade, the real estate sector will be in an environment where regulatory standards have brought about openness in transactions, responsibility on the side of the developer, and a degree of safety in the purchasing process. Buyer sentiment is steadily improving, and hesitant buyers are becoming purchasers. The previous decade's recession resulted in delayed demand, which will return to the market and translate into higher-than-average sales as we enter the next decade.
It is an excellent moment to invest because prices are at a lower end of the spectrum, and we should expect price gain in the next 2-3 years as India ramps up its vaccine campaign, successfully managing any future COVID outbreaks, and the global economy recovers.
ALSO READ: Experts Explain Why To Invest In Residential Real Estate During Covid-19