Should You Put Your Money In A Land Plot Or Second Home?
Real estate Investing in a pandemic has taken quite an upwards journey. The question arises is should you be investing in a plot or a second home?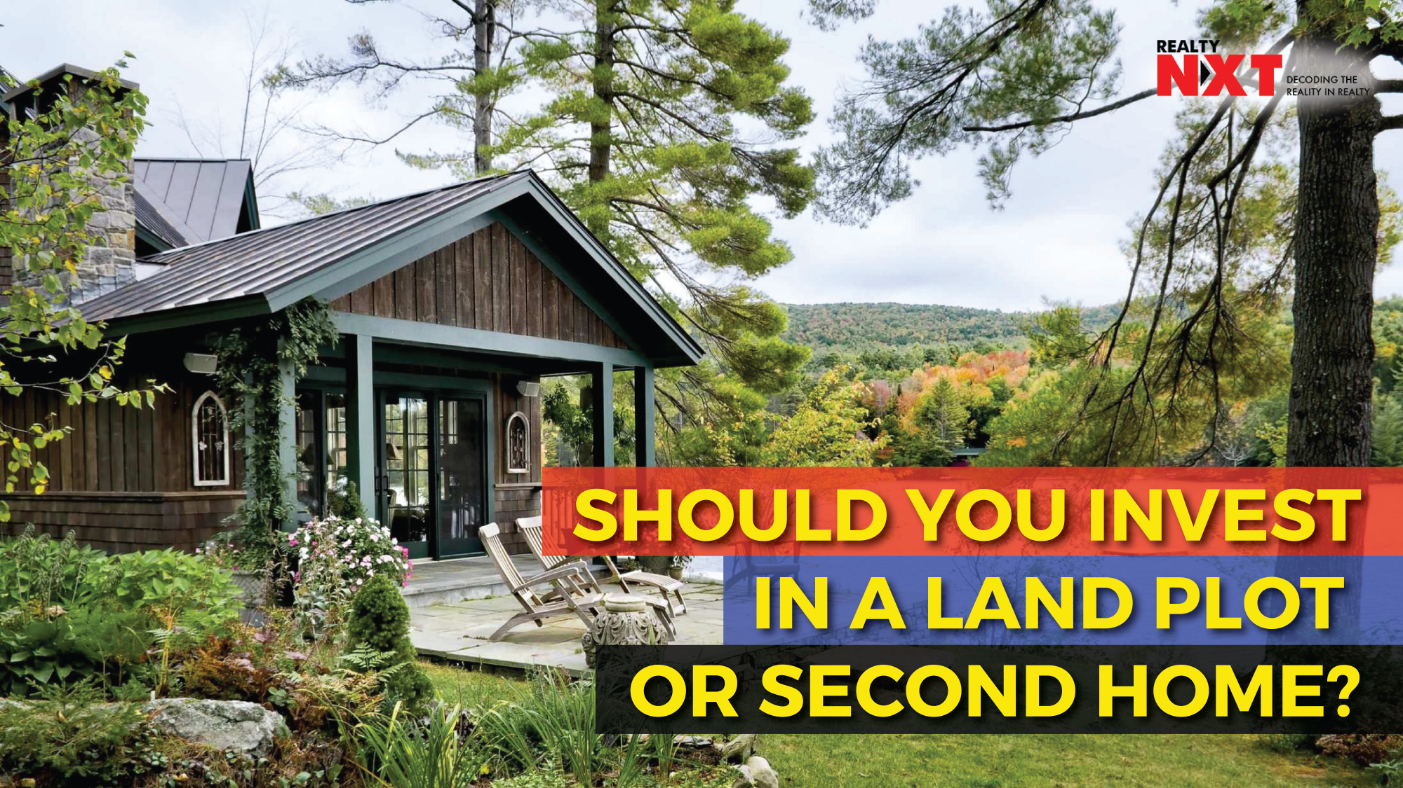 Real estate Investing in a pandemic has taken quite an upwards journey. The question arises is should you be investing in a plot or a second home?
The pandemic has brought about a massive change in the way individuals now look at their homes and their lifestyle. The combination of work from home and no vacations during the pandemic has prompted more Indians into buying second homes in holiday destinations. Work from home, travel ban, safer getaways etc. are some of the reasons driving the demand for second homes. 
Following the Coronavirus outbreak, there has been a lot of assumption about the real estate industry's future path. 
"There's been uncertain speculation about the growth of the real estate market but experts believe that there won't be any downsides if the lockdown opens up. In case there is a lockdown, the sales may take a damper due to buyer sentiments", CREDAI national president Harsh Vardhan Patodia, at a virtual press conference.
While many buyers and investors may be hesitant to invest in real estate at this time, searches, queries, and conversions for residential plots and land investments remain steady and significant.
The current trends in the real estate industry:
Purchasing a home is difficult, especially if you want to invest in a metropolitan area. 
Companies are evaluating the productivity of their remote employees in the short term, and these employees or prospective buyers may contemplate living on the outskirts of cities in the medium term to allow themselves a hiatus from work  from home.
This will not only help them with their budget but will also allow them to diversify their investment habits. 
People acquire apartment units because there is a shortage of land in metropolitan areas. Land plots are available at reasonable prices in more remote locations, making the dream of owning land a reality.
Investing in Land
Land has long been a popular investment choice in India. Despite the availability of different financial instruments such as mutual funds and stock shares, its appeal has not worned out. However, you should be informed of all the advantages and disadvantages of investing in land.
Why should you invest in land?
Limited Demand and Supply
Aside from a few reclamation cases, the quantity of land is restricted, and the prospect of generating additional land is nil. Land has been in high demand due to its limited quantity and ever-increasing demand. However, because of the constant need for land, the price has not fluctuated as much as it has with other assets such as gold and equities.
Better appreciation than other categories
.According to research done by Anarock , "Average property prices in the top seven cities in the last decade (2010-Q1 2020) saw a close to 38 per cent jump."
If we talk about in a city wise per-say, Mumbai (Metropolitan region) appreciated 33% in the last decade (2010-Q1 to 2020) With an enormous jump of 67% in the decade prior to that (2000 to 2009) 
If you're buying a land for keeps with no intention of building or constructing anything on it, the maintenance cost will be ZERO.
If you're in possession of land, its value is not going to depreciate in the coming years. Which might not be true for apartments of constructed structures as overtime they lose quality and durability and if the new buyer wants something according to their specification they'll have to tear it down and reconstruct which is an overhead expense and can result is value deprivation
When we talk about housing properties, finding one that is up to the mark and fills your requirements is difficult and when you do there's always a chance a competition is going to outbid you as frustrating it is, this happens quite often with housing properties.
But when it comes to land properties, someone outbidding you is a rare occurrence.
What are the cons of investing in land?
Land investment is relatively illiquid, and you cannot cash it out whenever you want. In certain circumstances, the time it takes for the sale to occur might take years, undermining the point of making the investment in the first place.
Banks do not approve of loans for land with no construction plans.
Banks are quite reluctant to approve loans when it comes to buying a piece of land with no plans of construction on them thus creating financial shackles on the investor at times.
In the case of a house loan, you can claim tax advantages for both interest and principal repayment under Sections 24 and 80C of the Income Tax Act. There is no such provision for the interest paid on money borrowed for land investment.
Can fall under accusation by the government.
We've all heard stories of land encroachment sinking investments. In some cases, your legal claim to the land is jeopardised, resulting in needless litigation and legal fees. These extra costs might occasionally balance the increase in the value of your land. There is also the possibility that the land would be taken over by the government through forced acquisition. The remuneration paid is not always adequate. The purchase of land in the Noida Extension case is a prominent illustration of such a scenario.
Investing in Second Home
A second home is one that is purchased for leisure/holiday reasons, away from the hustle and bustle of city life, which is why most purchasers choose to invest in bungalows. What is important here is that the space be big, have a desirable view, and be well connected to the major metropolis. A bungalow on the outskirts of a city will be less expensive than a standard flat in a metropolis. A larger weekend house would provide us more space to pursue hobbies and host get-togethers. Along with this there are great TAX benefits that one can claim when it comes to a second home. But, before investing in a second home you should know the upsides and the downsides of it.
Why should you invest in a second home?
When you invest in a second home, you are not only investing in an apartment but also taking a step towards owning a vacation home and a future retirement plan.

There is a great opportunity for you to earn some passive income. When it comes to a second home, you can put it up for Airbnb and collect rent when you are not using it.

Your real estate portfolio gets diversified, creating a financial cushion for you.
Tax benefits of owning a second home.
The benefit of recognising residences as self-occupied has been increased to two residences beginning with the fiscal year FY2019-20. For income tax reasons, homeowners can now claim two homes as self-occupied and the rest properties as "let out property." As a result, in the situation of two residences, the homeowners can claim both as self-occupied properties and the interest paid on the loan amount under Section 24. However, keep in mind that the total interest claim for both self-occupied homes cannot exceed Rs 2 lakh in a fiscal year. Furthermore, if the second property is under development, there is no tax impact.
Click here to understand everything that you need to know for investing in a second home.
Resale value of getting a second home
If you're looking to buy an apartment / home for investment purposes you should keep in mind a short time frame, anywhere around 5 to 7 years.
The reason being, homes might depreciate its value due to constructions being outdated and the quality degeneration over the period of time.
But on the other hand, amenities and the area you decide to invest in, can play a role in keeping the value of your second home intact.
Cons of investing in a second home?
Room for mismanagement, as taking care of another home is an equal hassle and can become tedious if proper management is not done.

Security risks, If sufficient security is not employed or the property is left alone for lengthy periods of time, the possibilities of a break-in increase, resulting in a large personal loss.

Changes exceeding your budget are quite possible.

Not receiving your home on expected time i.e. delayed possession.
To choose the greatest investment option between a land and a flat, one should first consider one's personal needs. 
If the investor intends to utilise the property for personal purposes, land may give the advantage of usage freedom as well as significant value increase in the long run. 
However, if the investor intends to resell the property within a short period of time, it is more advantageous to invest in apartments.
Because an investor is not obligated to retain the flat for an extended period of time, the depreciation problem is also eliminated. If the investor is someone who cannot dedicate much time to property maintenance, it is best to choose a flat over land.
ALSO WATCH: