Peeping Through The Keyhole Of Life At Fully Furnished 2BHK Smart Home By Raunak Group
Powered by Jio Fiber, Raunak Centrum has a smart home hub which brings accessibility, comfort & security right at your fingertips.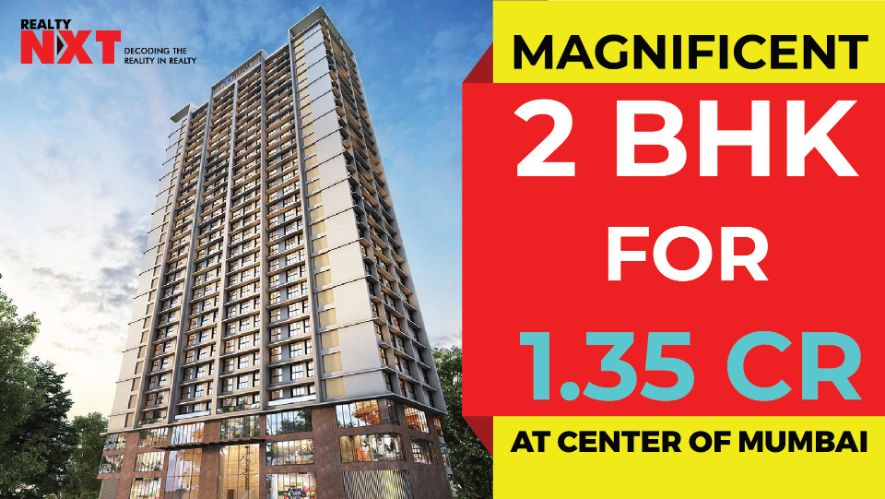 Powered by Jio Fiber, Raunak Centrum has a smart home hub which brings accessibility, comfort & security right at your fingertips.
Want to live in a home which feels like it's right from your dream? Well, Raunak Centrum, Sion with the life at the center of Mumbai provides exactly that.
With their expertise Raunak group brings top-notch fully furnished, Smart, 2 BHK homes in the center of Mumbai Sion, which is a perfect match for first time home buyers.
Let's take a look what it has to offer with Home Tour by RealyNXT
Starting with the grand Kitchen, with excellent space, 
It's an in-built modular kitchen powered by Asianpaints Sleek  Hob & Chimney which will allow a great space for all your gadgets be it a toaster, coffee maker or a smart fridge.
When we move onto the living cum dining room, we can easily say it's not less than state of the art design, made to make you feel like a royalty. Furnitured with a sofa & coffee table, 4-seater dining set and a TV unit, this is what you need in your fully furnished, smart 2BHK homes with designer flooring. With the grand design, it gives you space and power to grow to your desired lifestyle.
If we talk about the most important part of the home, the master and guest bedrooms, you'll see a luxurious space, fitted with personal bath settings and double beds, wardrobe and nightstand table. Raunak Group's Centrum, Sion is what defines luxury, class, and royalty for your life.
Powered by Jio Fiber, Raunak Centrum has a smart home hub which brings accessibility, comfort & security right at your fingertips.
With air-condition, light and fan controlling it makes it super easy to make your surroundings cozy & comfortable as per your needs.
And when it comes to security, a video doorbell to keep intruders away is an excellent feature of the smart hub installed right in your Raunak, Centrum home.
Along with that, gas, smoke, AND motion detectors are kept in the palace to leave no stone unturned when it comes to protecting you and your family with even a possibility of intrusion or danger.
Now that is what excellency feels like.
Still a little skeptical? 
Let us tell you about the unmatched connectivity Raunak, Centrum brings. 
With major commerce hubs like BKC, Andheri, Powai, Fort, Navi Mumbai just 20 minutes away, you'll never feel like you're missing out on anything due to distance and. it just doesn't stop there!
With easy access to Monorail, Metro, Eastern Express Highway, Eastern Freeway and Airport your life beyond your city doesn't stop either. Be it a road-trip with friends or an easy going vacation, your lift off and landing points and fabolous restaurants are right near your home with Raunak Centrum.
When it comes to your health you shouldn't compromise on anything.
Having a trusted hospital near your home for precautionary purposes aid a lot.
Hence, most-trusted hospitals such as SRV Hospital, OMA Hospital, INKALS Hospital, TATA Memorial and more less than 10 minutes away from your home at Raunak Centrum will be there for you.
When it comes to families with kids, having a school near your home brings a sense of peace and security amidst parents. 
And, if you have a life in Raunak Centrum, that state of peace will be constant.
With top-notch schools and day-cares such as St. Mary's High, Orchids the INT School, Ascend INTL School and more  less than 10 minutes away from your home at Raunak Centrum, it will make your and the lives of your kids easier too.
Has your day to day work travel drained you? 
With The Executive center, Quest Co-Working, Godrej Coliseum, WeWork, One BKC and many other mammoth business centers less than just 10 minutes away, Raunak Centrum takes care of your work life balance by cutting down the travel time to minimal with its  ultimate connectivity.
Here's an overview of ultimate connectivity the Raunak Centrum offers —
2 minutes or Immediate access to business hubs like, BKC, Wadala and upcoming metro junctions
5 minute access to key junctions like Chembur, Matunga and Freeway.
15 minute access to Lifestyle hubs like Phoenix Matunga, WEH and Bandra W.
How can you miss out on a lifestyle with everything less than 20 minutes away in Mumbai?
If we're talking about buying a home it can and will become a great investment option, especially if you're making an optimum decision like a home at Raunak Centrum.
With 5 big government projects around:
BKC-Chunabhatti  connector, it's a flyover connecting the EEH to the commercial capital of Mumbai-BKC.
Wadala-Thane Metro Corridor
Wadala – Kasarvadavali metro line will connect, wadala to Mulund, Thane and Ghodbunder road, reducing the travel time to 50-75%
Dahisar-BKC-Mandale Metro Corridor
Metro line 2A & 2B will provide faster connectivity to the airport and western suburban areas. The travel time will be reduced to 50-75%
Upcoming Commercial Business District At Wadala
Development of a new Commercial Hub in Wadala with more than 4 million sq.m of commercial, retail and lifestyle spaces
Mumbai Trans-Harbor Sea Link
MTHL is a 21.8 Km long bridge connecting Mumbai with Navi Mumbai (Sewri to Nhava Sheva). It will reduce the travel time from 1.5 hrs to less than 30 mins
Along with that, the average rental for 2BHK in the area is 60,000 a month with it being the most preferred home of the new age professionals.
Hence its a very good investment opportunity as its yields good rental income
Another mind blowing achievement that you should know about is, the Raunak Centrum, Sion project was SOLD OUT within just 9 days of its launch.
Sounds unreal, right?
Well, that's what happens when you get the house you deserve with above and beyond luxuries. Not to be worried, the second phase is coming soon!
Till then here's what you need to know about Raunak Group.
About Raunak Group
Established in 1980, Raunak Group is the Fastest Growing Real Estate Brand of Mumbai Ranked the No. 4 developer in Mumbai.
With projects covering over 59 lakh sq.ft and on-going developments of an additional 30.6 lakh sq.ft
Raunak group thrives to provide superior quality in construction and service, while creating spacious and luxurious homes with modern facilities at affordable prices.
To Watch The Full Video: