Knight Frank India: MMR Records 53% YoY Growth In Both Residential Sales & Launches In H1 2021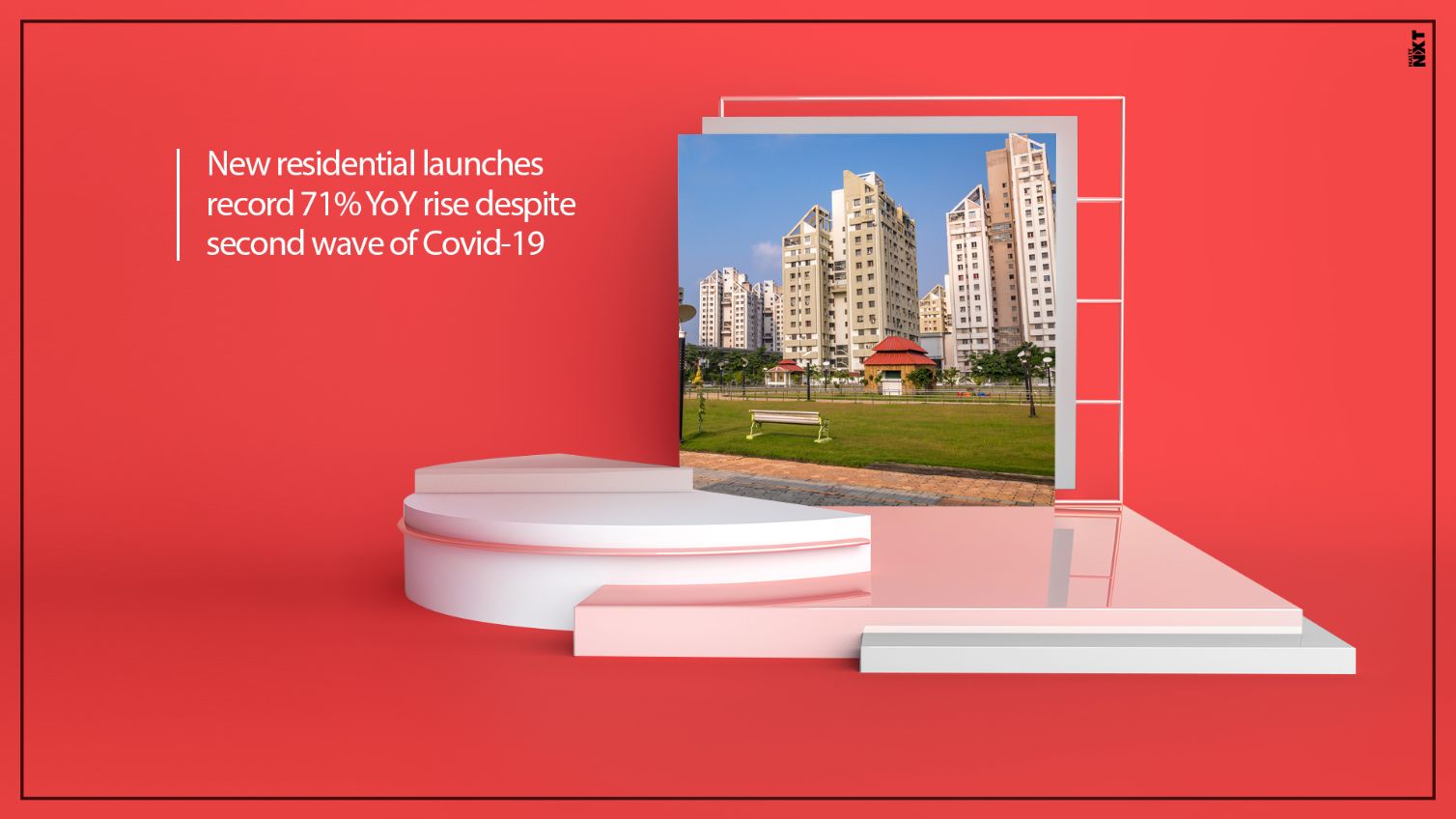 New launches in MMR also grew by 53% to 35,872 units in H1 2021 from 23,419 units in H1 2020. 
Knight Frank India, a premium international property consultant, in their flagship market assessment report "India Real Estate January – June 2021" – that evaluates the performance of residential assets classes in top eight markets of India – cited that the home sales in Mumbai Metropolitan Region (MMR) witnessed a significant growth of 53% year-on-year (YoY) to 28,607 units in H1 2021 against 18,649 units in H1 2020. This strong performance can be largely attributed to robust home sales in Q1 2021 aided by low stamp duty, reduction in home loan rates and economic revival.
New launches in MMR also grew by 53% to 35,872 units in H1 2021 from 23,419 units in H1 2020. The healthy increase is mainly due to the low base effect.
MMR MARKET SUMMARY
| | | | |
| --- | --- | --- | --- |
| Parameter | H1 2020 | H1 2021 | Change (YoY) |
| Launches (housing units) | 23,399 | 35,872 | 53% |
| Sales (housing units) | 18,646 | 28,607 | 53% |
| Price (weighted average) | INR 74,122 sq m (6,886 sq ft) | INR 72,657 sq m (6,750 sq ft) | -2% |
| Unsold inventory (housing units) | 1,50,054 | 1,54,181 | 3% |
Note: 1 square metre (sq m) = 10.764 square feet (sq ft)
Source: Knight Frank Research
With reference to the performance of micro-markets, Western Suburbs (which includes locations such as Bandra, Andheri, Goregaon, Kandivali, Borivali, Santacruz, Vile Parle, Dahisar) and Thane witnessed the share in sales increase from 13% in H1 2020 to 19% in H1 2021, and from 11% in H1 2020 to 15% in H1 2021, respectively. The share of Central Mumbai (which includes locations such as Dadar, Lower Parel, Mahalaxmi, Worli, Prabhadevi) and Central suburbs (Sion, Chembur, Wadala, Kurla, Ghatkopar, Vikhroli, Bhandup, Mulund) increased by 1% each in the same period.
In terms of the price value based residential asset segments, the share of sales in the relatively expensive segments (pricing above INR 5 million) grew from 46% in H1 2020 to 56% in H1 2021 while that in the relatively affordable segments (pricing below INR 5 million) came down from 54% to 44% in the same period. The report highlighted that the stamp duty rate of 3% translated into higher absolute savings in the relatively costlier residential apartments which resulted in increase in share of apartments sold in the >INR 5 million category.  The income streams of homebuyers in the mid to high income segment were relatively less impacted by the pandemic and they also had greater cushion of savings compared to the homebuyers in the affordable segments.
A large percentage of homebuyers in the luxury segments had purchased their homes during the 2% stamp duty window which had closed on 31st December 2020. As a result, in H1 2021, within the >INR 5 million segments, the segment priced between INR 5-10 mn saw its share grow from 24% in H1 2020 to 39% in H1 2021.
MMR TICKET SIZE SPLIT COMPARISON OF SALES DURING H1 2020 AND H1 2021

Source: Knight Frank India Research
In H1 2021, the new launches registered growth of 53% YoY. MMR's markets of Peripheral Central Suburbs and Peripheral Western Suburbs had the highest share in new launches in H1 2021 of 22% and 21% respectively. Consequently, 54% of new launches during H1 2021 were in the less than INR 5 million (<INR 5 mn) category.
Rajani Sinha, National Director and Chief Economist Research, Knight Frank India said, "Residential sales in MMR have recorded a strong growth of 53% in H1 2021. The robust performance in this region was supported by lower stamp duty window applicable in Q1 2021. Reduction in home loan rates to an all-time low, discounts offered by developers, and the demand for upgrading to larger homes were the other supportive factors for residential sales momentum. Despite the closure of lower stamp duty window after the first quarter of 2021, several developers were willing to absorb the stamp duty burden on the homebuyers; this coupled with better understanding of the pandemic supported sales growth in Q2 2021 as well."
Residential prices in MMR market declined by 2% YoY to INR 72,657 sq m (INR 6,750 sq ft) in H1 2021. In last 5 years, the prices in MMR have corrected by 17% since the peak of 2016.
QUARTERLY LAUNCHES AND SALES TREND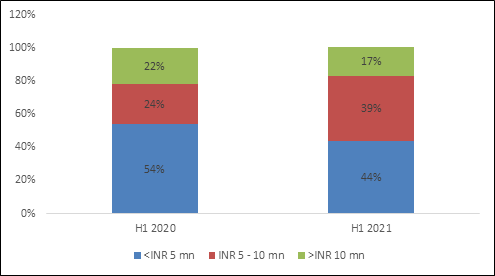 Source: Knight Frank Research
 MICROMARKETS AT A GLANCE
 Residential price movement in select locations
| | | | | |
| --- | --- | --- | --- | --- |
| Location | Micro-market | Price range in H1 2021 (INR/sq ft) | 12 month change | 6 month change |
| Lower Parel | Central Mumbai | 25,000-36,000 | -3% | -1% |
| Worli | Central Mumbai | 31,000-55,000 | -2% | 0% |
| Ghatkopar | Central Suburbs | 12,000-22,000 | 0% | 0% |
| Mulund | Central Suburbs | 10,700-14,000 | -5% | 0% |
| Powai | Central Suburbs | 14,500-20,000 | -1% | 0% |
| Panvel | Navi Mumbai | 3,800-6,500 | -3% | 0% |
| Kharghar | Navi Mumbai | 6,700-9,000 | -3% | 0% |
| Vashi | Navi Mumbai | 10,000-15,000 | -1% | 0% |
| Badlapur | Peripheral Central Suburbs | 2,700-3,500 | -2% | 0% |
| Dombivali | Peripheral Central Suburbs | 4,500-6,000 | -1% | 0% |
| Mira Road | Peripheral Western Suburbs | 5,500-7,300 | -2% | 0% |
| Virar | Peripheral Western Suburbs | 4,400-5,500 | -2% | 0% |
| Tardeo | South Mumbai | 40,000-60,000 | -3% | 0% |
| Ghodbunder Road | Thane | 6,000-10,000 | -4% | -1% |
| Naupada | Thane | 14,000-18,000 | -5% | 0% |
| Andheri | Western Suburbs | 15,000-22,000 | -1% | 0% |
| Bandra(W) | Western Suburbs | 40,000-60,000 | -1% | 0% |
| Borivali | Western Suburbs | 11,000-15,000 | -3% | 0% |
| Dahisar | Western Suburbs | 9,000-11,000 | -2% | 0% |
| Goregaon | Western Suburbs | 13,000-15,000 | -5% | 0% |
Source: Knight Frank Research
Micro-market classification – H1 2020 Vs H1 2021:
Micro market
Locations
H1 – 2020
H1 – 2021
Sales
Launches
Sales
Launches
Central Mumbai
Dadar, Lower Parel, Mahalaxmi, Worli, Prabhadevi
                          262
                          210
                 513
                 189
Central Suburbs
Sion, Chembur, Wadala, Kurla, Ghatkopar, Vikhroli, Bhandup, Mulund
                       1,499
                       2,818
             2,574
             4,522
Navi Mumbai
Vashi, Nerul, Belapur, Kharghar, Airoli, Panvel, Ulwe, Sanpada
                       2,809
                       2,719
             2,668
             4,645
Peripheral Central Suburbs
Kalyan, Kalwa, Dombivli, Ambernath, Bhiwandi, Mumbra, Karjat
                       5,643
                       4,725
             7,136
             8,008
Peripheral Western Suburbs
Vasai, Virar, Boisar, Palghar, Bhayandar, Nalasopara
                       3,820
                       4,789
             5,761
             7,569
South Mumbai
Malabar Hill, Napean Sea Road, Walkeshwar, Altamount Road, Colaba
                          101
                          587
                 220
                 204
Thane
Naupada, Ghodbunder Road, Pokhran Road, Majiwada, Khopat, Panchpakhadi
                       2,050
                       4,274
             4,389
             5,102
Western Suburbs
Bandra, Andheri, Goregaon, Kandivali, Borivali, Santacruz, Vile Parle
                       2,462
                       3,277
             5,346
             5,633
 Source: Knight Frank Research
ALSO READ: 1,072 Trees To Be Cut For Delhi Metro's Aerocity-Tughlakabad Corridor