Looking For A Luxurious 5 BHK In Thane? Welcome To Selten Isle By Raunak Group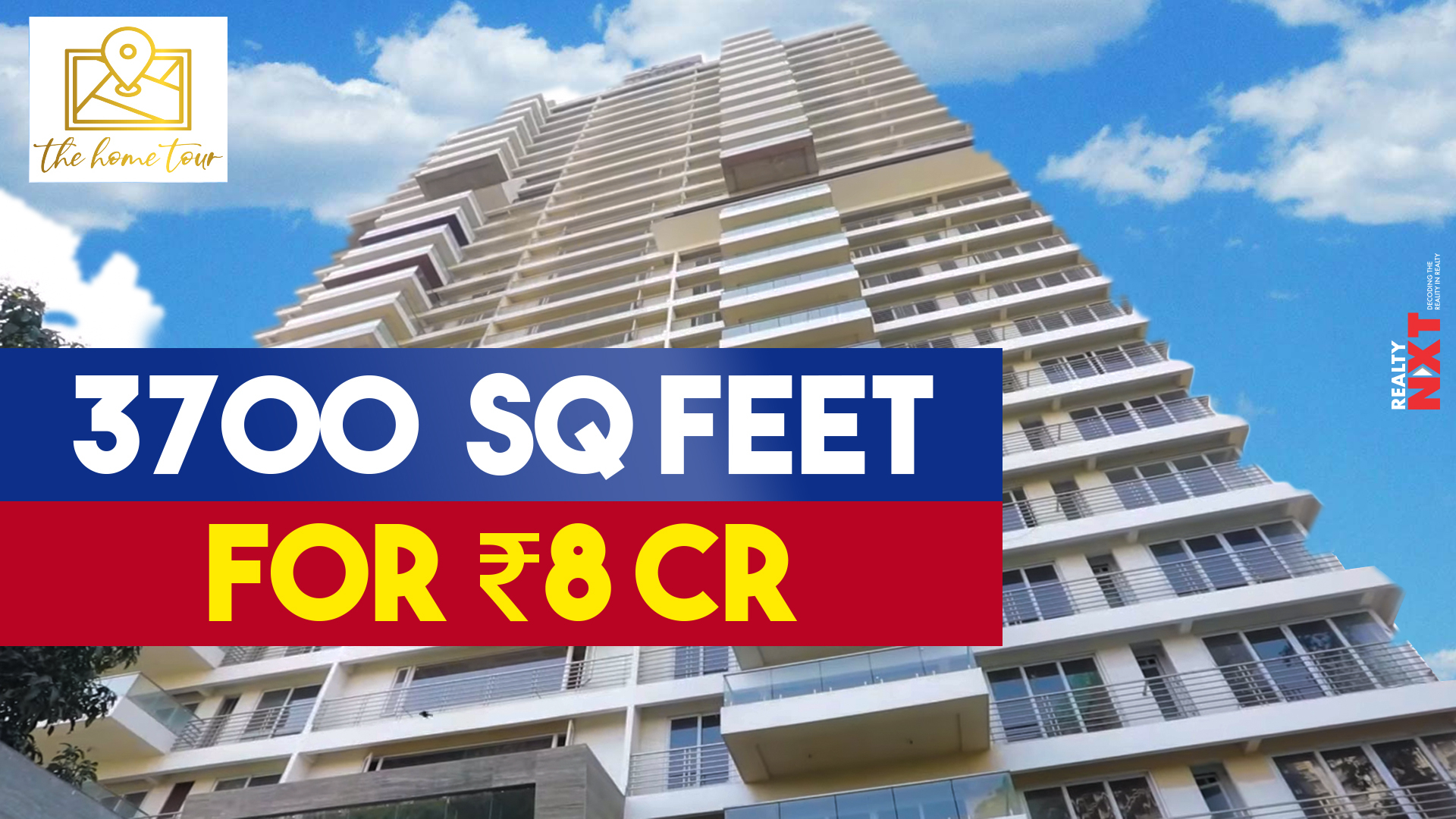 Dreamt of having a home specifically according to your specifications? Well, welcome to Selten Isle's property review.
Living in a home which is away from the noise and fast paced city life, and which will be a perfect fit for you, and your family along with being just the right place to host a close-friends gathering sounds like a dream, right? Well, the dream has come into reality.
Located in the heart of Thane, Selten Isle, is everything a home buyer can dream of.
With a home tour by RealtyNXT, let's find out why Selten Isle with their larger-than-life estates having a grandeur RERA carpet area of 3700 Sq Ft. is a synonym for "Epitome of first impressions." The cost of this luxurious 5BHK is INR 8 Crore.
Let's start from the start.
The first thing you'll see when you'll walk into the world of Selten Isle is the luxurious Living Cum Dining room which has not one but two balconies facing East & West, respectively. For someone who enjoys both sunrise and sunsets this can be a game changer.
The East-facing balcony is a view of no hindrance, meaning you'll be able to enjoy the sunrise every morning without having to worry about your city life and buildings. 
Having dimensions of 39 X 21 Ft. with the ceiling height of 11Ft, (without false ceiling)
It has a grand seating area near the East facing balcony which can accommodate a get together of 20 to 25 people, just in the seating area. If you're someone who likes hosting gatherings and get-togethers often, this Living Cum Dining Room will be a good fit.
With its spacious dining area with a balcony which faces towards the West it can be a beautiful place to have dinner with your family, along with that it can accommodate 10-15
people easily, your living room can be a hip event for over 40-45 people with ease.
If we talk about the Master bedroom, the first room out of 5 BHK in Selten Isle, we can say it's a good spacious room which you can customize as per your needs.
With the dimensions of 13×18.5 Ft. It provides an attached bathroom on the right which can even hold a jacuzzi, enough space to build a gorgeous walk-in wardrobe on the left if you desire that, and a balcony with a view which will just take your breath away every morning.
India's most renowned architects take fierce pleasure in Selten Isle, a home that offers a spectacular experience of both dusk and dawn over the city skyline.
Moving onto the second bedroom of the Selten Isle, it's an equally luxurious and customizable room with an attached bathroom with a hill view balcony.
So, if you're someone who likes  to wake up early in the morning and have a slow start to connect with nature, this balcony will be right at your disposal.
For people who're living in a joint family or their parents, this second master bedroom will be a 'close your eyes and pick me' choice for a perfect bedroom.
The third customizable room of Selten Isle, which you can convert into the kids room.
With a family you will need a space for kids to call their 'own-room' and this customizable room, which can accommodate study tables, wardrobes and a safe balcony, this room will work perfect for your kid(s) to grow and learn in.
When you have great company or guests over who plan to stay the night or over the course of weekend, this fourth spacious and luxurious room of Selten Isle with dimensions of 13×16 Ft. with, of course an attached washroom, and a beautiful hill view in the balcony it's a clear choice to be an ideal guest room for any of your friends or family to feel how great it is living in Selten Isle.
Also, the fifth room which people generally dedicate for home-office or an entertainment room by attaching a projector and surround sound to give it a home-theater feels this room is exactly that.
A room to sit with your family and watch wholesome movies with or an office room during a pandemic to give that extra push your productivity needed.
If we move on to the most important room of any house we will end up in the kitchen.
Kitchens are truly the heart of the house, with a Selten Isel kitchen of dimension 13×15.5 Ft. they've made sure that those hearts have enough space to accommodate everything you'll ever need and more.
Having a space just outside the kitchen to add your washing machines and dishwashers along with a 'drying space' which gives you all the convenience you can think of.
Not just for your comfort but, Selten Isle also takes care of the comfort of your house-help.
With a helper's quarters having a separate entry and exit and a bathroom area, is going to take care of your house-help's comfort and convenience too and will give you privacy as well.
Everything about the project
View of 200 feet above Ground
At a minimum of 200 feet above the ground, these are the most exclusive levels on the Selten Isle.
Spectacular Finishing Touch
While all buildings on The Selten Island are custom-made, these heavens have been constructed to give a unique luxury.
Stunning Skyline View
Selten Isle, houses that provide a breathtaking view of the city skyline at sunrise and a perfect sunset from each collection property behind the Yeoor Hills. It has benefits if you are one of the few people in the city who live higher than 200 feet above earth.
Deck of Infinity
Unlike anything else in the city, an infinity roof pool with a designer finish and a designer deck with cabanas.
The triple lounge Reception for artists.
It is the strongest initial impression of an identity declaration.
Panoramic Grand Ballroom
This ballroom is ready to host your grand event.
The best stylish café in town
The crowded delight of the city's best designer coffee establishment is the sole location for city events and your daily relaxation.
Hydrotherapy Spa on the Rooftop
The best Jacuzzi experience while enjoying the best city views.
With Selten Isle, your circle of everyday life is complete.
A cherry on Top Luxury
When you walk into Selten Isle 14Ft. High, double gated entry, which is at least 200Ft. away from the day to day roads zero visibility from main roads, with zero noise and air pollution, and more than 300 feet long winding driveways and large landscaped garden with live fountains at drop-off and a triple heighted all-glass entry and more than 1 acre of free space,  it's a one-of-its-kind Reserved for limited families world in itself.
Such as, luxury lifestyle concierge with resident manager & dedicated helpdesk, Valet services, Multi-layer manned security & monitoring, 24/7 facilities management, and High-tech visitor management system.
Connectivity
Buying a new home always brings questions like "How far is the airport from here?"
"How far are the hospitals", "How far are the schools", "How far are the social centers" and a lot more similar questions like this.
Well, let's answer them all?
With life at Selten Isel, the Golden Swan Country Club will be just 5 minutes away with Thane club being just 15 minutes away.
More of a shopper?
Well, Viviana mall Thane will be right by your side with a drive of 10 minutes.
With lifestyle set, let's talk about precautions.
In case you ever want to get your or your family's health check up, or if there's an emergency, fortunately Bethany hospital will be just 2 minutes away right from your home.
Also thinking about taking a flight to your next vacation destination?
The international airport will be less than an hour away at your service.
Selten Isle is a luxurious property away from the hussle life of the city while being in quick reach for everything important in the city.
Also, it's a great place to have your family gatherings and live a peaceful life with a joint family as it comes with an array of amenities and is luxurious which specifically caters for them.
One more thing which we can note about Selten Isle is they offer a bare shelf apartment, meaning you have a free hand to customize as per your needs meaning, it can become a 4 BHK instead of 5 BHK if you need it to be.
Although it might feel like you're living in a different ecosystem altogether, there are more upsides to living a life away from the noise and air pollution of city life.
And Selten Isle brings exactly that to you.
About Raunak Group
Established in 1980, Raunak Group is the Fastest Growing Real Estate Brand of Mumbai Ranked the No. 4 developer in Mumbai.
With projects covering over 59 lakh sq.ft and on-going developments of an additional 30.6 lakh sq.ft
Raunak group thrives to provide superior quality in construction and service, while creating spacious and luxurious homes with modern facilities at affordable prices.
ALSO WATCH: