Top 10 Ways To Make Your Home Clutter Free
Having a cluttered home can be a big source of anxiety and stress, here are top 10 ways to get rid of clutter in your home and live stress free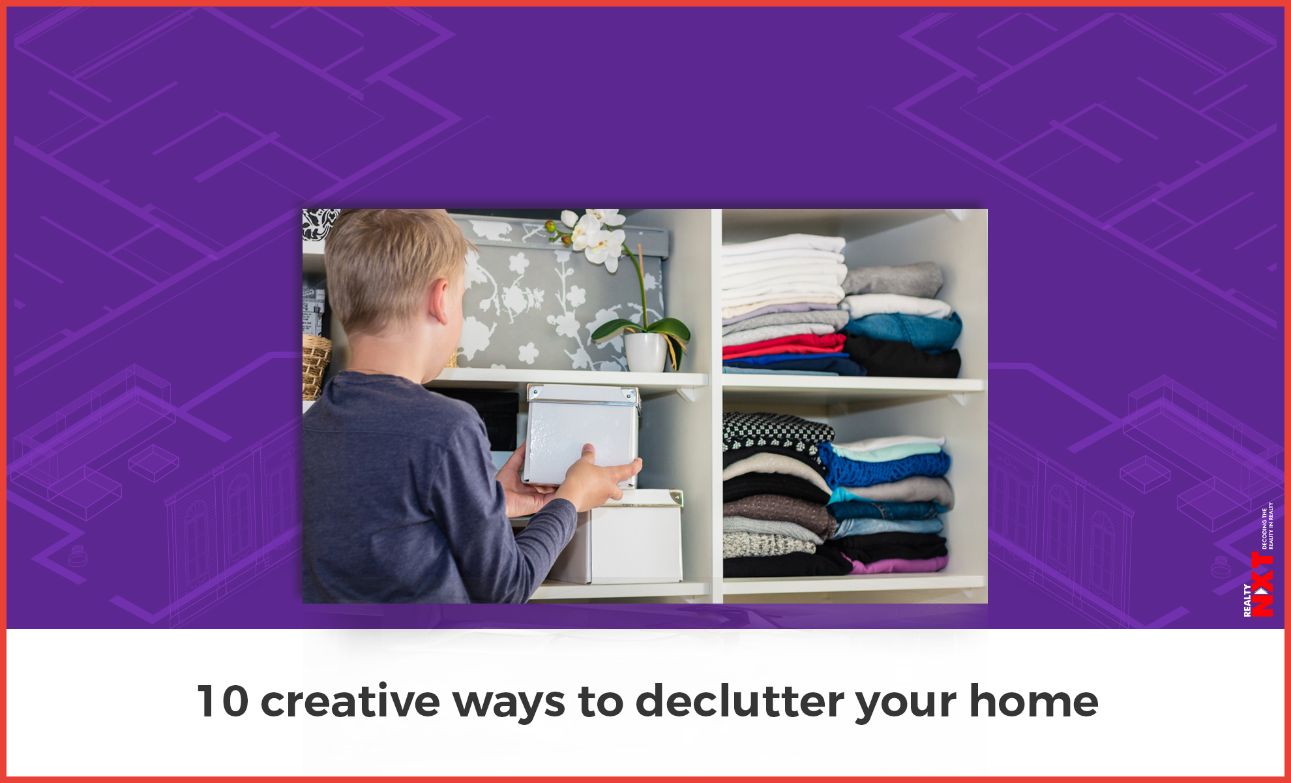 Living in a clutter-free environment works like a charm on days, here are 10 ways you can make your home clutter-free.
You may consider that the clutter in your home is not cluttered at all. Some clutter needs to be removed, thrown out, given away, or sold. Other clutter simply can be cleaned up and conserved. The most difficult thing to determine is what items in your home are which types of clutter and what to do with each of them?
Learning how to remove unwanted and unused items takes time and composure on your part. Following are the top 10 ways to declutter your home:
1. Categorize your clutter
There are 6 types of clutter. 
a) Clutter without a place: Some of your clutter includes the things you want to keep without a doubt but there is no space to keep them. The best way to handle such clutter is to store them neatly labeled in clear plastic containers. Some of the examples are news books that you haven't opened yet, items bought in bulk due to sale, etc.
b) Trash masquerading as clutter: What is treated as clutter and what is considered waste? For example, you have a pair of trousers that needs to be altered, but you haven't brought the pair of pants to the tailor for more than a month. Maybe you don't need it anymore. So, donating them would be a great idea!
c) Bargain, items you never needed: We always end up shopping more in case of a good bargain. But, if you're never going to use it or gift it, it's not worth the bargain. Such items can easily turn into clutter.
d) Buying in bulk to make you feel safe: Buying items in bulk makes you feel that you are taking good care of your family. Stocking up in bulk is not always bad. However, think twice before stocking up on some fresh foods as taste and smell could change. Such items if stored for long may attract rodents and insects.
e) Aspirational clutter for the future: Aspirational clutter is the stuff you acquire to help you change, develop a skill, or appear differently to others. The best way to get rid of this type of clutter is to have a conversation with yourself before purchasing the item. 
f) Sentimental clutter from the past: Sentimental clutter is most difficult to get rid of. You can part with sentimental clutter by looking at the item and deciding if it's useful or needs to be fixed, are you willing to fix or replace the broken parts, by holding on to a few important items and donating the rest, and by taking the photos of items before donating.
2. Three Boxes: The "box method" uses three boxes—put away, donate or sell, and storage—plus a trash can.After segregating your items place them in a box. The idea is to quickly decide what to do for each item.
3. Usage of organisers or baskets: Today, most brands sell attractive baskets/organizers. You can use them for quick decluttering in the living room, bedroom and kitchen.
4. Invest in shredder: If you have a lot of paper clutter, you should invest in a shredder. Use a shredder as you go through the mail so these piles of junk mail don't even get a chance to accumulate. Also, periodically go through your files to see if there is anything you can shred.
5. Storage friendly furniture: Cramped rooms just want furniture that has more than one use, especially if that second use is providing some hidden storage space. Using furniture as storage especially in small places is not only smart but is necessary. Some of the examples are an ottoman with storage or nightstands with drawers.
6. Pare down your clothing: Opt for a minimalist wardrobe. Once you start decluttering your clothing, You will realize that there are so many scarves, sweaters, jeans, and even shoes that you don't need. You'll have extra space in your closet and have less clothing to maintain.
7. One bag a day: Decluttering your entire home at once is discouraging. Instead, fill just one trash bag every day. Breaking down the task of decluttering will make it much easier to complete and commit to.
8. Designate a spot for 'Junk': A "junk bowl" by the front door can keep those odds and ends that don't fit anywhere else. Get rid of items such as receipts, business cards, and hair ties. If a bowl isn't your style, choose a tray. A junk bowl, tray, or drawer is only effective if you make a point to go through it regularly and either trash or file the items.
9. Magnetic colorblock desk accessories: Use magnetic desk accessories to gather office supplies. By using magnetic trays, you can rest easy knowing your paperclips or bulletin-board tacks will be securely in their container when you need them.
10. Kitchen storage spaces: To declutter your kitchen, get rid of any appliances that you haven't used in over a year, and donate any excess dishes. Shower curtain rods can be useful in the kitchen too. They can effectively hold tea towels or dishrags.
ALSO READ: Top Vastu Tips For Prosperity In Your Workspace