Top 20 Indian Photographers Who Capture Your Home Beautifully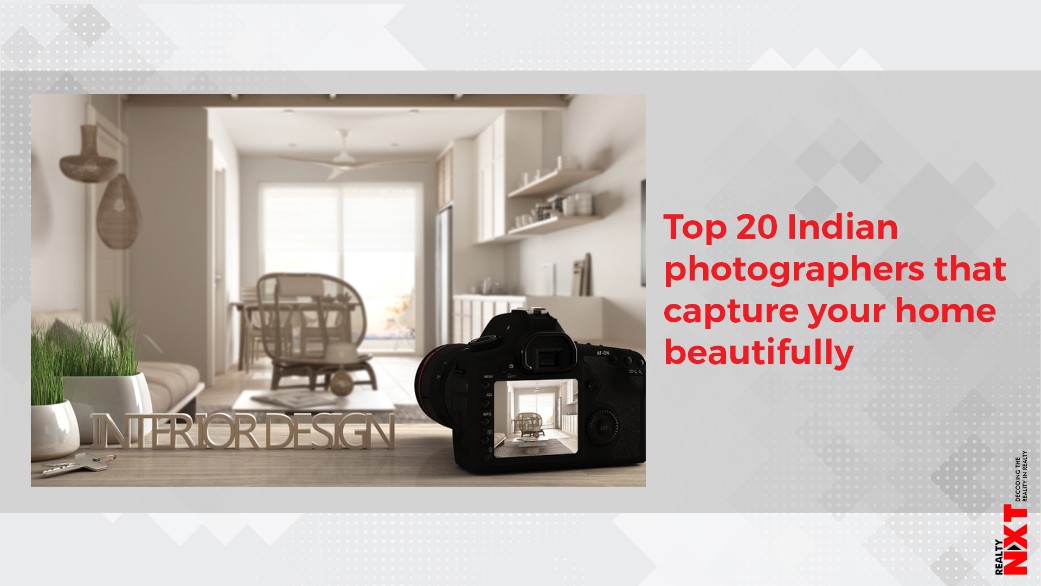 Looking to capture some stylish portrayal of your home by one of the top interior photography experts? Here are the top 20 Indian photographers to mesmerize you with their elegant photography skills.
A design must be captured in a way that highlights its essence. Photography has long been a valuable tool for preserving the soul of a design. Designers put their heart and emotion into bringing their vision to life, and it needs to be recorded as accurately as possible. That's where the magic wand of a professional photographer comes in handy.
Home staging is all about establishing a lifestyle that a potential buyer can relate to, and interior photography is a must-have marketing tactic.
So, if you're staging your property, it's critical to have it documented by a professional interior photographer. A skilled interior photographer will do more than just take pictures; they will also style each shot to ensure that the images are truly unique. It's vital to ask the photographer for some detailed shots in addition to the room photos, which are normally taken with a wide-angle lens.
Currently, photography is a well-known and rapidly-growing profession; today, we'll evaluate the top 20 photographers in India for inspiration and knowledge, but first, let's say cheese!
In this article, we will talk about the top 10 photographers who can capture some mind-blowing interior portraits with a touch of simplicity yet utter sophistication.
Insta id: thekuber
Followers: 49.5k
Style of Photography: Capturing deep-emotion portraits.
Kuber Shah or better known as Kuber is an Indian self-taught Photographer who currently resides in Mumbai. He is also a Social Media Consultant who helps brands come up with innovative ideas for engaging social media content. His recent project called Doors of Mumbai had gained immense popularity due to its various forms of architecture synonymous with the city.
Insta id: _yashrjain
Followers: 4,294
Style of Photography: Understanding the story, grandness of the structure, or vividness of space behind the project. 
Since 2018, Yash has specialized as an architectural photographer. He interned in Mumbai after earning his Bachelor of Architecture. After returning to Chennai, he has partnered with other photographers and worked with numerous architects and interior designers in Chennai, Bengaluru, and Mumbai.
His portrayals capture the soul of the architecture while dazzling the viewer with its sheer grandeur.
Insta id:studio.kunalbhatia 
Followers: 45.8k
Noteworthy works: Between spaces, Studio Osmosis, We Design studio, SAGA Design Architects.
Kunal has been photographing architectural and interior projects professionally since 2012 and has photographed over a hundred completed projects for prominent architects, interior designers, retailers, and developers across India.
Insta id: theendlessforms 
Followers: 2,425
Style of Photography: Landscape Photography, Architectural Photography, Fine Art Photography 
Yadnyesh is a Mumbai-based self-employed freelance photographer who has completed a Diploma in Fashion and Commercial Photography from Bharati Vidyapeeth. He has an industrial experience of 6 years+ as a freelance photographer with various accolades to his name, namely a creative gaga, landscapes projects, and an eye for Black & White Photography.
Insta id: fabien_charuau
Followers: 19.6k 
Style of Photography: Architectural & Interiors Photography/Videography
Fabien Charuau is a French photographer based in Mumbai who specialises in Architecture and Interior photography. He's also a prominent artist who emphasizes digital and generative art.
Fabien's work has appeared in Architectural Digest, Design Anthology, FRAME, Elle Décor, ELLE, GQ, Harper's Bazaar, WSJ Magazine, Vogue India, Le Monde, Süddeutsche Zeitung Magazin, and The Good Life across the past decade. Fabien also shoots for major architecture firms and works on private projects.
Insta id: meister_meister
Followers: 5,897
Style of Photography: Fashion, Beauty, Lifestyle & Design Photographer
Meister Meister Photography's Gokull Rao Kadam is a fashion, beauty, portrait, lifestyle, and design photographer. He's also a DJ, and his specialty is deep house music.
He is a Bangalore-based professional photographer since 2014. To capture certain candid gestures or a moment in time are some of his photography fortes. He considers composition to be everything, and that it is art in itself. That is why he adores photographing architecture and interiors.
Insta id: Hemant.patil.photographer
Followers: 21k
Noteworthy Works: India's Prominent Interior Design magazines, Books named 50 Beautiful Houses in India, and 50 Contemporary Houses in India.
Hemant is a professional photographer who has worked with renowned business houses, national media houses, and top Indian corporations throughout the years. He has since honed his skills in the field of architecture photography. He has captured architecture, the interior design of commercial, industrial, and residential spaces, exclusive resorts, and private living spaces while working with several prominent architectural firms. 
Hemant's work has been included in some of India's prominent interior design magazines as well as a few books such as 50 Beautiful Houses in India and 50 Contemporary Houses in India. He has also traveled extensively in India and overseas, capturing his adventures with a stunning collection of images from around the world. 
Insta id: studio_sp_photography
Followers: 5,731
Studio SP Photography is an Architectural Interior Design, Lifestyle photography firm based in Mumbai. Ravi Kanade has been a photographer of architectural interiors for the past 22 years. His work has been featured in Indian and international publications.
He also volunteers as a special faculty member at Symbiosis (Pune), where he teaches architectural interior photography to students.
A technique known as motion transparency is used in this photograph, which is nothing more than a deliberate streaking of a moving object in a photograph for visual effect. It's a great way to capture mobility in a still image, and it's commonly applied in both nature and sports photography. In this image, an experiment with motion transparency was attempted.
Insta id: ira _phxindia
Followers: 15.9k
Photographix is a well-known name in the architectural and interior design photographic firm. Throughout the firm's organic growth, two things have remained constant: a unique perspective and a commitment to quality, both of which were established by founder Sebastian Zachariah and are reaffirmed by interior designer and partner Ira Gosalia, who currently resides in Ahmedabad and manages the firm's Gujarat business.
Ira Gosalia had been assisting Sebastian for many years and had completely immersed herself in the craft. She is currently a partner in the firm, and her architectural background aids her in grasping the complexities of a project, while her photographic ability allows her to convey them in her own distinctive style.
Her time with the PHX INDIA has helped her grow as a photographer, and she now specialises in more than simply interior architecture. The WADe winning award for Artist – Professional Photography category in September 2018 is the latest feather in her cap.
Insta id: shamanthpatilphotography
Followers: 22.7k
Noteworthy Achievements: M9 Design Studio| SDeG | Khosla Associates | Purple Ink Studio, and many others. 
Shamanth Patil J is a Bengaluru-based commercial and humanitarian photographer who has won numerous awards.
He is a graduate of Mumbai's Shari Academy of Photography, where he learned his craft from the late photojournalist TS Satyan. In 2009, he launched Rays & Greys, a studio that specialises in architecture and interior photography, as well as product and people photography. 
Shamanth has a peculiar sense of humor and makes cutting-edge, mesmerizing visuals. His artwork has been showcased in exhibitions all around India, as well as in international media.
Insta id:pulkitsehgal7
Followers: 7,638
Pulkit Sehgal is a Mumbai-based editorial and commercial photographer who specialises in architecture, interior design, fashion, and portrait photography.
He earned his bachelor's degree in software technology before deciding to pursue photography as a career. Since then, he's dedicated his time to learning the industry, refining his talents, and making memories for his clients and himself. The Light Cube Photography's Pulkit and his team are available for assignments in India and beyond.
 Insta id: justin_sebastian_photography
Followers – 8,486
Justin Sebastin is an Architecture Photographer based in Cochin, with a clientele of well-known Interior & Architecture entities.
Leaving aside the graduation certificate, his major achievements in this sector include a postgraduate degree in Professional Photography, a specialty in Architecture, Fashion, and Food Photography, and the teachings of renowned photographer Iqbal Mohamed.
An architect brings a client's vision to life. The most peculiar frames, the technical art of lighting the spaces, creating exceptional colours, and arranging the furnishings in the most appropriate manner, all combine to make Justin remarkable and a true genius in the field of Architecture Photography.
Insta id:ishifishy
Followers: 53k
Ishita's architecture and interior photography career skyrocketed in 2016, and she hasn't looked back since. She creates a good architecture shot by combining light and shadow. Even when she travels, she is constantly drawn to cities and the built environment, traveling to far-flung locations to see important architectural objects in the neighborhood. 
Even before she became a professional photographer, she accidentally captured hundreds of works by well-known architects. It doesn't matter what technology she uses or how she uses it; what matters is how she envisions the ultimate result and how she attempts to do justice to the designer's hard work with each assignment.
Insta id:Bharathram
Followers: 3,702
Style of photography: He has a peculiar ability to incorporate various timelines and culture symbolised in each piece of art, which makes his photographs stand out.
Noteworthy Works: Indian Design, Inside India, Temple Towns of Tamil Nadu, Chidamabaram, Elephanta, Marwar Paintings, and Bombay Gothic are few of the prestigious publications that have showcased his photography masterclass.
Bharath's place in the pantheon of master photographers has been cemented by a steady stream of books, monographs, and contributions to magazines around the world over the last 25 years.
Bharath manages to capture not just the structure of buildings, but also the spirit, body, and soul of both ancient and modern Indian architecture by combining rigorous discipline with the eagle-eye of an experienced architect.
Insta id: arjunkrishnaphotography
Followers: 709
Arjun Krishna is a Bengaluru-based freelance professional photographer and filmmaker with a Light and Life Academy specialisation in Architecture and Interior Photography.
Arjun has dedicated his career to documenting structures through sleek and inventive photography. He has an eye for design and devotes special attention to lighting and detail.
His incredible achievement is based on a persistent desire to refine his artwork and diversify his knowledge.
Insta id: parthswaminath
Followers: 2,326
Parth Swaminath is a visual documentary filmmaker from India who specialises in architectural, interior design, corporate, industrial, motorsport, and social impact photographs and videos.
He completed his Post Graduate Diploma in Professional Photography from Light & Life Academy in Ooty and a Diploma in Audio Engineering from Sae Institute.
Insta id: sagarpadwal_photography
Followers: 743
Sagar is a Mumbai-based interior/architecture photographer and filmmaker. After graduating as an Architect from Mumbai University in 2010, he worked for design firms in Mumbai as an Architect and Interior Designer. In 2017, he completed a diploma in filmmaking in Prague, Czech Republic, with a focus on cinematography, and has since worked as a DoP for web and television commercials. 
His architecture photography has appeared in prestigious design publications such as Architectural Digest, Elle Decor, and Home Review, among others.
Insta id: suryananddang
Followers: 4,507 
Studio suryan/dang is a collaborative visual storytelling practitioner who works with a variety of genres. Saurabh Suryan and Lokesh Dang, two hosting partners, established the organization to assist architects and designers in documenting their work. 
They have shown their art at a number of venues in India and abroad. They held a "still want dance" event in Venice in 2019 and self-published a book about their work. In the same year, archdaily named them one of the "top 15 architectural photographers to follow in the globe."
Insta id: toophotographed 
Followers: 3,225
Suleiman Merchant is a Mumbai-based photographer and designer.
Specialty:- Photographer, Photojournalist, Travel, Architecture, Photo Assistant, Storyteller, Documentary, Creative, Photography, Portraiture, Visual Communications, Writer, Graphic Designer, Web Designer, Photo Shoots.
Skills:- Graphic Design, Color Correction, Coding CSS, Coding HTML, Web Design, Photo Editing, Branding, Copywriting, Print Design, Retouching, UI/UX Design, Film Photography, Web Development.
Insta id: sameertawde
Followers: 1,738
Sameer Tawde is an Indian visual artist presently residing in Mumbai. His work has been featured in solo and group shows in India and internationally at museums, photography biennials, and film festivals, and he has a multi-disciplinary approach in photography, video, sculpture, and installation.
In 2013 and 2014, he was invited to the Fukuoka Asian Art Museum in Japan and the Museum Quai Branly in Paris for artist residencies. He was nominated for the Paul Huf Award in 2012.
His work is mostly fictitious, with a strong sense of humor and play. It is always intertwined between the two realms of reality and fantasy.
His artworks are currently featured in the collections of museums and private art enthusiasts around the world.
Written by: Pratik Ghadge 
Research by: Kalpana 
ALSO READ: Net Debt Of Listed Developers Declines 37 pc Amid Covid: Report