Top 20 Indian Brands Selling Carpets For Your Beautiful Home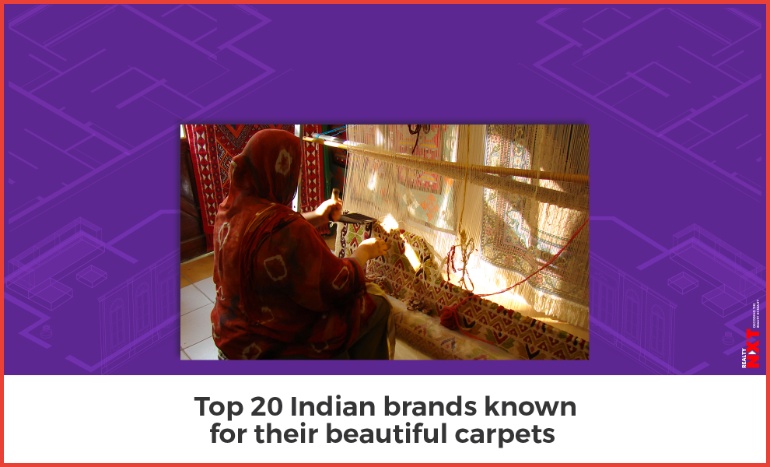 Carpets become the heart and soul of your home if you pick one that goes with the look and design of your home. Here are the top 20 Indian brands that will take care of that.
Rugs and carpets are as important in our homes as shoes are in a well-dressed wardrobe. You wouldn't go to the trouble of picking out your nicest clothing only to walk around barefoot.
Rugs work on the same principle. Shoes complete an outfit and, in some cases, can even outshine what you're wearing, if you want them to. The same is true for rugs and carpets.
They can have a significant impact on how a room appears and feels. Rugs may either blend in with your decor or make a statement by providing an element of surprise, as shown in the living room below.
Let's take a look at 20 Indian brands that provide beautiful carpets for your homes
Jaipur Rugs is an Indian firm that mixes profit with goodwill, with the goal of benefiting everyone who sits on its rugs: customers, artists, local communities, staff, suppliers, buyers, and partners.
The company, which is headquartered in Jaipur and works with artisans from five Indian states, has a branch in the United States named Jaipur Living. Its rugs are sold in over 60 countries worldwide, from Milan to Paris, Beijing to Moscow, thanks to its global distribution network.
Jaipur Rugs, founded in 1978 by NK Chaudary, transformed the carpet industry by developing an entirely new business model based on working directly with artisans and providing them and their communities with a sustainable life.
Obeetee's storey began in Mirzapur, Uttar Pradesh, around 1920.  Their tradition extends back a century when three British gentlemen – F.H. Oakley, F.H. Bowden, and J.A.L Taylor – collected the best local craftsmen under the banner of Obeetee shortly after WWI (O-B-T). 
They are now one of the world's largest and oldest handwoven rug enterprises. 
Their carpets are woven in the cosiness of the weavers' homes, rather than in factories. Obeetee's production officers come to each loom at least once every two weeks. The weaves cover an area of 100,000 square kilometres and are dispersed throughout seven communities.
The storey of Hands begins in 1881. Tellery's unexpected discovery of an artistically accomplished carpet weaving community in Bhadohi, a little hamlet in the historic city of Varanasi, launched the country's trend of masterfully woven handmade carpets. Hands have been synonymous with craftsmanship that consistently redefines the timeless essence of luxury and enjoyment over the years. 
Arisaa, which was founded by Aashka Shah, meaning "Mirror." Arisaa wants your area to represent your sense of style while also providing our advice where it is needed. They enjoy providing you with discussion starters for your spaces. We collaborate closely with our clients on collectible art, spatial installations, mirrors, sculptural furniture, and rugs. 
Their products go through a rigorous design process, and each piece has a fascinating backstory. 
Their Story began when Mohammed Parvez Khan, a modest Mirzapur local who grew up in an extraordinarily large family, founded Neman Carpets in the little town of Jaraila in Mirzapur 30 years ago. Mohammed Parvez Khan, the eldest of seven brothers in a family of 35, was a weaver who aimed to create a product that both he and his city could be proud of. 
Since then, the company has developed steadily, with manufacturing leading to export to some of the world's largest home décor and styling brands in the United States, United Arab Emirates, Germany, and Canada.
Every carpet created is a journey that tells a thousand words. 
Because of its richness, comfort, rich textures, and legacy, handcrafted rugs and carpets are preferred by discerning clientele. They take this a step further by combining traditional techniques with modern designs, all of which can be customised in an infinite number of ways, making each rug genuinely unique. 
Their adventure began in 2012 with the conviction that everyone is a weaver, and hence they wish to share the experience of carpet weaving with others. Each rug is the result of a collaborative vision.
The Sharda family runs the Rug Republic. 
They have a welcoming work atmosphere at Sharda that stimulates and supports new ideas in order to foster growth and value creation. They adhere to a transparent approach that keeps communication channels open, allowing people to share ideas and comments. Sharda's culture encourages customer focus, an excellent work attitude, operational transparency, and teamwork.
The Rugs Story tells the stories and marvels of craftsmanship from craftsmen from various parts of India, delivering never-before-seen designs of handcrafted carpets and rugs. They are working on customised hand-knotted flooring solutions with the sole intention of resurrecting India's age-old tradition of valuing the skills and hard work of these artisans. 
Shreedhar Carpets, a leading Indian handmade carpet maker and exporter, founded The Rugs Story with the goal of creating environmentally-friendly designs. 
Since 1971, it has been one of the oldest and largest carpet enterprises in Bhadohi, India.
WovenDreams is a place where elegance meets ease. WovenDreams offers a carefully curated variety of stunning designer rugs that span a wide range and cater to every mood, taste, and desire, while also providing excellent value. 
They are committed to giving you the most recent in worldwide Floor Fashion designed by some of the top American designers, which is why they have partnered with ARTISTIC WEAVERS and SURYA, a three-decade-old American firm and one of the leading participants in the American Rugs industry.
They promise a fantastic experience with our sparkling assortment that won't break the bank and is simple to maintain even with children present. Their carpets lend a touch of sophistication and luxury to any room. 

For more than 50 years, the Kaleen family has established itself as a leading manufacturer, importer, and distributor of multi-category resources in today's floor covering market, collaborating with designers and retailers to provide beautiful, high-quality rugs, carpets, and home accessories for homes all over the world. 
Kaleen is based in Mumbai, India, and has three manufacturing sites in Bikaner, Mirzapur, and Panipat that create and ship yarn rugs and broadloom, as well as a US office and distribution centre in Dalton, Georgia.
The Ambiente takes its name from the word "ambience," which encapsulates the vibration, various qualities, and mood of a setting. The design atelier, as implied by the name, believes that a rug has the potential to determine the ambiance of a living place. The ambiente has a rug for everyone, breathing new vitality into the classic process of handweaving. 
The brand's origins can be traced back to a charming busy town named Bhadohi, nestled among the holy choirs, delectable kebabs, and legendary architecture of Uttar Pradesh.
Avani and her brother-in-law Ayush stepped foot in the Indian market after having considerable expertise with their 30-year-old parent firm, Bhadohi Carpets, to make the luxury of a handwoven rug accessible. They hope that their reasonably priced woven wonders will not only embellish and accentuate homes, but will also teach people about their careful construction and remarkable utility.
Every carpet at Cocoon Fine Rugs, which has outlets in Mumbai, Kolkata, Bengaluru, and Jaipur, has a tale to tell, whether it's an ancient folklore or the inspiration of its maker.
Their designer rugs are made to engage you in a storey and draw you into their warmth, influenced by classical Persian designs and styles of current artists. 
Their masterpieces are a true expression of the master craftsmen's perfectly polished talents and the delicate intricacy of the designs. 
Rugberry was established in Delhi, India. Rugberry offers timeless products for modern interiors, defined by its Indian history and cosmopolitan appeal. The company is proud of its great craftsmanship, high quality, and long-term dedication.
Their rugs are handcrafted for timeless beauty and exceptional quality that will age beautifully over time. Each delicate knot and weaving is a patient gesture, honouring the raw integrity of natural materials and a long-lasting legacy of time-honored processes.
Imperial Knots has been a testament of quality and elegance, pioneering excellence in home decor with its inventive and distinctive designs. Today, the business is well-known for its artistically designed and expertly constructed handmade carpets and rugs. Since 1977, Imperial Knots has been a brand and maker of handmade rugs and carpets. Imperial creates high-end handcrafted rugs from luxury natural handspun materials such as cotton, wool, jute, and other natural fibers.
Imperial Exports has completed substantial orders for customers in the United States, Canada, France, the United Kingdom, Norway, and Germany since its start. In Bhadohi, Imperial has its own design and manufacturing facilities.
Yak Carpet, with its headquarters in New Delhi, is the largest handmade carpet establishment in Asia. 
They are one of the most reputable providers for rugs and carpets, producing high-quality handcrafted carpets that are really unique. 
They think that the finest art has been generated by human hands, so they have been manufacturing their carpets at the hands of the most skilled artisans since 1976, the year they began. 
They have the largest selection of all types of handmade rugs, including Karmiri Silk, Wool, Persian, Afghans, Killims, Antiques, Modern, and more.
Carpet Couture is an award-winning couture brand of handcrafted carpets that combines the age-old skill of carpets with contemporary designs and forms.
They began customising Rugs & Carpets in September 2009 from our Lado Sarai location in New Delhi.
They offer not just custom-made carpets, but with our inventive designs, they transform carpets into works of art, from Swarovski Elements studded carpets to Handwoven carpets created in Handspun Bamboo Silk that resemble a canvas painting. Designs that incorporate lovely fibres such as Banana Silk, Raw Silk, Bamboo Silk, and New Zealand wool. 
Vimla International is one of the finest rug-making companies in India with a vision to provide employment to underprivileged women across the country.
Every product sold contributes to the betterment of unprivileged weavers of Vimla International.
Started in 1989 with just a single loom in the house to 2000+ weavers currently.
They have the largest selection of all types of handmade rugs, including Cotton, wool, jute silk, hemp, chenille, chindi, and leather are all available. The most fascinating aspect is that all manufacturing processes are completed in a single location in a factory in Jaipur, including dyeing yarn, plying threads, weaving rugs, block printing, washing, stone wash, finishing, and packing. They're all in-house production.
Village Weavers, founded by Deep Chand Jain and Khushi Jain with the goal of uplifting the Mirzapur weaving community, is one of India's premier manufacturers and exporters of fine handcrafted floor coverings and flatweaves.
Started 40 years ago as a basic weaving operation to serve the local artisan community of Mirzapur, the label has now evolved into a worldwide acknowledged enormous brand on par with sought designer décor houses around the world. 
Their carpets are famous for their intricate weaving, intricate designs, and hours of effort and hard work.
Insigne Carpets was founded by Asif Rahman in 2011 with a Rs 35 lakh investment from his own personal savings. The luxury firm situated in Gurugram provides carpet consultancy, manufacture, and installation, guaranteeing that consumers receive end-to-end solutions. 
Insigne carpets have a devoted following in the entertainment, hospitality, commercial, residential, and other industries.
The business has designed and manufactured carpets for a number of high-end projects, including The Pierre, Salalah Airport (Oman), Wynn (Las Vegas), and La Samaritaine (Paris). The company's distinguishing feature is its personalization and uniqueness, with only one design and no replicas.
They are one of India's major carpet manufacturers, known for producing unique and spectacular carpet rugs. They emphasize every minute detail and offer a stunning carpet rug for homes and offices, from spinning the wool to weaving and finishing touches.
They began in a little town in the Indian state of Uttar Pradesh and have been in this sector for three generations. 
They provide additional services like washing, re-binding, re-knotting, stretching, and complete restoration of carpet rugs.
ALSO READ: Top 10 Ways To Cleanse Your Home Of Negative Energy