Debt Crisis Tormenting China's Developer Evergrande: Here's How!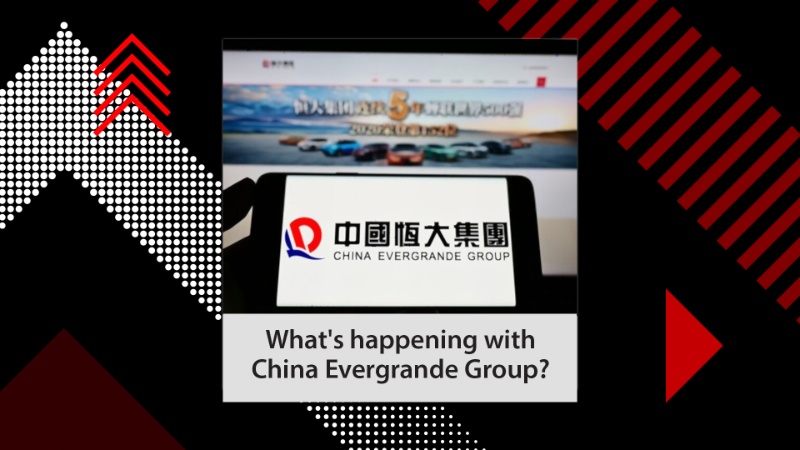 Fact: Did you know China Evergrande Group was named the most valuable real estate corporation in the world in 2018 and is currently facing a severe debt crisis of $100 billion? (equivalent to Infosys market capitalization in 2021)
China Evergrande Group has experienced incredible growth over the previous 15 years, becoming one of China's largest and most well-known real estate developers. It was named the most valuable real estate corporation in the world in 2018.
However, those exuberant days have come to an end as pressure mounts on the company's management to slash almost $300 billion in debts. Credit restraints are inflicting a strain on Evergrande and other major real estate developers as the country's economy suffers.
China Evergrande Group (formerly Hengda Group) is the world's 122nd richest company by revenue and China's second-largest property developer by sales.
It is based in Guangdong Province, in southern China, and mostly offers apartments to upper- and middle-class residents. The corporation was established on June 26, 2006, and is headquartered in Shenzhen, China.
Evergrande Group has over 500 real estate projects in over 180 cities across China, employing over 1.3 million people and ranked among the world's top 500 firms.
Evergrande, which was established in 1996 in the southern Chinese city of Guangzhou by Chairman Hui Ka Yan, has accelerated its growth in the recent decade. With $110 billion in sales last year, it became China's second-largest property developer.
Evergrande has expanded into various sectors like electric cars, football, insurance, and bottled water, while national sales growth has slowed in recent years. Investors got concerned after a leaked letter in September revealed Evergrande sought government help in approving a now-canceled backdoor IPO proposal, claiming a financial crisis.
The company owes more than $300 billion to lenders, investors and home buyers. Creditors are not sure it can pay the bills; lawsuits have been filed against it. At the request of Guangfa Bank, a Chinese court has frozen a $20 million bank deposit held by the corporation.
Evergrande's rapid expansion has been propelled by debt throughout the years. It has been aggressively seeking loans and selling units to support its land acquisition goals.
Evergrande Group, China's most indebted property developer, claims that by the end of June 2021, its debt will be under 600 billion yuan ($93.73 billion). The company has vowed to reduce its debt by 20%, or 150 billion yuan ($23 billion), this year.
Evergrande announced its interest-bearing debt was 570 billion yuan ($88.2 billion) at the end of June, down from 835.5 billion yuan (129 billion USD) a year earlier. The developer has been rebuked for employing shadow banking channels that are less regulated, such as trusts, wealth management products, and commercial paper.
China Evergrande Group plans to meet debt-reduction targets by the end of the year. It has had a $555 million secondary share sale since the second half of 2020. Fangchebao, an online real estate and automotive marketplace, plans to raise $2.10 billion in pre-IPO funding.
Evergrande has stated that it will work diligently to meet all regulatory standards. Material occurrences shall be disclosed in compliance with applicable laws and regulations. Evergrande also said that its board of directors will meet on August 31 to approve the company's first-half results, which concluded on June 30.
In the first half, China Evergrande reduced its debt by nearly 20% to $88 billion. As a result, it was able to meet one of China's "three red lines." Last year, the developer's overall liabilities reached a new high of 1.95 trillion yuan ($300 billion).
The developer announced in late June that in the first half, it had decreased its interest-bearing debt to $88 billion. To avoid a liquidity shortage, Evergrande has started selling assets such as unit holdings. Last year, Evergrande's total liabilities reached a new record of 1.95 trillion yuan ($300 billion).
Investors have been sceptical of the developer's debt-reduction initiatives, partly because they believe the company is just moving commitments to other portions of its balance sheet. This year, a number of Evergrande units have fallen behind on commercial bill payments.
Evergrande's Hong Kong-listed shares had reversed early gains and decreased by 2%, bringing the company's year-to-date loss to over 75%. Its yuan notes due in July 2022 increased 6.4%, while those due in May 2023 fell 8.6%. Evergrande has been pursuing asset sales to offload part of its electric car company, which had $88 billion in interest-bearing debt at the end of June.
Evergrande New Energy Vehicle (NEV) Group has begun tentative negotiations with Xiaomi, the Chinese smartphone manufacturer, about becoming a strategic shareholder. About the next 12 months, Evergrande owes contractors over 240 billion yuan ($37 billion) in bills and trade payables. Concerns about the developer's financial situation grew after it failed to pay for some commercial paper on schedule in June.
If China Evergrande Group's all-out campaign to raise cash falls flat, the company risks defaulting on its debt. The company said it is considering selling stakes in its publicly traded electric vehicle and property services businesses, as well as other assets. In the first half of 2021, net income dropped by 29% to 10.5 billion yuan ($1.6 billion), in accordance with a previous profit warning.
At the end of last year, Evergrande's debt fell to 572 billion yuan, the lowest level in five years. Despite this, trade and other payables increased 15% from six months ago to a new high of 951.1 billion yuan. Two of China's so-called three red lines measurements placed on developers remain unmet by the corporation.
Xu Jiayin, the Chairman of Evergrande Real Estate Group, resigned from his position a week ago, on August 17th, 2021. In its 2018 financial stability report, China's central bank warned that corporations like EverGrande might pose systemic threats to the country's financial system. The company's obligations span over 128 banks and 121 non-banking institutions. 
Evergrande's downfall would have a significant influence on China's job market, as the company employs 200,000 people and hires 3.8 million individuals each year for project development. Any defaults will result in high-yield credit market sell-offs. Due to the fact that numerous financial institutions have direct and indirect exposure through various financial instruments, late payments could result in cross-defaults.
Property developers like Evergrande are particularly hit by President Xi's new debt-cutting campaign, as the real estate sector accounts for around 29% of China's economic output.
Since January 2020, China has not sold a single dollar bond. The company, which was recently downgraded by Fitch Ratings, has been attempting to decrease its $US100 billion debt burden through asset sales after failing to meet a regulatory leverage limit. 
As Evergrande's short-term bond yields are currently so high, even shadow banks (investment banks, insurance firms, mortgage lenders) are hesitant to lend it more money. As a result, the company's debt funding options should have been eliminated. Despite this, Evergrande produced 320 billion yuan in sales in the first half of the year, with a 90 % collection rate.
As a result, we believe Evergrande will be able to repay debts using cash inflows from sales after the land acquisition process is completed. In recent months, Evergrande has continued to raise funds through equity financing, and we believe that these subsidiaries will be key to the group's cash flow sustainability. As a result, if Evergrande is willing to sell up the majority of its non-core businesses in exchange for more than 100 billion yuan in monetary assets, the burden on its cash flow will be greatly reduced.
According to Western experts, Evergrande's quick demise is due to the company's excessive reliance on debt for success. The exposure affects over 128 banks, and the PBoC previously recognised the firm as a systemic financial vulnerability in 2018. The glimmer of hope is that China can learn from the American real estate disaster, which has resulted in the CEO stepping down and the loss of almost 4 million jobs.
Considering that the yuan is not a worldwide reserve currency like the US dollar, it will be fascinating to study the impact of the PBoC's massive money issuance for bailouts.
ALSO READ: South Mumbai Shines Brightest In Terms Of Top Localities Contribution With 73.4%: Report