The Rise And Fall Of The Indian Giant Unitech Group: Money Laundering Case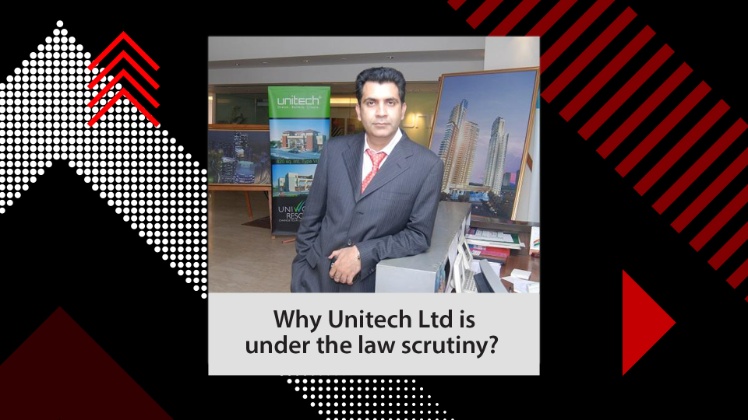 According to sources, Unitech owes Rs 7,800 crore to over 16,000 homebuyers for delayed projects. Consequently, Unitech had to sell a large chunk of land in Noida to the local development authority. Because it couldn't pay its debts, which totalled around Rs 4,000 crore in 2017.
Unitech Group, founded in 1972 by Ramesh Chandra, Dr. P K Mohanti, Dr. S. P. Shrivastava, Dr. Bahri, and Dr. Ramesh Kapur, is one of India's major real estate companies.
It initially began as a soil and foundation engineering consulting firm. Furthermore, it expanded to include world-class commercial complexes, integrated residential developments, and amusement parks.
It has completed over 100 residential projects to date. For instance, Nirvana Country in Gurgaon is a mixed-use development that includes villas, apartments, offices, retail spaces, schools, and clubs. The organization has also built world-class malls in Rohini, Noida, and Gurgaon.
On March 30, 2021, Under the Prevention of Money Laundering Act, the Enforcement Directorate (ED) confiscated Unitech Group-owned properties. It's worth over Rs 150 crores.
ED attaches assets including 12 land plots in Gurugram, Haryana. The ED's action comes just days after it raided over 35 Unitech-owned properties in Delhi and Mumbai. The builder set up a network of proxy firms to assist a purported Rs 2,000 crore financial crime. There were payments between 2015 and 2020 through Singapore-based businesses.
ED informs Supreme Court as former Unitech promoters were working from Tihar jail
The Supreme Court criticized the Delhi High Court and a trial court magistrate on March 19, 2021, for consenting to hear the Chandras' bail application after their imprisonment in Delhi's Tihar jail in 2017.
The National Company Law Tribunal (NCLT) had suspended all eight directors of Unitech Group over allegations of mismanagement and fund leeching. This was the second case against the company.
Since the Companies Act went into effect that the government attempted to seize control of a private corporation.
The court denied bailed of the company's promoters, Sanjay Chandra and Ajay Chandra for failing to deposit Rs 750 crores. This was the compensation amount of about 16,300 homebuyers who were waiting for homes for years.
A total of 29,800 homebuyers involves Unitech Group in the construction of 74 housing complexes. The Group has been unable to execute the projects due to its financial troubles, leaving buyers in the dark. In October 2017, the Supreme Court requested Unitech CEOs Ajay and Sanjay Chandra to deposit Rs 750 crore. The amount submission in the SC registry was necessary for the exchange of a bail grant. But they did not comply.
Unitech Customers Can Now Fantasise About Their Future Residences
Homebuyers in the Unitech case benefited some relief after a Supreme Court-appointed board. The board advised that the stalled projects could be completed in three to four years. 
Unitech's closure was also ruled out by the panel. The board proposed that some of the projected Rs 5,000 crore required to complete the stalled projects be raised from the centre's alternate investment fund (AIF) SWAMIH, while others might be raised by using more FAR and selling land banks.  
In addition, the board has requested the Noida Authority reduce interest penalties on late payments of roughly Rs 5,000 crore. The company's entire liabilities account for over Rs 28,200 crore, while its realisable assets are roughly Rs 3,700 crore.
Supreme Court ordered to transfer Unitech Group promoters Sanjay Chandra and Ajay Chandra to separate jails on August 26, 2021. Supreme Court has ordered the Chandra brothers to be sent to jail in Mumbai and another jail in Navi Mumbai. 
Enforcement Directorate (ED) told the court that both brothers used to communicate freely from Tihar jail with Unitech staff and issued directions to dispose of company property. ED further claimed that the Chandras of Unitech Group went to a hidden underground office in Delhi's Green Park neighbourhood, run by their father and former Unitech promoter Ramesh Chandra, whenever they were out on bail or parole. 
Unitech Group's Money-Laundering Investigation has seized a London Hotel
Recently, the Enforcement Directorate has tentatively attached a London-based "Bed and Breakfast" hotel owned by Ibournshorne Ltd. It was a money laundering case against the Unitech Group. The agency has launched a money-laundering investigation based on various FIRs filed by homebuyers and promoters with Delhi Police.
The hotel currently values around 58.61 crores, according to the Enforcement Directorate. It also states there was a suspicious transfer of dirty money totalling 325 crores belonging to homebuyers. It took place during a money-laundering investigation against the Unitech Group.
A Supreme Court-appointed board has recommended a resolution plan for the corporation, which could bring some relief to nearly 15,000 consumers who have invested in various Unitech Group housing projects.
According to SC's resolution plan, nearly 15,000 homes will be constructed in four years. The board's proposed resolution plan would save the company from closure while also allowing roughly 15,000 buyers to take possession of their homes within a four-year time frame. 
Following years of project delays, the majority of purchasers in the company's 86 stalled projects have been paying EMIs. The board stated in its resolution plan that the suggested revisions will not impose any additional hardship on the buyers.
CBI convicts Unitech Group in Canara Bank Fraud Case
The CBI had arrested Sanjay Chandra, the Managing Director of Unitech group, as well as his father Ramesh and brother Ajay, for allegedly defrauding Canara bank of Rs 198 crore. The trial court cleared Chandra's suspected role in the 2G Spectrum scandal after thorough investigations.
Canara Bank claims that the company received financing based on personal and corporate guarantees from Chandras. The company then defaulted on payments due to low demand in the property market. The auditors concluded that the Chandras did not use over Rs 5,000 crore for building purposes. It accounts for the homebuyer's 40% of the total money. Also, they never used ₹5063.05 crores of the ₹14,270 crores obtained from 29,800 homebuyers in construction and implementation of the 74 projects highlighted.
Unitech Group, on the other hand, received Rs 1805.86 crore from six financial institutions, of which ₹763 crores was not used for projects. The bank claims that the business misappropriated ₹198 crores of public funds. The audit also revealed that the company invested over ₹1,745 crores in Cyprus, a tax haven, between 2007 and 2010.
Uninor's licence was withdrawn in 2011 when Sanjay Chandra was arrested for alleged role in 2G spectrum fraud. The corporation currently has a debt of Rs 6,700 crore. According to company documents, things had become so bad by 2016 that the Chandras had to go without pay for several months.
Sebi regulator fines promoters for violating Prohibition of Insider Trading (PIT) regulations
Unitech Ltd Executive Director Sanjay Chandra and its promoter Mayfair Capital were fined a total of Rs 5 lakh by market regulator Sebi in December 2019 for failing to disclose a change in their shareholding in the business. The regulator penalised the promoters for breaking the Prohibition of Insider Trading (PIT) rules. Consequently, they fined Sanjay Chandra and Mayfair Capital Rs 2 lakh and 3 lakh respectively.
In August 2021, the Supreme Court announced that 1000 homebuyers seeking refunds from the Unitech Group would be granted 30 days to reconsider their choice and take ownership of their units.
In a report filed in a sealed cover before the Supreme Court, the Enforcement Directorate (ED) stated that it had attached Unitech Ltd group properties worth Rs 650 crore in connection with money laundering accusations, out of which Rs 450 crore is recoverable.
The Enforcement Directorate has seized assets worth over 197 crores about a money laundering case. The Supreme Court also ordered Unitech Ltd's new management to give priority to home buyers seeking refunds. Sanjay Chandra and Ajay Chandra illegally moved more than 2,000 crores to Cyprus and the Cayman Islands.
Strategies to Assist Homebuyers in the fight against Money-laundering cases like Unitech Group:
There are various ways to combat money laundering. Here's a list of five strategies:
1. Technology can help you improve your search results
Using AI technology to conduct continuous searches can relieve some of the pressure on AML officials. Technology allows you to glance at a larger number of alerts without having to physically go through them all.
2. Regular Cross-Communication
Banks and law enforcement can keep each other up to date, clarify any concerns, discover potential networks, and strengthen the public-private cooperation by holding frequent meetings, establishing a united front against money launderers.
3. Discovering suspicious patterns
Data analytics are a vital component of the fight against money laundering. Individuals should refrain from using multiple PINs or ties to tax fraud that could lead to more investigations.
4. Choosing Standardized Banks
Many banks have developed by acquiring rivals, which has resulted in a patchwork of old computer systems. Some divisions use spreadsheets while others use ledgers; this can impede antifraud efforts. More financial institutions are becoming digital, increasing their usage of cloud software and big data.
ALSO READ: Real Estate Assets' Information To Be Included In Third Set Of Swiss Bank Details