Here's What RealtyNXT Have To Say About The Future Of Indian Proptech Startups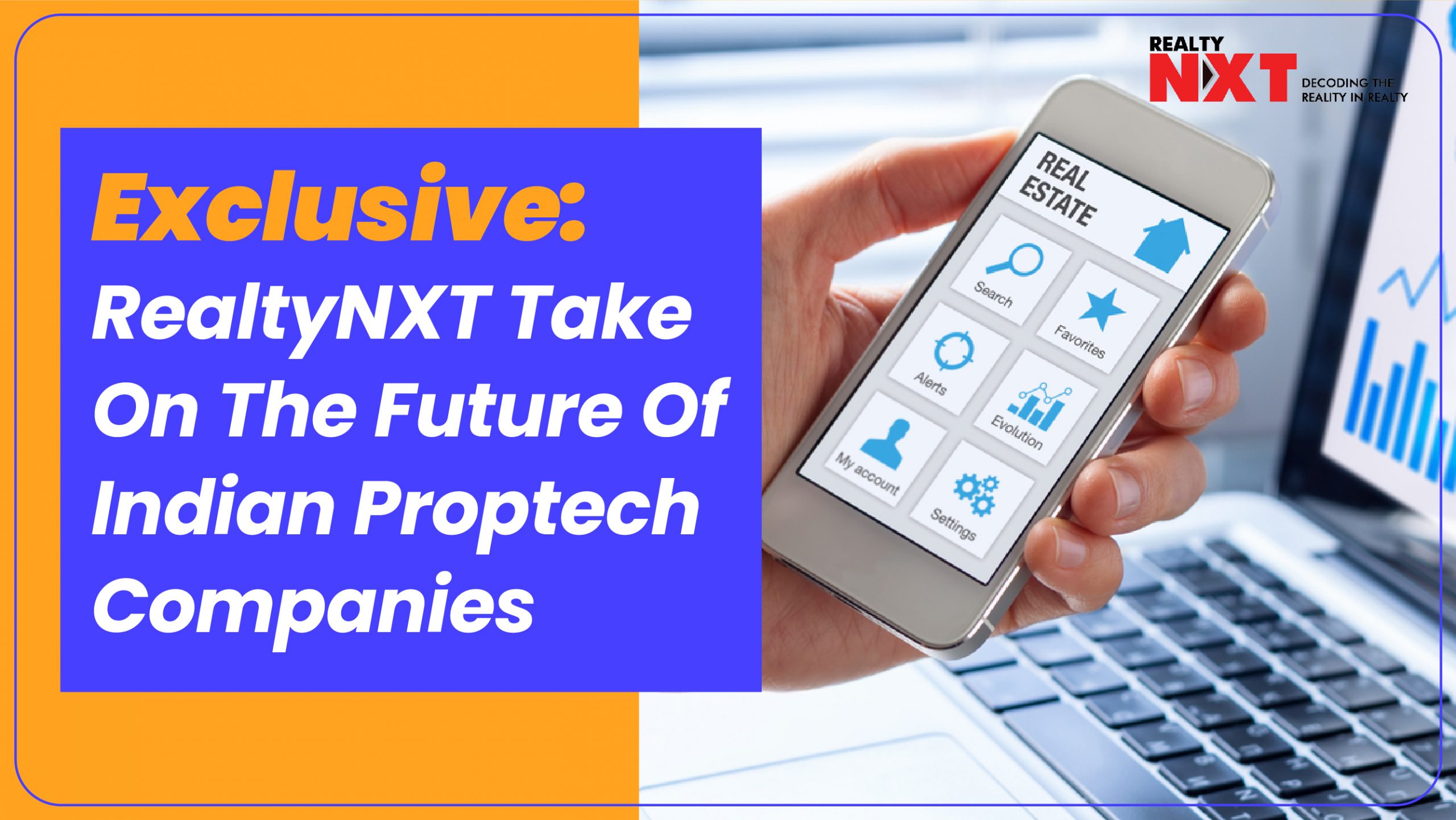 Here's how Indian PropTech Startups can boost the future of the Real Estate Industry.
What is Proptech? Why the Buzz?
PropTech (property technology) is the application of information technology (IT) to assist individuals and businesses with real estate research, acquisition, sale, and management.
It is in fact a type of technology that addresses the needs of the real estate market through digital innovation.
PropTech startups intend to simplify and integrate processes for buyers, sellers, landlords at all stages of the real estate industry. For instance, Virtual reality software allows website users to visually walk through properties, splitting rent payments, and crowdsourcing new real estate developments. IoT, Smart Lifts, Drones, and Virtual Reality are some of the technologies that have been used.
This real estate technology's ultimate goal is to reduce paperwork while also making transactions faster, more efficient, and secure.
State of Funding of Various Sectors
Indian startups acquired $6.5 billion in funding in the April-June 2021 quarter, according to a Nasscom-PGA Labs analysis. Consequently, 11 of them becoming unicorns. Likewise, there were 160 funding deals closed in the second quarter, rising by 2% from the January-March period.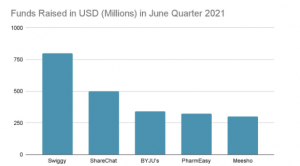 The number of funds raised in the June quarter was $6.5 billion, rising by 71 % from the previous quarter. Swiggy, a food delivery platform, raised $800 million in the quarter, followed by ShareChat ($502 million), BYJU'S ($340 million), PharmEasy ($323 million), and Meesho ($300 million).
In addition, India has the world's third-largest tech unicorn ecosystem, behind only the US and China, according to GlobalData. During the COVID-19 pandemic, VC investors are exhibiting interest in firms like e-commerce, social media and social networking, food delivery, EdTech, and digital payments.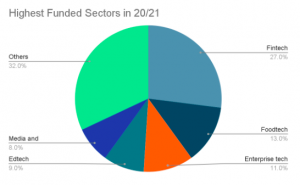 Highest Funded Sectors in 2021
Fintech was the highest-funded sector in the reported quarter, accounting for 27% of the total deal value.
Foodtech (13%) was followed by enterprise tech (11%), edtech (9%), & media and entertainment (8%).
Consequently, growth stage funding accounted for 61% of the entire deal value. Approximately 100 startups got seed capital, accounting for 9% of the total amount raised.
Urban Company, CRED, Meesho, Groww, ShareChat, PharmEasy, Zeta, BrowserStack, Moglix, Gupshup, and Chargebee were among the 11 unicorns. Their business currently values $1 billion in the quarter of June 2021.
How much funding has it been in Indian PropTech Startups in 2021?
PropTech is the fusion of real estate and technology. Indian PropTech startups received a total investment of US$ 242 million between FY 2016 and FY 2018. PropTech funding in the country increased from US$ 3.4 million in 2018 to US$ 56.8 million in 2019.
After the United States and China, India has emerged as the world's third-largest startup ecosystem. India has added three unicorns every month for the past year. Consequently, bringing the total number to 51, ahead of the United Kingdom (32) and Germany (18). India's unicorns currently value around $168 billion, which is more than Telangana's GDP.
In fact, the most valuable Gazelle is Zilingo, and the most valuable Cheetah is Pepperfry, a digital furniture platform. The Mobile Premier League (MPL), Rebel Foods, Cure.fit, Spinny, and Mamaearth are among a wave of prospective unicorns. They are worth $36 billion, or roughly one-third of Delhi's GDP at current exchange rates.
India's PropTech Startups That Raised Funding Recently:  
Let's take a look at some of India's most well-known PropTech Startups along with their fundings:
Established: 2016
Founders: Aaditya Sharda, Souvik Sengupta
Funding received: $ 161.5 million
Infra Market is a real estate and building materials marketplace on the internet. Its centralised platform sums up all the client requests. Then it matches its supply chain, along with appropriate credit alternatives and an effective delivery tracing facility. 
Established: 2013
Founders: Tanuj Shori, Kanika Gupta
Funding received: $ 73 million
Square Yards, a real estate technology platform that it has acquired $25 million in growth funding from ADM Capital, a Hong Kong-based investment management. Square Yards is a real estate marketplace that provides a completely digital real estate experience, including search & discovery, transactions, mortgages, home interiors, rents, property management, and post-sales services.
Established: 2018
Founder: Madhusudhan AV
Funding: $350k
BricSpaces, a Bangalore-based PropTech startup that was formed as the country's first prop-tech by Embassy-backed WeWorkLabs, caters to end real estate streams with digital transactions, making it the first of its kind in the prop-tech space. 
It has raised $350,000 in a pre-seed round from well-known investors. Freshworks co-founder Shan Krishnasamy, serial startup investor Bharat Kapoor of 50K Ventures, and Eeva developer Vishal are among the investors.
Established: 2020
Founder: Aditya Jhaveri
Funding: $2 million ($12m post-money valuation)
Method & Madness Technology Pvt Ltd, a technology-based and consumer-centric real estate purchase platform based in Mumbai, has raised $2 million in seed capital from Silicon Valley investors, with a post-money valuation of $12 million. 
Justin Mateen, the founder of the dating app Tinder, led the funding round, which also included a number of other high-profile Silicon Valley investors. 
Established: 2017
Founders: Dr. E Muralidharan, Simar Kohli, Tharun Kumar, and Praseed KK
Funding: $250,000 (Rs 19 million)
ECOSTP Technologies, a bioengineering-based sanitation firm, announced on Wednesday that it has received $250,000 (Rs 19 million) funding from Terwilliger Centre for Innovation in Shelter. Consequently, this results in a cost-effective, self-sustaining system that can treat millions of litres of sewage water each day without the use of electricity, chemicals, or human involvement, saving up to 90% on operational costs.
Established: 2016
Founders: Anand Moorthy, Natasha Moorthy
Funding: $142K (Oct 07, 2020) by Jeetendra Patel, Aneeta Chopra and 2 others
PropsAMC, a data analytics, asset management, and real estate service provider, has been purchased by Square Yards, a real estate platform.
The entire team of PropsAMC including its co-founders, have joined Square Yards and will continue to operate under the larger umbrella with the same brand name. This collaboration is intended to provide considerable value to Square Yards' B2C and B2B customers, as well as signal the company's entry into the data intelligence space.
Established: 2017
Founders: Anindya Dutta, Sandeep Dalmia
Funding received: $ 120 million
Stanza's business concept is based on the vast demand for small guest houses known as PGs in India that provide affordable food and lodging to students and employees relocating to the country's fast-growing megacities.
Besides, Stanza Living, an Indian managed accommodation provider, is on the verge of completing a deal to raise up to $120 million in a Series D investment led by an Abu Dhabi-based investor.
8. Settlin
Established: 2016
Founders: Ashish Srivastav, Sudhanshu B
Funding received: $ 413,941 (Rs 3 crore)
Settlin, founder Ashish Srivastava and Sudhanshu is currently operated by Linking Spaces Technologies Pvt Ltd. The company claims to provide an end-to-end stack that allows clients to initiate and complete transactions in less time. 
Settlin, a residential property buying and selling PropTech startup, has raised Rs 3 crore (about $413,941) in an angel fundraising round. Moreover, Bengaluru-based Settlin claimed the funding came from the GSF Accelerator and the ah! Ventures angel platform.
Established: 2015
Founders: Nikhil Sikri, Akhil Sikri and Sneha Choudhry
Fundings: $56 million
Zolo, a co-living PropTech startup resides students and young professionals, and the additional funds will be used to invest in technology, lock in more inventory, develop AI-driven operational platforms, and accelerate expansion.
Furthermore, Investcorp, Nexus Venture Partners led a $56 million Series C financing for co-living startup ZoloStays. Zolo has already raised around $90 million in total fundraising.
10. K2V2
Location: Pune
Founder: Vikram Kotnis
K2V2 holds a substantial market share in Real Estate CRM, Sales Automation, and Marketing.
IT consulting and services firm Majesco acquired a 51 percent stake in Pune-based software technology firm K2V2 in a Rs 40-crore deal.
Impact of COVID-19 on Venture Capitalists Investments 
Despite extremely difficult economic conditions caused by COVID-19, venture capital investments in India increased in the third quarter of 2020. With a primary focus on highly relevant companies and industries in such times as the intensely competitive food and grocery delivery sector where Flipkart raised USD 1.3 billion.
According to the IVCA-EY monthly PE/VC roundup for 2020, there were $41.4 billion in private equity/venture capital investments across 852 deals and $4.9 billion in exits across 129 deals, including open market exits contributing 47% of all deals by value.
Overall, the private equity/venture capital industry remains a pillar of strength for the Indian PropTech startups, and it is expected to boost innovation, job creation, entrepreneur mentorship, and infrastructure development.
Global Proptech Startups Ecosystem Update
India ranked 20th among the top 100 countries in the Global Startup Ecosystem Index 2021. The country ranked 17th in 2019 but lost six places to 23rd by 2020. According to the report, India's PropTech Startup Ecosystem will benefit from improvements in infrastructure and Internet speed.
In total, 43 Indian cities are ranked in the top 1000 cities in the world, including Bengaluru (10th), New Delhi (14th), and Mumbai (16th) within the top 20. The United States, the United Kingdom, Israel, Canada, and Germany are all in the top five rankings this year, as they were last year.
Future of Indian Proptech Startups
We, at RealtyNXT, believe the adoption of advanced technology in a variety of sectors and industries will open up a whole new world of possibilities. Artificial Intelligence and Virtual Reality are simply the tips of the iceberg when it comes to expressing how far we've come in terms of technical progress.
The global rollout of 5G cellular networks is likely to provide the real estate market with a significant boost. With multi-gigabit peak data speeds and ultra-low latency, 5G is up to 100 times faster than its predecessor.
Data intelligence will not only aid in the extraction of granular insights into foot traffic patterns but will also track psychographic patterns. Through the use of virtual reality headsets, house hunters will be able to examine PropTech properties in a realistic 360-degree tour without needing to be present. A Contech ecosystem is a vision of construction in which everything is digitally connected in real-time.
Maintenance of electric fittings such as air conditioners and lighting systems, cleaning, housekeeping, plumbing, and security will benefit from the involvement of 5G. Autonomous machinery like AI-powered rovers, scouts sites and transports heavy items will gain popularity in India since they would help to prevent human fatalities. An integrated facilities management (IFM) will ensure increased efficiency, reduced operating costs, a happier and healthier workplace in the future.
PropTech and Fintech working together can greatly minimise the friction experienced while developing a new site. This would allow developers to spend less time and money developing sites that are not financially viable. The feasibility of a plan and the capacity to fund it are already intricately linked. 
Lastly, we've all had an undeniably challenging year, which has only increased the importance we, as property professionals, place on the financial health of our businesses and projects. Hence, a collaboration between Fintech and PropTech makes perfect sense. In addition, it promises to reduce errors and improve the efficiency of our thorough research.
ALSO READ: Housing.com Ties Up With Proptech Homzhub For Property Management Services