Legal Checklist For Indian Proptech Startups In India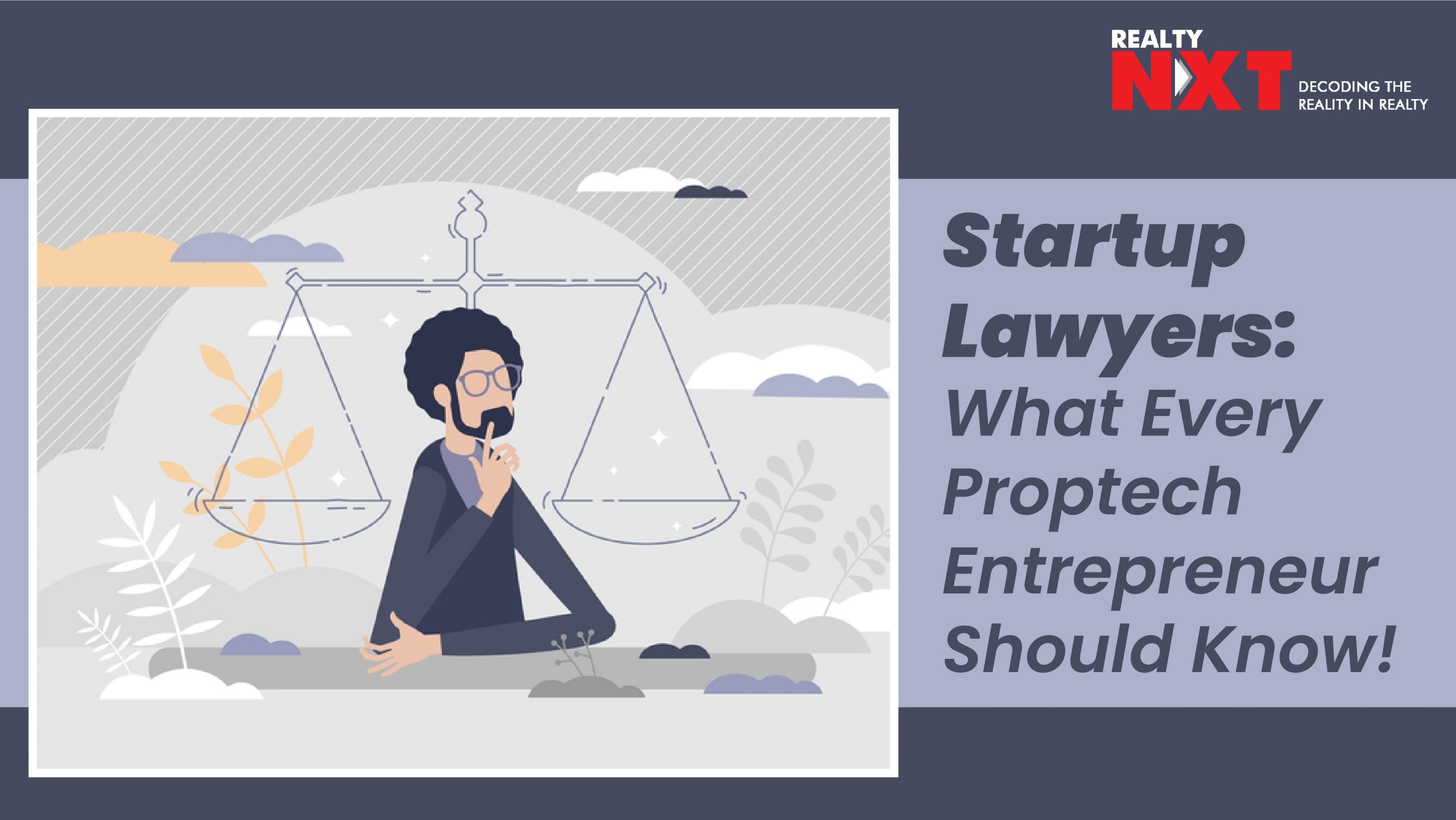 To protect yourself from business liabilities, you should form a business entity (LLC or corporation). Identifying the company's ownership and capital rights if there are several founders. 
Unless you have special powers, an investor will never invest in your project blindly. He will want to learn more about the qualities of your company.
A business plan and other paper-works are important tools to raise funds. That is because you have to convince the investors about the scope of your company. Investors should take trust and interest in your company over others.
Finding seed money is more than half of the effort in the early stages of a startup. The majority of your early finance will come from your own pocket, with the intention of eventually raising outside capital. Besides, It's important to pay attention to your customers. This is because 14 % of startups fail due to a reluctance to consider the demands of their customers. Here are some of the legal points to remember before seeking any funds from the investors.

What Should New Start-Ups Look For Before Hiring A Lawyer?
When choosing a lawyer, search for someone you can trust, get along with. Choose a lawyer who you believe is interested in you and your business.
You'll also want someone who is professional, responsive, and knowledgeable about the legal concerns you'll be dealing with.
For instance, at the most basic level, start-ups require attorneys to deal with three groups:
Third Parties:

In your contacts with customers, suppliers, and the general public, it's critical that you take reasonable precautions to control risk.
The Government: You don't want to break any rules. You must also ensure that you are conducting business in a way that avoids needless tax liabilities. Also, that you are paying the taxes you owe.
Among Partners: When a group of people build a company, it's important to understand the legal process. Understand what they need to avoid any future problems.
The following are the most common reasons for start-ups to hire lawyers:
Building your own business company and running it.

Hiring members

Set up terms of service for websites and software licence agreements.

For raising funds

Getting a licence
Top 10 Affordable Online Legal Services in 2021
Rocket Lawyer

is the best option for getting legal advice quickly.

Incfile

is the best legal service for starting a new venture.

Lawyer.com

is the largest online directory of local and regional attorneys.

LegalZoom

is the best option for seamless IP protection.

LegalNature

is the best option if you want to make your own legal documents.

LegalShield

– Small business's best full-coverage legal plans

Nolo

– If you want to do everything yourself, you can go for Nolo.

Avvo

is the best online legal service. Q&As

UpCounsel

is the best option for outsourcing your legal team.

LegalMatch

– The best online legal service for locating a lawyer in your neighbourhood.
Legal Concerns To Prioritise If You Have A Limited Budget
To protect yourself from business liabilities, you should form a business entity (LLC or corporation).
Identifying the company's ownership and capital rights if there are several founders. Assuring that the company's intellectual property is safeguarded and owned (especially if it is being developed by independent contractors). Making sure you're aware of the tax implications of your actions, especially when granting others equity.
In fact, entrepreneurs should be sceptical of lawyers who don't speak their language or appear to be learning on your dime.
It's critical to have a clear knowledge of what something will cost in order to avoid unpleasant surprises. A lawyer who unexpectedly charges you more money is unlikely to represent you in a cost-effective manner.
Legal Checklist for Proptech Startups in India
1. An Agreement Between Co-Founders
The ownership contributions of co-founders must be clearly mentioned. This also helps reduce the friction and the handling details of all shapes and sizes.
2. Setting Up A Legal Entity
A startup must always be registered as a legal company. In case you want to take advantage of venture capital or angel financing, you should set up a private limited company.
3. Non-Disclosure Agreement (NDA)
Both parties sign an agreement for the purpose of privacy protection.
4. Proper Financial Record Updates
Startups should keep a note of all the correct financial records. This helps in growing the business while also maintaining the quality of their business reports.
5. Intellectual Property Rights
The most valuable strength of a company is its intellectual property rights. These are the rights given to people over the creations of their minds. Besides, if you don't want your competition to take unfair advantage of your business, you must take this step. Company logos, names, brands are examples of those rights. It's also a good idea to get a copyright registration. 
6. Information Technology Legislation Compliance
Digital signatures, privacy and personal documents held in a data room, papers, cloud computing, and e-contracts are all examples of operations that require protection. As a result, knowledge about IT laws is helpful.
7. PAN/GST Registration
To own an open property, we need to take care of the legal paperwork from the start. Besides, the most important step is to register the company's personal, financial records. Finally, the next step is to register for the Goods and Services Tax.
Additional Legal points to note:
Monthly/Quarterly GST Returns.

Quarterly TDS Returns.

Filing of Income Tax Returns

Filing of a tax audit report.

Periodic Returns Filing – (Monthly, Quarterly, Annual Returns of GST, TDS, etc.).

Checking tax debt in advance. Regular advance payment of tax.

Payment of repeating accounts such as GST liability, TDS, and TCS.

To check business requirements under various legal acts. For example, the Environment and Protection Act, the Money Laundering Act, the Competition Act, the Factory Act, etc).
Lawyers To Help Businesses Understand Their Company's Worth
Vertices Partners was founded in 2016 by a group of experienced and well-known lawyers. Also, to deliver the best results the firm follows a practical approach with the help of its partners. Commercial Litigation & Dispute Resolution; Structured Finance; Corporate & Commercial; Real Estate; and Media & Technology are just a few of the sectors where Vertices can help.
Rajaram Legal gives proper legal advice to startups and lenders. Healthcare, digital media, financial services, retail, technology, e-commerce, and education are among the firms' speciality offers for venture capital investments and exits. It also handles strategic legal issues like venture finance, management recruitment, founder agreements, and media equity deals, etc.
Leegality is a payment method for digital business paperwork. It helps businesses with safe, legal, eSign and eStamping services. This unique platform has successfully reduced the total time by up to 90%.
To sum it up, the first piece of paper you should check while dealing with seed funding for startups in India is the legal documents. These startup documents maintain the privacy of both your firm and the third party. Most startup owners make the mistake of not using a successful business plan.
A single ownership might result in large income tax bills and legal issues that the separate founders are responsible for. As a result, following proper Indian startup funding legal procedures is a must.
(Written by: Pratik Ghadge)
ALSO READ: Here's What RealtyNXT Have To Say About The Future Of Indian Proptech Startups