Proptech Totality Partners With Cre Matrix For Wholesome Real Estate Intelligence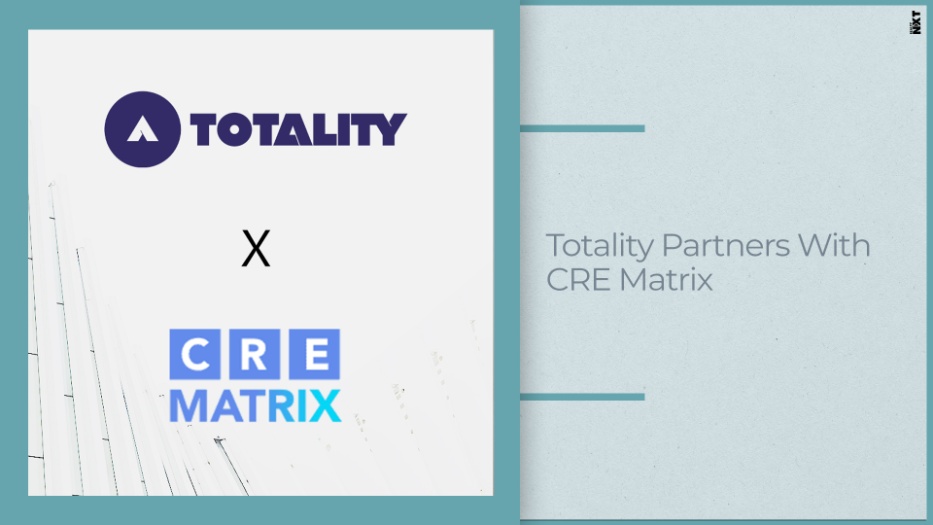 Stepping deeper into the vast world of performance marketing and the modern real estate industry, Totality, the technical arm of Insomniacs, India's first and only real estate, data analytics, and technology network, has collaborated with CRE Matrix, India's leading trusted source for wholesome real estate intelligence. In the present-day digital era, data intelligence is the gravitating currency.  
With this partnership, while TOTALITY will deploy the highly synchronized data intelligence to reduce the customer acquisition cost by 66%, CRE Matrix can make their data more congenial for modern-age real-estate developers.
With the recent association with CRE Matrix, Totality will effectively affix an immaculate dimension to their well-established performance marketing based on artificial intelligence (AI). The brand is the quintessential one-stop center for realtors, as it provides end-to-end solutions for all their sales and marketing needs.
In fact, this concept is specifically called Business Optimization Suite (BOS) and functions on a single interface.
In a nutshell, it's a unique ecosystem of unconventional products and distinctive approaches that allow realtors to optimize their marketing mix and spend, meticulously digitize customer touch-points, stimulate experience, and upgrade team efficiency.
On the other hand, CRE Matrix is a futuristic analytics platform for Indian commercial and residential real estate properties that gathers full-proof data from all sales and leasing activities within the real-estate domain. Leveraging the up-to-date data, CRE Matrix offers best-in-class analytics and advisory services for new-age real-estate developers.
Speaking on this occasion, Digvijay Chauhan, Chief Business Officer of Totality, said, "This collaboration with CRE Matrix feels like the last piece that completes our jigsaw. CRE Matrix's position is unparalleled when it comes to analytics on historical transactions in both primary and secondary markets, going well beyond five years. Although Totality already has an AI that autonomously builds real-time and high-yielding performance strategies directly from the campaigns, we hope to uplift our productivity significantly. By integrating CRE Matrix, a whole new set of location data intelligence would be unlocked, which in turn would enable realtors to hyper-optimize their marketing-mix."
Talking about this recent collaboration, Abhishek Kiran Gupta, Chief Executive Officer of CRE Matrix, said, "Frankly collaborating with Totality is a win-win. From our PoV, many developers are using our platform to enhance the value of their portfolios. We see Totality as a distribution partner that expands our use-case and makes our data more accessible to the real-estate developer community. Developers can immensely benefit from Real-Time, Accurate, Authentic and Comprehensive Data, and Analytics by CRE Matrix. Our Cloud Platform is accessible anywhere offering Market Analysis, Competitor Analysis, Buyer Analysis, etc. across geographies".
It is pertinent to note that Insomniacs is currently witnessing unparalleled growth at a compound annual growth rate (CAGR) of 92.5%. Now, with the recent collaboration with CRE Matrix, this growth is expected to reach new heights.
At TOTALITY, we take pride in presenting you with a unified ecosystem. A single dashboard for every sale, marketing, loyalty management and channel partner activation needs. As the future heads towards enhanced engagement, TOTALITY empowers you with AI-led insights to maximize ROIs while cutting down the cost of customer acquisition by 66%. Brands that showed their trust in our ecosystem: K Raheja Corp, Hiranandani Developers, CREDAI MCHI, Raunak Group, Solitaire, Ajmera Realty, etc
ALSO READ: India Post Payments Bank Teams Up With HDFC For Offering Home Loans