Embassy Group To Develop Grade-A Office Space In Bengaluru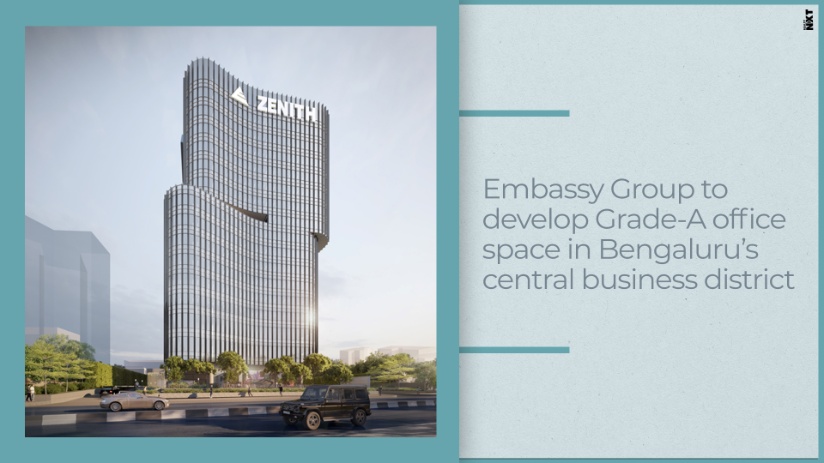 At an iconic location, Embassy Zenith's state-of-the-art workspaces will cater to a marquee client-base

Demand of world-class commercial real estate is set to rise manifold
Embassy Group, one of India's leading commercial real estate developers, announced the commencement of Embassy Zenith today, a Grade A commercial space in Bengaluru's prime CBD area, where the iconic Le Méridien Hotel once stood.
Located at the premium Sankey Road, Embassy Zenith boasts of an exclusive position in Bengaluru's urban landscape – a renowned business address, surrounded by lush green spaces and seamless connection to 5-star hotels including the Four Seasons Hotel at Embassy ONE, Shangri-La, ITC's Windsor Manor and the Taj West End.
On the corridor to the International Airport, Embassy Zenith will overlook expansive views of the pre-eminent Bangalore Golf Course. It will come up on a total area of 2.27 acres and a total leasable area of approximately 5.5 lakh sq. ft., solidifying Embassy's commercial footprint in Bengaluru.
Speaking on the launch of Embassy Zenith, Aditya Virwani, Chief Operating Officer, Embassy Group, said, "In the past year, we have witnessed how India's corporate sector have had to pivot to a work-from-home culture. Despite the significant challenges caused by the Covid-19 pandemic, organizations have demonstrated a definite desire to return to formal office spaces. Therefore, we are confident that India's commercial realty sector will witness a steady growth curve. The launch of Embassy Zenith is another key step in transforming the commercial real estate landscape of Bengaluru and growing our portfolio of best-in-class office assets, creating sophisticated and high-tech work hubs. With the legacy of Bengaluru's renowned Le Méridien Hotel, we anticipate that this state-of-the-art commercial space will thrive at this landmark location in the future."
The upcoming commercial development will be designed by Andy Fisher Workshop from Singapore and cater to a marquee client base. The property will promote sustainability and wellbeing for the tenants, with the environmental framework intrinsic to the innovative and futuristic design approach.
The construction of Embassy Zenith is likely to commence in the third quarter of the financial year 2021-22, and will be completed by December 2023. Mac Charles (India) Ltd., previous owners of the erstwhile Le Méridien Hotel will project manage the development – Embassy Group had bought a 73.4% stake in the company in 2016.
ALSO READ: Colliers Launches Its New Technology Platform- CoGence