Home Design Hacks To Live Large In Your Compact 800 Sq Ft Apartment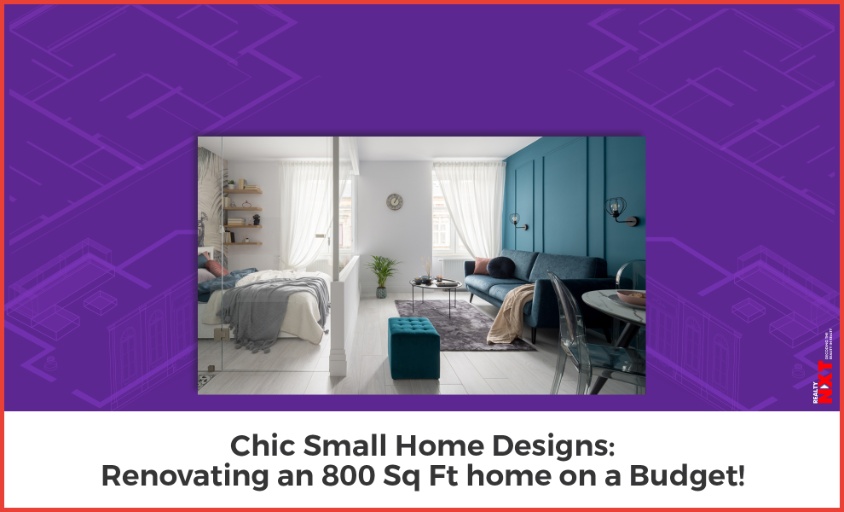 Would you like to build a compact house with the finest small home design ideas in 800 square feet? Take a glance at our modern contemporary small house plans.
'HOME' is the most satisfying four-letter word in our vocabulary. There is no denying that our homes are a reflection of ourselves. Every home, like every person, is one-of-a-kind. Every house, big or tiny, modern or traditional, has a tale to tell.
What does a modest house look like in various places of the globe? Anything less than 1,000 square feet is considered modest in the U.S. Apartments in Singapore, on the other hand, can be as little as 500 square feet. Moving closer to home, the size of an apartment in India varies based on the city.
While Mumbai residents are accustomed to living in small confines, Delhi residents enjoy larger homes. In India, however, anything up to 900 square feet is considered compact. To make the most of available space while designing small homes, you must have some experience in the field.
For some couples or singles wishing to downsize or move out of an apartment to build their first single-family home, homes between 800 and 900 square feet can offer the best of both worlds. More and more homeowners are realising that small living can be more cost-effective than large living, as homes under 1000 square feet are less expensive to build and maintain than their larger counterparts. So, if you're looking for small-space design inspiration, these 5 small home designs will show you how it's done! Let's begin!
1. Color For Some Leeway
Interesting wall paneling and wall trims provide a touch of flair to the decor without taking up more room.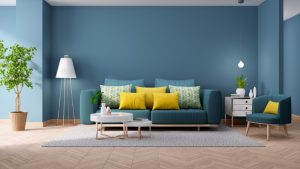 Painting your walls a soft, light tone will draw your attention to items that are more intriguing, such as a view outside your window if you have one, or a particularly interesting piece of furniture.
Cutting corners is one of the best methods to save space in a compact house.  For easy mobility in tiny places, fill your room with circular furniture. Darker hues tend to shut in spaces and reduce the amount of space available. Keep as much of the exposed brick or hardwood as possible unencumbered and use complementing colours if your areas are naturally fascinating.
2. Adopt a Clutter-Free Design 
Clutter can make even vast homes appear claustrophobic. Designing a small area is both a difficult and enjoyable undertaking. If you have a small home but want it to appear larger, these techniques will come in handy.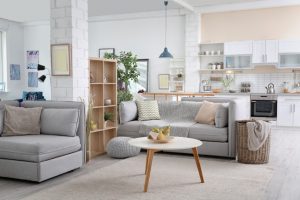 Knowing what you like allows you to keep the amount of items you bring home to a minimum. The ability to say, "I like it, but it's not really me,' so I'll just leave it here," is sometimes all that separates a minimalist from a clutter-accumulator.
Making a decision regarding an item or object is what decluttering entails. Moving junk you don't want to throw away from one location to another isn't the same as decluttering. If you're only going to move things around, decluttering is a waste of time. Perhaps what you should be doing instead is organising your home.
3. Preserve an Unobstructed Line of Sight
A functional examination of the space is arguably the most essential element in space allocation. The space's functional utilisation can be visually depicted. Social zones, work zones (kitchen, utilities, office), private zones (bedrooms, bathroos), and storage zones ((cupboards, closets and cabinets)) are the four zones that most homes possess.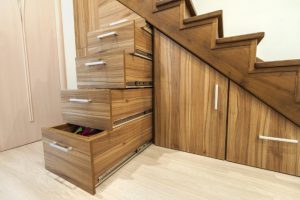 The preservation of the illusion of space is one of the most important aspects of effective house design. Choose materials that won't hinder sight lines when purchasing aesthetic pieces or utilitarian furniture. To put it another way, seek for mesh chairs, stools with no backs, acrylic lamps, and other less distracting designs. Also, instead of simple products, search for textured ones. Choose jagged glass over smooth, clear glass, etc
4. Minimal and Appealing Storage-Space
Less is more, and clutter eats up space. If you have a habit of collecting too much, consider putting some of it in storage or giving it to family and friends. Perhaps you could sell part of it on eBay. However, don't overcrowd your place. If you really must keep part of stuff, get inventive with storage options. Purchase ottomans that can be stuffed with your personal items. Place a chest at the foot of your bed to store extra belongings.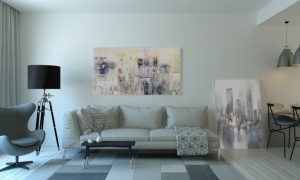 Floating shelves are simple to install, yet they can transform a room into something more polished and elegant. It adds dimension and compliments the wall art by filling these two with books and vases. Also, a floor-to-ceiling wall unit will reduce unwanted clutter from your living room's functional surfaces and tables. This is useful for practical reasons (like having a place to set your cocktail), but it also adds a decorative touch to the walls. A shelf unit is sophisticated and large on its own, and it also serves as a display area for decorative items.
5. Using Mirrors to Create an Illusion of Space
Mirrors are what provide that extra bit of enchantment to your home. They can dramatically transform a space by reflecting light into dark corners, framing details, assisting you in getting ready in the morning, and most importantly, entirely opening up a room by creating the sense of space and light.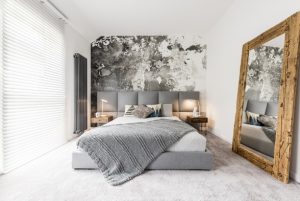 A large free-standing mirror against a wall will drastically increase the feeling of spaciousness in a room. You may also rotate it to change up the look, and you can take it with you if you move. Placing furniture in front of the mirror lessens the brightness and adds to the reflection's appeal.
Mirrored closet doors are really beneficial in a compact bedroom. They open up the area and are useful for assessing your appearance. This bedroom, which is designed in a simple white scheme, makes use of mirrors to make it feel as large and light as possible.
The secret to renovating or remodeling your home beautifully while staying within your budget is to set a goal for yourself, paint an entire picture of everything you want, and then renovate each aspect of your home one by one, as outlined above.
(Written by: Pratik Ghadge)
ALSO READ: Interior Design Terminology: Understanding the Interior Design Lingo!