Insomniacs Onboards Prashant Tyagi As Vice President For NCR Region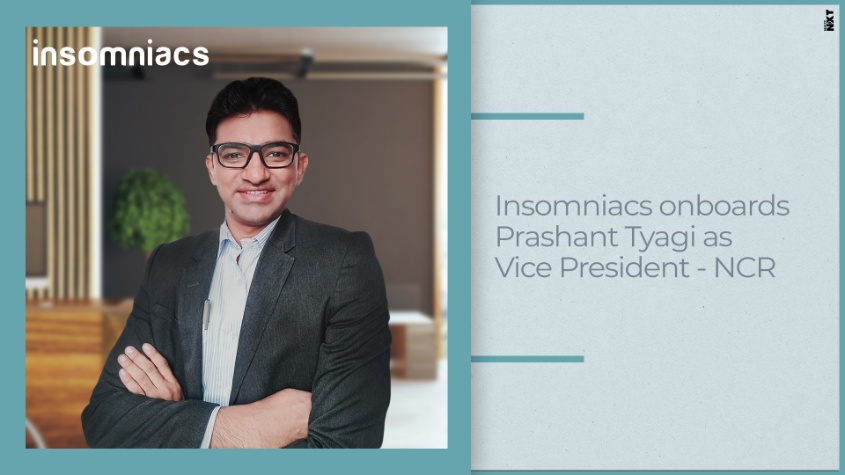 With Prashant on board, Insomniacs is looking to bolster the bottom line for the entire real-estate community through technology.
Real estate, data analytics, and technology network, Insomniacs has on-boarded Prashant Tyagi as Vice President for their National Capital Region (NCR) chapter. This appointment is in line with their PAN-India expansion strategy.
At its helm, Prashant will be responsible for expanding Insomniacs' footprint in North India. He will also build robust synergies with the local real estate community. The move aims at bringing greater velocity and enhanced performance to the sector's sales and marketing operations.
NCR is India's second-biggest residential real-estate market after MMR. It is home to leading MNCs and has a good mix of the diverse and flourishing populace. With Prashant on board, Insomniacs is looking to bolster the bottom line for the entire real-estate community through technology.
Prior to this appointment, Prashant spent 12+ years in real estate as a part of multiple marquee realtors such as DLF, Colliers International, and M3M. Being a hustler by nature, he didn't limit himself to project management but rather developed horizontally into almost all verticals. Interacting and managing all kinds of stakeholders enabled him to build a strong network in the community.
Some of those marquee associations include names such as Brookfield, Embassy Group, BL Kashyap, LnT, Siscol, and many more. Also being a part of the industry, he has seen the need-gaps from close quarters. It is this domain expertise and robust network combined with a strong desire to give back to the real-estate community that makes him the perfect candidate to lead the charge in NCR.
Govind Rai, Co-Founder of Insomniacs, said, "Brick by brick, the Indian real estate sector is building a vibrant ecosystem. The X factors are new-age tools and data-driven technology. At Insomniacs, we equip real estate players with the exact solutions. And now with Prashant on board, we are even more confident to take our vision forward. His rich industry experience and a vast network of leading stakeholders make him a perfect fit for this role. We look forward to working together."
Prashant Tyagi, VP, NCR-chapter, Insomniacs, said, "NCR is the hotspot of real estate development. Fulfilling the role of a Vice President here would be no small feat. However post the COVID setbacks, the real estate industry is brimming again with new opportunities. These are exciting times for us to establish the pace for a bright tomorrow. I am grateful to Insomniacs founders for choosing me for this remarkable role. I look forward to working with NCR realtors and supporting them to the best of my abilities."
Insomniacs are currently witnessing a whopping compound annual growth rate (CAGR) of 92.5%. The company aims to establish a PAN-India presence and drive the real estate industry towards an electrifying future.
ALSO READ: NCR Sees Sales Grow By 73% YoY In 2021; Records Sales Of 40,050 Housing Units